Sports
'All hands on deck' for Sounders in critical week of season
Sat., Aug. 20, 2016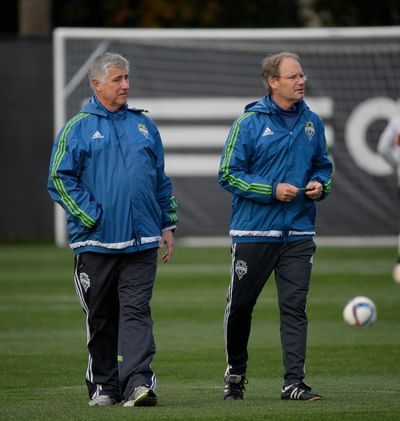 SEATTLE – The Sounders play three matches in eight days starting Sunday against the Timbers at CenturyLink Field, two rivalry games with a midweek visit to Houston in-between.
But as to whether he has to be considerate of squad rotation ahead of such a physically taxing stretch, interim Seattle coach Brian Schmetzer answered with a firm no.
"We're not saving anyone," Schmetzer said Friday after practice at Starfire Sports. "They're playing. It'll to be a tough week, but everyone is playing. It's all hands on deck."
That likely means an unchanged lineup for a third consecutive week as Seattle seeks to expand upon its three-game unbeaten streak. Sounders defender Chad Marshall is back in full training after picking up a slight knock last weekend against Salt Lake, but while fellow center back Roman Torres continues to progress, the Panamanian international has yet to be activated off the disabled list.
Sounders-Timbers series first
Sunday's match is significant as the first-ever MLS matchup between the clubs without Sigi Schmid involved, the longtime Sounders coach who ended tenure late last month with a 7-4-4 league record against the Timbers.
Schmid's 2013 team did fall to Portland in that year's Western Conference semifinals, but in regular-season play, he never lost to the Timbers at CenturyLink.
"Whenever we play Seattle, I initially think about Sigi Schmid," Timbers coach Caleb Porter said Friday in a media conference call. "But I remind people, Schemtzer has been Sigi's right-hand man. Every single decision every single day, if it's similar to what we do, we discuss everything. … Ultimately, I don't think it'll be much different."
Porter also pointed out that Sunday's result could resonate far beyond the Cascadia Cup standings. The sixth-place Timbers currently hold a five-point edge over their ninth-place rivals, but the Sounders have two games in hand.
"Both clubs need points," Porter said. "It's a crucial stage of the season. What I've noticed in the 3 1/2 years coaching against Seattle in this league, it's always bigger than three points in terms of momentum and confidence. It's going to be a dramatic couple of games."
New approach needed
If Seattle is to get revenge for last month's loss at Providence Park, it must limit Portland's fearsome counterattack.
The Sounders were torn apart on the break throughout that mid-July match, Diego Valeri and Darlington Nagbe galloping into wide-open spaces. Stopping the Timbers' break, though, is easier said than done – multiple Sounders admitted last time that stopping the counter was a major part of the game plan but that they'd just been unable to execute.
"(Watch) film of the last game," Schmetzer said when asked of his strategy for limiting Portland's counter. "Working out on the field to make sure everybody knows where they need to be if things break down, and then repetition of that training on the field. If you don't get it right on Sunday, then I haven't been doing my job."
Netting the first goal, particularly at home and particularly against a team that thrives on the break, could also prove significant.
"The statistics in our league are staggering," Schmetzer said. "The team that scores first, they win the majority of the time. It's always nice to get a lead early, then you can dictate tempo, pace, all of those things. … They might have to push a little bit, it opens up room for our counter.
"Games in our league, they're like amoebas. They flow everywhere. There are good times for us, good times for the opponent. It's critical that we, in our good moments, are able to capitalize on those."
Local journalism is essential.
Give directly to The Spokesman-Review's Northwest Passages community forums series -- which helps to offset the costs of several reporter and editor positions at the newspaper -- by using the easy options below. Gifts processed in this system are not tax deductible, but are predominately used to help meet the local financial requirements needed to receive national matching-grant funds.
Subscribe to the sports newsletter
Get the day's top sports headlines and breaking news delivered to your inbox by subscribing here.
---