Sports
Felix, Merritt help bring U.S. medal total to 31 in track
Sat., Aug. 20, 2016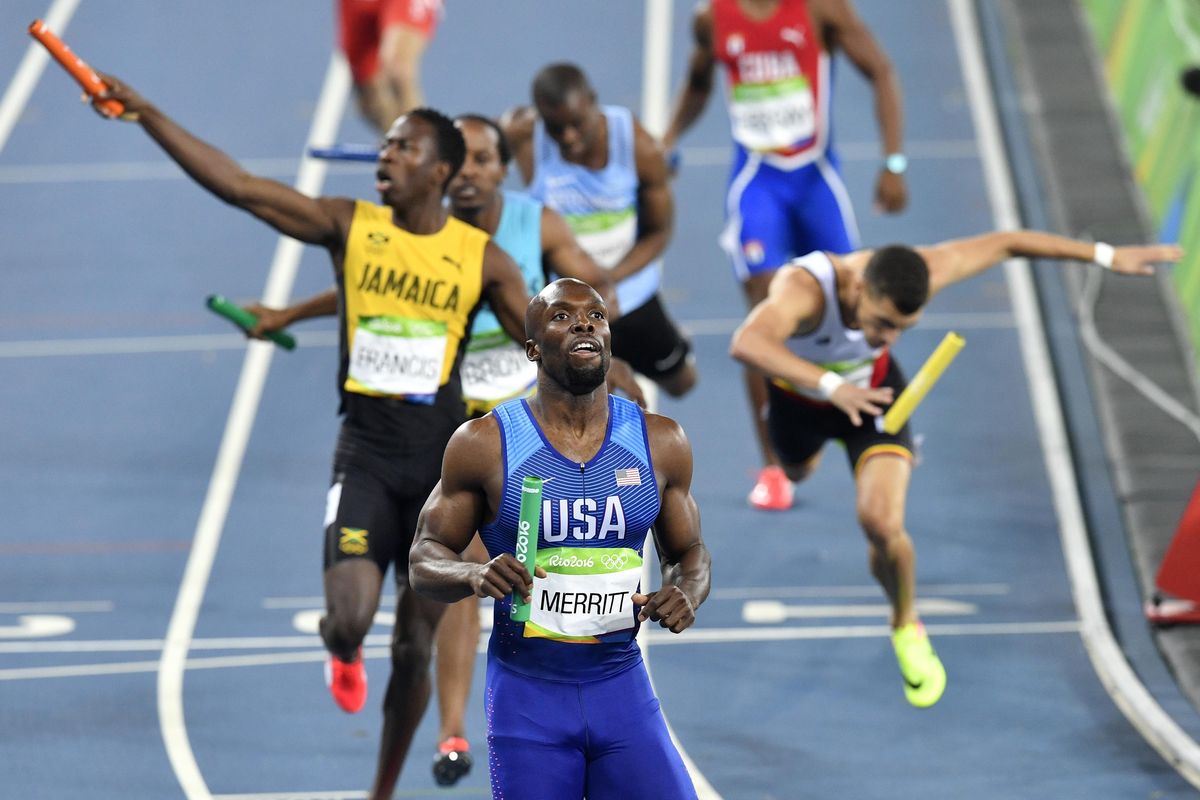 United States anchor Lashawn Merritt crosses the line to win the men's 4x400-meter relay final on Saturday. (Martin Meissner / Associated Press)
RIO DE JANEIRO – Allyson Felix and LaShawn Merritt are two savvy track stars who've been around long enough to know that not everything always goes to plan.
Over the final, topsy-turvy 30 minutes at the Olympic track Saturday night, both Americans came away with prizes they'd been wishing for all along.
Those prizes were both golds from the 4x400 relays, and the United States exited the final night of action at Olympic Stadium with 31 medals – the most it has taken in a non-boycotted Olympics since 1956, when the world and track were both very different places.
One of those 31 had been looking to go to 41-year-old Bernard Lagat in the 5,000 meters. He actually finished fifth but two runners ahead of him, including American Paul Chelimo , were disqualified for interference. A review ensued, Chelimo was reinstated to silver and Lagat dropped to fifth – a bummer for the former Washington State star and the elder statesman of the U.S. track team, but some sort of sign for the team: Even when it lost, it won.
All those reviews and appeals made for a strange scene as the program came to a close. Mo Farah, Chelimo and Hagos Gebrhiwet marched to the podium to receive their medals nearly an hour after the evening's final race in front of a few thousand stragglers in the stands.
That was wacky. But the night's biggest surprise came from Matthew Centrowitz, who shocked the field in a slow 1,500-meter final and became the first American to win a gold in the "metric mile" since 1908. His time was 3 minutes, 50 seconds.
"Doing my victory lap, I literally kept screaming to everyone I know, 'Are you kidding me?'" Centrowitz said.
Felix spent a lot of the week saying the same thing – and not in a good way.
This has been an adjust-on-the-fly year for America's best-known track star – her failure to make the team for the 200 meters, her jaw-dropping silver-medal moment when a diving sprinter from the Bahamas beat her in the 400 and more. But on back-to-back nights, she took relay gold.
This time, she ran a 49.66-second anchor lap in the 4x400. Over the second and third laps, Americans Natasha Hastings and Phyllis Francis held big leads, only to watch them dwindle dramatically as they legged out their final meters.
Felix took the green baton about two steps ahead of Jamaica's Novelene Williams-Mills, and slowly, steadily expanded it for a total time of 3 minutes, 19.06 seconds and a 1.28-second win. Yes, the United States may have relay problems – the men's 4x100 flamed out again the night before – but this certainly isn't one of them. The race has gone to America six straight times.
The look on Felix's face as she crossed the line and waved the green baton said what words could not: Thank goodness, it's finally over.
"The toughest, without a doubt," Felix said of her 2016. "This year, you make plans and want everything to go according to schedule. Nothing went according to schedule."
Merritt went a similar route. He was caught in the tail wind of South African Wayde van Nierkerk's world-record 400 run earlier in the week and settled for bronze. Then, Merritt was a bit player in the Usain Bolt going-away party, finishing sixth in the 200.
But Bolt was long gone – having stopped by the track quickly to receive gold medal No. 9 and take a selfie with Farah – and South Africa had left the building, too.
As Felix had done minutes earlier, Merritt took a narrow lead and opened it way up. This relay gold goes with those he took in both the 4x400 relay and the individual 400 in 2008.
It wasn't all perfect for the red, white and blue.
High jumpers Chaunte Lowe, a mother of three who finally felt ready for her Olympic moment, and Vashti Cunningham, daughter of former NFL quarterback Randall, finished fourth and 13th in a contest taken by Ruth Beitia of Spain.
In the night's other finals, South African Caster Semenya won the 800 meters and Thomas Rohler of Germany won javelin in results that surprised nobody.
That the Americans are leading the medals table is no shock, either. They've done it at every games since 1992.
The numbers may not have shocked anyone. Some of the names, and where they ended up on the finish list, certainly did.
"I would have been really happy with a silver," Centrowitz said. "And coming away with gold is unbelievable."
Local journalism is essential.
Give directly to The Spokesman-Review's Northwest Passages community forums series -- which helps to offset the costs of several reporter and editor positions at the newspaper -- by using the easy options below. Gifts processed in this system are not tax deductible, but are predominately used to help meet the local financial requirements needed to receive national matching-grant funds.
Subscribe to the sports newsletter
Get the day's top sports headlines and breaking news delivered to your inbox by subscribing here.
---