News > Spokane
Police arrest Manito Park shooting suspect
Sat., Aug. 20, 2016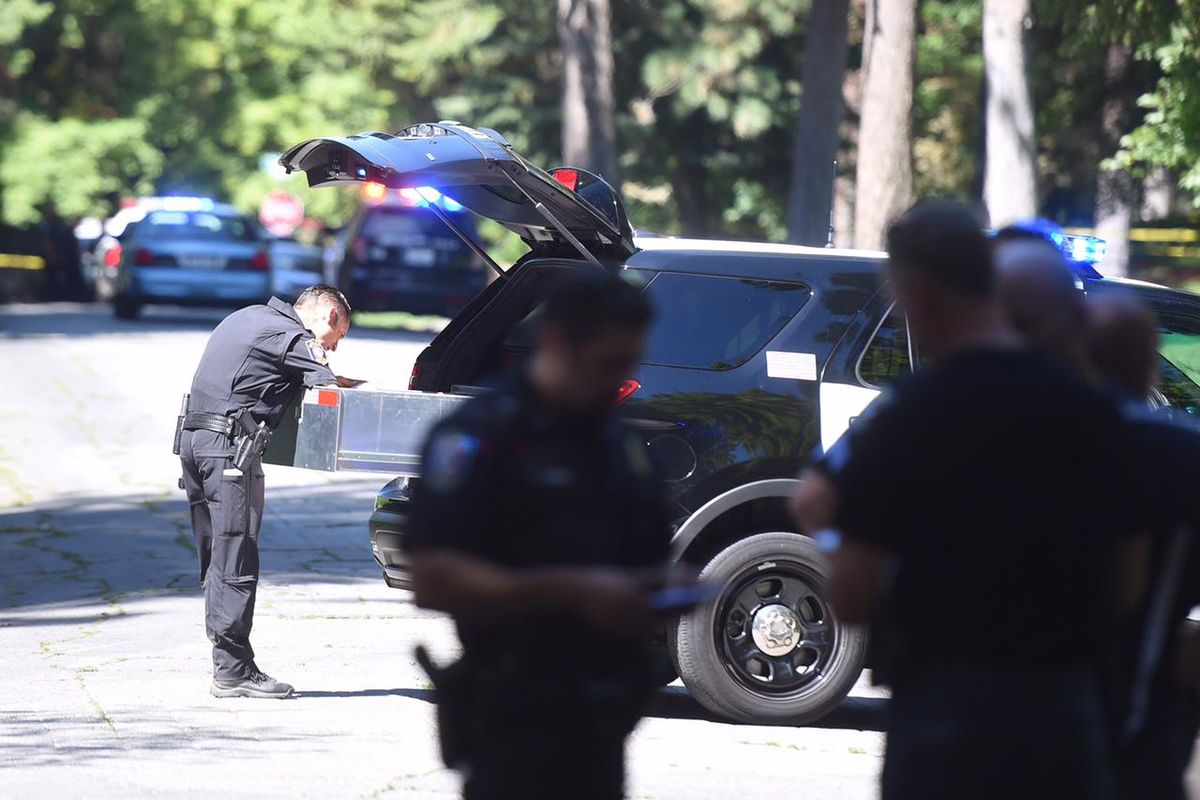 Police investigate a shooting Saturday, August 20, 2016 at Manito Park in Spokane. A gunshot was heard and a woman was found with a wound to her arm. (Jesse Tinsley / The Spokesman-Review)
Police have arrested a man suspected of shooting a woman in Manito Park on Saturday morning.
Jensen D. Stauffer, 18, has been booked into the Spokane County Jail on suspicion of felony assault, Spokane police Cpl. Ben Green said.
Police were given the name of a suspect and searched the park for him without success.
"He was nearby the entire time," Green said. "We were interviewing him. It took us a while to realize he was the suspect."
A witness walking on South Manito Place toward the Park Bench Cafe said she heard a shot and thought at first it was perhaps a car backfiring. She then saw four people atop a nearby hill and "I heard a female voice say she 'is gushing blood,' " Amy Chase said.
She said the woman appeared to suffer a wound to her forearm.
"She was clasping her arm and screaming," Chase said.
She said a nurse at the cafe ran to help as others called 911.
Several joggers witnessed the shooting. Police cordoned off the area, including temporarily shutting down Grand Boulevard and closing Manito Park, asking people to leave the area while they searched for the suspect.
The initial reports of a shot being fired were called in around 11:30 a.m. The injured woman was taken to the hospital. Her condition is not life-threatening, Green said.
The shooting happened north of the intersection of Manito Place and Manito Boulevard, about a city block from the popular cafe.
Chase said she lives near the park and has always thought of it as a safe place.
"It's a little disconcerting," she said.
Local journalism is essential.
Give directly to The Spokesman-Review's Northwest Passages community forums series -- which helps to offset the costs of several reporter and editor positions at the newspaper -- by using the easy options below. Gifts processed in this system are not tax deductible, but are predominately used to help meet the local financial requirements needed to receive national matching-grant funds.
Subscribe now to get breaking news alerts in your email inbox
Get breaking news delivered to your inbox as it happens.
---