Sports
WSU offense gets plenty of work after flat scrimmage
Sat., Aug. 20, 2016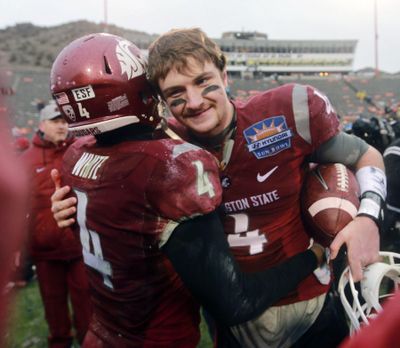 PULLMAN – The presumptive starting players on Washington State's offense got a great triceps workout on Saturday, frequently heading to the sidelines for a series of up-downs.
In addition to the arm-building exertions, the Cougars held a scrimmage. But not a very good one, and in addition to the sideline work the offense ran plays against the scout defense for about half an hour at the scrimmage's conclusion. The extra plays nearly tripled the day's workload for the starting offense, which ran only two series during the scrimmage.
Mike Leach's policy is that if players will not exert the energy required to have a good practice, they can exert it some other way that improves the team before its Sept. 3 season-opener against Eastern Washington.
"The first offense thinks they're a little too good, which they're not," Leach said. "They definitely got revealed for front-running. So, we thought we could get our work done in 20 plays, and it took 66 plays. … So we're about one-third as good as we think we are."
It was apparent immediately that the offense was not in its usual rhythm, and the blame could only partially be attributed to good play by the WSU defense. Luke Falk completed 6 of 9 passes during the starting offense's first series, but gained only 12 yards through the air and had a pass intercepted by Charleston White after it bounced off receiver Kyle Sweet's arm.
The offense did not turn the ball over during its scrimmage last weekend, but on Saturday was intercepted and had a fumble recovered by the defense. That's in addition to seven sacks, at least three false starts and a plethora of dropped passes.
It was a stark departure from the last two weeks of practices, in which the offense has typically gotten the better of its defensive counterparts.
"We came out flat while the defense was flying around, and we just didn't get going," Falk said. "I thought we came in with the mentality that all we had to do was go out on the field and just play and we would go out and dominate, and that's not the case in football."
The starting offense's second series fared little better, beginning with a sack of Falk by Nnamdi Oguayo, who was one of the defense's most productive players on Saturday. The series ended when Falk threw three straight incomplete passes after Oguayo dropped running back Gerard Wicks for a 3-yard loss.
Backup quarterback Tyler Hilinski threw the only passing touchdowns, completing 15 of 24 for 171 yards and two scores. However, Kirkland Parker also picked him off on the second-team offense's first series.
Even the most explosive play made by a regular contributor on offense, a 28-yard rush by James Williams, was marred by a fumble. Darius Lemora, who started 10 games as a freshman safety in 2014 but barely played last year, recovered that fumble. He had a good scrimmage, also tackling running back Jamal Morrow for a loss.
Kicker Erik Powell showed off the big leg that has been the talk of the coaching staff all offseason, nailing a 55-yard field goal. However, he also missed a 45-yard kick wide right.
Defensive coordinator Alex Grinch was frustrated by dropped interceptions and the starting unit's difficulty finishing drives.
"Scrimmages, there are good plays and bad plays. The offense normally walks off the field frustrated and the defense walks off the field frustrated," Grinch said. "Thank God we didn't play Eastern today."
Local journalism is essential.
Give directly to The Spokesman-Review's Northwest Passages community forums series -- which helps to offset the costs of several reporter and editor positions at the newspaper -- by using the easy options below. Gifts processed in this system are not tax deductible, but are predominately used to help meet the local financial requirements needed to receive national matching-grant funds.
Subscribe to the sports newsletter
Get the day's top sports headlines and breaking news delivered to your inbox by subscribing here.
---