News > Spokane
Craig Meidl faces political, salute-related challenges in bid for chief job
Sun., Aug. 21, 2016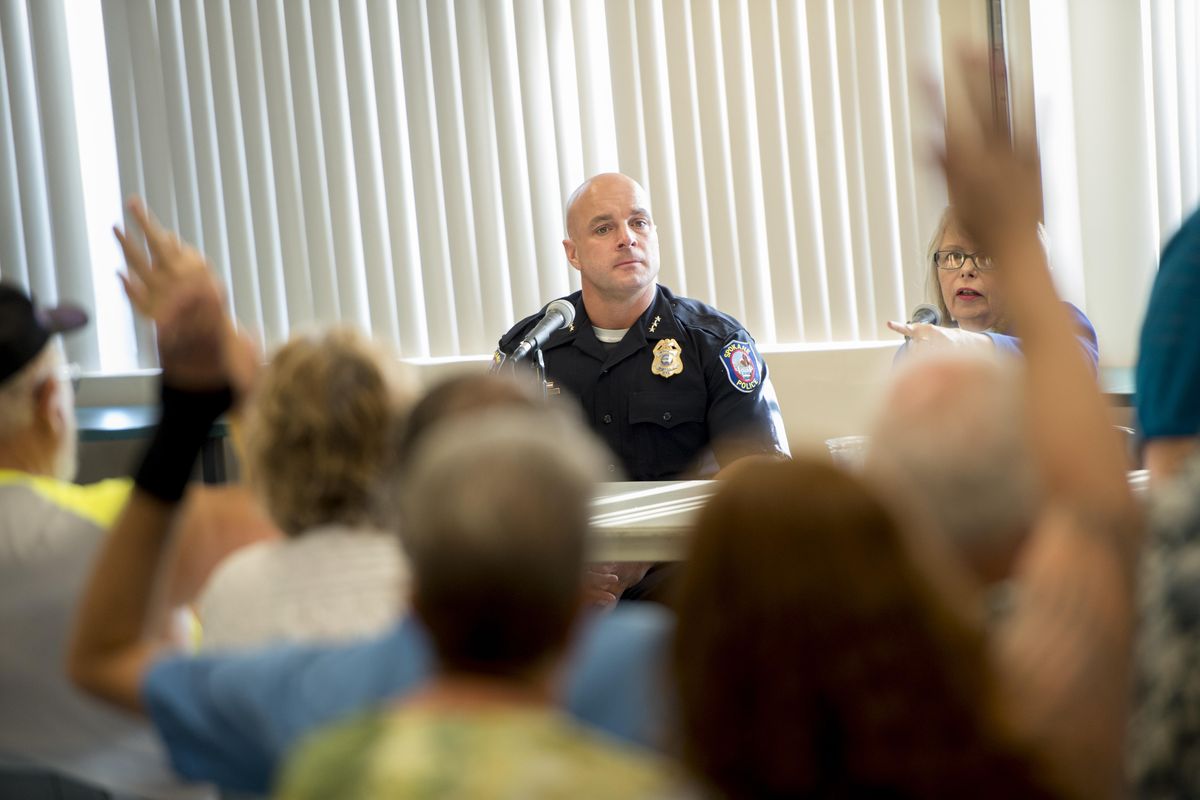 New Spokane police Chief Craig Meidl fields questions from concerned citizens during a public forum on Wednesday, Aug. 17, 2016, at East Central Community Center in Spokane. (Tyler Tjomsland / The Spokesman-Review)
Craig Meidl's office is sparsely decorated.
A painting of the American flag hangs behind his desk. There are photos from his eight-year stint with the United States Marine Corps Reserves sitting on a bookshelf. But perhaps the most personal touch is tucked away in a storage cabinet, which he reached for during an interview last week: two cases of Rockstar Energy Drinks.
"I'm not a coffee drinker," Meidl said by way of explanation, cracking open a tall can.
On Monday, Meidl will go before the Spokane City Council for an up-or-down vote that is anything but traditional as political turmoil churns at City Hall. He'll seek to become the sixth person to head the Spokane Police Department in 10 years, following Anne Kirkpatrick, Scott Stephens, Frank Straub, Rick Dobrow and Jim McDevitt. Meidl is the fourth in the past year, following the forced departure of Straub that prompted the upheaval serving as a backdrop for Meidl's tenuous and unprecedented appointment.
Mayor David Condon picked Meidl, 45, to lead the department just a few days after a scathing report from an independent investigator found that members of the mayor's staff delayed releasing records related to sexual harassment allegations against Straub until after Condon won a second term. Condon pitched Meidl as the "best fit" for the Spokane Police Department, in part because he understood the political situation in town.
"At this time, (we need) someone that understands the community, understands the political realities of Spokane, and understands where we're going quite fast," Condon said of Meidl on Aug. 1, introducing him as chief at a City Hall news conference.
Meidl will stand before a City Council that has, for the most part, remained guarded in their public comments about how they'll vote following lengthy questioning from the community this month about his courtroom salute to former Officer Karl Thompson, convicted of felony crimes in connection with the 2006 death of Otto Zehm at a Spokane convenience store.
Meidl said he's been transparent, answering any and all questions about the salute, the political turmoil behind his appointment and what he'll do to reduce crime and build trust in the community. The department needs permanence in leadership, he said, whether it's him or someone else.
"We need someone to provide the stability, so we can get focused on crime reduction and community outreach," Meidl said.
The salute and its fallout
On Nov. 4, 2011, Meidl, then a major, joined about 50 of his fellow Spokane police officers in a federal courtroom.
Two days earlier, a jury in Yakima had convicted their colleague, Karl Thompson, of depriving Otto Zehm of his civil rights when the developmentally disabled man was beaten and shocked with a Taser in March 2006. The jury also found Thompson tampered with the ensuing investigation into Zehm's death.
Thompson's attorneys were arguing he should be released until his sentencing. Federal prosecutors, who pursued the case after local and state authorities declined to file charges, disagreed.
After 18 minutes of arguments, U.S. Magistrate Judge James P. Hutton ordered Thompson into federal custody. Jeffry Finer, the attorney representing Zehm's estate, said the moments after Hutton made his ruling were among the most tense of his legal career as U.S. marshals prepared to take Thompson out of the courtroom.
"Something was about to happen," Finer said.
Meidl said someone spontaneously called out a salute, and as an instinctive reflex from his Marine Corps days, he complied as Thompson was escorted from the courtroom without handcuffs.
"It was quiet. There was no talking, it was a courtroom. People aren't talking, they're listening to what's going on," Meidl said. "It was just a spontaneous event, absolutely."
Finer disagreed.
"To say it was not planned, that's not how it felt or looked," he said.
Finer said he audibly apologized to members of the Zehm family in the courtroom that day for the actions of the officers, telling them he didn't think the officers realized the significance of what they'd done. A few officers gave him dirty looks, he said, but not Meidl.
At a public forum, Meidl refused to give the name of the officer who called for the salute. Recently, that officer apologized to Meidl for what he'd done.
Former Chief Anne Kirkpatrick, who was leading the department at the time of the salute, said she thinks Meidl would make a good chief in spite of his participation.
"I do think he's principled. I think what he did in that event was a lapse of judgment and, especially in the role of a leader, I would have hoped better than that," she said. "When I look at people's lives, I'm more concerned about their patterns than an event."
Kirkpatrick also addressed the controversial email Meidl sent out to the department in 2011 following Thompson's conviction.
Meidl wrote, "Karl was the most professional officer on the department. If it could happen to him, it could happen to me." He also said "an innocent man was found guilty." He has since said those statements were intended to reflect the many emotions he was hearing from other officers and not his own opinion.
"I think that he really thought that," Kirkpatrick said of Meidl. "All those officers thought that Karl got railroaded."
But she said opinions may have changed since then, and Meidl was quick to understand how the salute hurt the community.
"After the event of the salute and seeing the blowback, he got it very quickly," she said.
Meidl said he asked then-City Administrator Ted Danek to demote him in a phone call shortly after the salute.
"When he called me, I told him, demote me. You know, I was the highest-ranking official there; set the example and demote me. And he declined for whatever his reasons were," he said.
But Meidl did support the Thompson family enough to contribute money throughout the legal process via an account he shared with his wife, acting investigations supervisor Lt. Tracie Meidl, at the Spokane Law Enforcement Credit Union.
"I provided support for a little bit, to help with his family, while he was going through the trial," Meidl said. "But I can't remember. My wife canceled that a while ago."
Meidl said he didn't know who set up the account for Thompson, who first approached him to give to the account, how much he ultimately gave to Thompson or if the account was in Thompson's name. He also said he didn't know if the account was still active.
Thompson was officially released from Bureau of Prisons custody on July 22, according to records. He is under federal court supervision in Idaho.
A political appointment
Condon tapped Meidl to lead the department as the friction between the mayor's office and City Council has reached its highest point, especially over Condon's hiring authority.
Councilwoman Karen Stratton, who has authored multiple city laws passed this summer designed to give the council more authority in overseeing the mayor's political appointments, said Meidl has "been put in a terrible position" that has been compounded by the ongoing enmity at City Hall.
"I will say, publicly, that both sides need to do a better job of communicating," Stratton said. "He's the mayor. He's in charge."
Stratton said she will review all the voicemails and emails she's received from constituents over the past several weeks and tally them before making a decision. But she said, right now, she would have a "hard time supporting" the appointment.
Council President Ben Stuckart has said he won't vote for Meidl because Condon made his pick and didn't indicate he'd seek council confirmation, as he had in the past. City Councilman Mike Fagan said he will vote to confirm Meidl, following public forums over the past few weeks.
Council members Breean Beggs, Lori Kinnear, Candace Mumm and Amber Waldref either said at the end of last week they'd make their decisions Monday or did not respond to requests for comment on the vote. Beggs has hinted he'll work on a compromise that would allow Meidl to serve as chief for a probationary period, something Meidl said he'd consider.
Former U.S. Attorney Jim McDevitt, who led the department for four months following Dobrow's retirement, said he thought Meidl would make an excellent chief. He said he had no concerns about Condon's decision to appoint Meidl instead of one of the finalists from outside the department.
"The City Council kind of muddied that up by talking about the fact they wanted to conduct further interviews, which I think was kind of a deviation from where the whole thing was going," he said. "If the process failed, I think it was a shared responsibility."
McDevitt's appointment as law enforcement director also came with some controversy over an opinion column he wrote in The Spokesman-Review that some community groups equated to justifying racial profiling.
It was Meidl who encouraged him to listen to the criticism and do community outreach to those with concerns.
"That really helped me, I think, establish credibility with groups that had some doubts, and I attribute that to Craig," McDevitt said.
Direction of the department
Meidl appeared relaxed during public forums on those occasions when citizens asked him about how he would run the police department.
He said he's been surprised by the lack of curiosity regarding what he sees as his biggest job as chief: reducing crime.
"It's fascinating to me, amongst all these discussions, that people don't seem to be as focused on crime reduction as they are on a lot of these other issues that are popping up," Meidl said.
Asked to explain what the department is doing about property crime, Meidl pulled out a pad of paper and pen, and said, "This is going to be a long answer to a very short question." He then drew a rough map of Spokane and its police precincts.
The core issue, he said, is that the city only has three detectives working on the North Side, where police get 68 percent of their calls. Two detectives work cases on the South Side, and the targeted crimes unit has another four.
"When I was north precinct commander, we probably assigned at best 25 percent of our workable property crimes cases," he said. Detectives are "inundated" and don't have time to investigate many felonies, he said.
Compounding the problem, he said, is the revolving door of the county jail. He suggested lowering the crime rate requires work from all sides of the criminal justice system, not just law enforcement.
"It's not uncommon to arrest someone in a stolen vehicle, book them and three days later arrest them in another stolen vehicle," he said. "It has to do with sentencing, it has to do with bed space, it has to do with alternatives to imprisonment. So we're one cog, but we rely on the rest of the wheel to help us as well."
Meidl said he wants to prioritize completing the 42 Department of Justice recommendations issued in late 2014. The department recently finalized an agreement with Gonzaga University to complete a culture audit by in February at a cost of no more than $8,000.
Several issues about the police ombudsman's access to internal use-of-force reviews still need to be bargained with unions. The Justice Department recommended the ombudsman sit in on administrative review panels for disciplinary investigations and deadly uses of force, as well as on the newly formed Use of Force Review Board, which makes policy and training recommendations.
"My thought is, if he already gets to sit in on all of our (internal affairs investigations) and ask any questions he wants to, so what if he's sitting in on a deadly force administrative review panel or a Use of Force Review Board?" Meidl said.
He speculated the unions might have concerns about the ombudsman making public statements about proceedings in those boards.
The city's interim ombudsman, Bart Logue, said in interviews for the permanent job last week that he'd like to be able to write about internal affairs cases after closing them instead of simply certifying whether investigations were timely, thorough and objective.
Asked if he would support giving the ombudsman those powers if they had no bearing on discipline, Meidl said he had concerns.
"If you get someone in there that has more ambition than just being fair, unbiased, thorough … now you've given this person the authority to weigh in on everything. Is he doing this for the right reasons, or is he trying to use this as a stepping stone for office or for a larger city?" he said.
"I'm supportive of it with certain parameters and I'd have to sit down and think about it, because I don't want a civilian oversight coming in and using our department to further their own cause. That's not going to be healthy for the department; it's not going to be good for morale."
Meidl also wants to focus on community outreach and policing. He's committed to continuing a partnership between Capt. Brad Arleth and Eastern Washington University professor Ed Byrnes to study the race of people stopped by police officers and said he's made the need for funding clear to City Administrator Theresa Sanders.
He's also talking to black community members about working with the department to develop recommendations based on the data collected, he said. An initial six-month study released in 2015 showed Spokane police disproportionately stop black and Native American people.
"If we all sit here as a police department and say, 'Thank you for the data, we've got it from here,' that's not that transparency. That doesn't give buy-in to the community that's most affected by it," Meidl said.
The entire department is going through training on implicit bias and procedural justice, which focuses on fairness in the process of law enforcement. That training was also recommended by the Justice Department.
In a taped interview with Kinnear last week, Meidl said he believes strongly in the value of that training.
"We're so used to police officers taking control of a scene, and that's the old mantra. We come here, we make the scene safe, we take control. It's for our safety, it's for their safety, but that had a backlash effect on relationships with community," he said.
Procedural justice is "more of a cooperative engagement, more of a give-and-take conversation as opposed to I got there, I'm in charge, I'm going to tell you what to do," he said.
After the taped interviews, the public forums and news conferences, Meidl said he understands his future is in the hands of the City Council now.
"If it's not me, OK, let's get someone in here as quickly as possible so we can start focusing on what the purpose is," Meidl said. "I know the officers are out there doing the best that they can.
"Our department does not want to go through change, after change, after change, again."
Local journalism is essential.
Give directly to The Spokesman-Review's Northwest Passages community forums series -- which helps to offset the costs of several reporter and editor positions at the newspaper -- by using the easy options below. Gifts processed in this system are not tax deductible, but are predominately used to help meet the local financial requirements needed to receive national matching-grant funds.
Subscribe now to get breaking news alerts in your email inbox
Get breaking news delivered to your inbox as it happens.
---