Sports
Kevin Harvick wins rain-delayed NASCAR race at Bristol
Sun., Aug. 21, 2016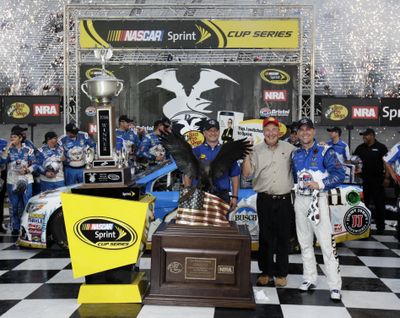 Kevin Harvick wasn't worried about his poor qualifying at Bristol Motor Speedway. In fact, starting 24th gave Harvick exactly what he wanted to win at Bristol (Tennessee) Motor Speedway.
"It kind of motivates me," Harvick said Sunday. "I think it's exciting. I like to pass cars."
Harvick made the biggest pass with 70 laps to go, sweeping by Denny Hamlin and holding on to take the rain-delayed race at the half-mile concrete track.
The victory was Harvick's second of the season and second at Bristol – his first in 11 years. It also moved him atop the points standings and gave his program a jolt with only three races left until NASCAR's Chase starts.
Harvick had 13 top-10 finishes in the 18 races since winning at Phoenix in March.
"It's been one of those deals where things have just not gone exactly right," said Harvick, who led 128 laps. "But to have the win now and just try to get that momentum before we get into the Chase and get things rolling is really what we needed."
Fittingly for a race halted because of Saturday night storms, Harvick had to sit out one last rain delay before easily pulling away on the restart and cruising to victory.
"Thank you, thank you, thank you," Harvick said over the radio as he crossed the line.
Harvick enticed his car owner – and retiring driver – Tony Stewart to do burnouts with him to celebrate the three-time champion's last race at Bristol. He wanted Stewart to share the victory lap, but "Tony and I aren't very good at sign language from one seat to another," he said.
Ricky Stenhouse Jr. was second, followed by Hamlin, Austin Dillon and Chris Buescher.
Kyle Busch, who led 256 laps, clearly had the strongest car, leading a race-high 256 laps. But he spun on Lap 358 when a part broke and Justin Allgaier, driving in relief of Michael Arnett, hit the No. 18 car flush to end the defending series champ's race.
Busch was angered by his equipment failure and said the race shop "was going to hear about it Tuesday." He also blasted Allgaier and his spotter, saying they should've seen Busch's spin and moved clear instead of hitting him. "I don't know. Frustrating day. Let's go home," Busch said.
Allgaier apologized to Busch. "That is the worst possible scenario when the leader spins out and you hit them," Allgaier said.
That was the sentiment of many at Bristol. The end was a welcome relief for race teams, track officials and those who came back out after last night's soaking rains.
It was the second time in three races – Pocono's Sunday race ended on a Monday three weeks ago – that rain impacted a Sprint Cup race and only a fraction of the 160,000 in the stands Saturday night returned for the conclusion.
The finish also meant Bristol could begin the massive conversion of its race track to a football field for No. 9 Tennessee vs. Virginia Tech, an event that track GM Jerry Caldwell expects will draw in excess of 155,000 fans.
IndyCar
The IndyCar race at Pocono Raceway in Long Pond, Pennsylvania, was postponed until Monday because of rain.
The race was supposed to begin at 3:09 p.m. Sunday, but a steady midafternoon rain drenched the 2.5-mile track.
NHRA
Brittany Force raced to her third Top Fuel victory of the season Sunday in the Lucas Oil NHRA Nationals at Brainerd (Minnesota) International Raceway.
The daughter of Funny Car great John Force, Force beat defending season champion Antron Brown with a 4.169-second pass at 180.21 mph. Brown had a 6.566 at 103.47.
Brown's car rattled and lost traction early while Force's dragster backfired and released the parachutes just a little farther down track than Brown, allowing her to coast to the finish line in front.
Force raced to her first career victory in Gainesville, Florida, in March, and also won the Four-Wide Nationals in April in Concord, North Carolina.
Del Worsham won in Funny Car, Drew Skillman in Pro Stock, and Andrew Hines in Pro Stock Motorcycle.
Local journalism is essential.
Give directly to The Spokesman-Review's Northwest Passages community forums series -- which helps to offset the costs of several reporter and editor positions at the newspaper -- by using the easy options below. Gifts processed in this system are not tax deductible, but are predominately used to help meet the local financial requirements needed to receive national matching-grant funds.
Subscribe to the sports newsletter
Get the day's top sports headlines and breaking news delivered to your inbox by subscribing here.
---