Sports
Digest: Mancini pitches New York to victory in LLWS
Mon., Aug. 22, 2016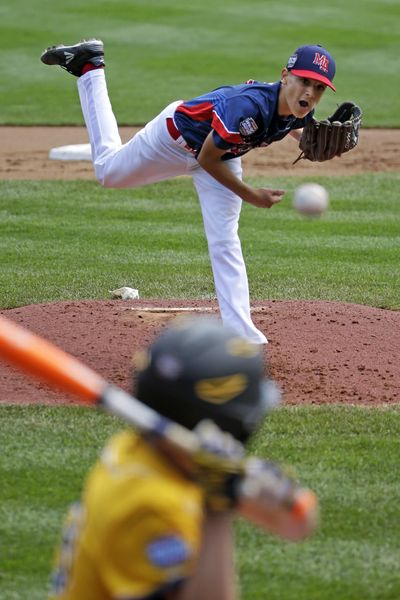 LITTLE LEAGUE: Michael Mancini allowed just four hits and struck out 13 in 5 1/3 innings to help Endwell, New York, beat Goodlettsville, Tennessee, 3-1 on Monday in the Little League World Series in South Williamsport, Pennsylvania.
Mancini was relieved by Ryan Harlost with one out in the sixth inning after Tennessee's Zach McWilliams hit a home run to left field. Harlost retired the next two batters.
Harlost also had a two-run homer over the center-field wall to give New York a 2-0 lead in the first inning. He started the LLWS by going 4 for 4 with two home runs.
Mancini walked to lead off the third, advanced to second on a wild pitch, went to third on a fielder's choice and scored on another errant pitch to make it 3-0. New York had runners on second and third with two outs in the fifth but Tennessee reliever Robert Carroll ended the threat with a strikeout.
Kentucky rolls Iowa: Spencer Newman was 4 for 5 with four RBIs and Bowling Green, Kentucky, scored 11 runs in the seventh inning for a 14-4 victory over Johnston, Iowa.
Kentucky will play New York on Wednesday night. Iowa faces Rhode Island in an elimination game on Tuesday.
South Korea whips Canada: Jungtaek Ru was 3 for 4 with four RBIs and three Seoul pitchers combined to strike out 15 as South Korea beat Canada 10-0 in five innings.
Starter Youbin Choi and reliever Wontae Cho retired the first 14 batters – all on strikeouts – and Canada didn't get its first hit until Stefano Dal Sasso's single in the fifth with two outs.
Panama walks past Aussies: Esmith Pineda and Carlos Gonzalez combined to strike out 14 and Jose Torres had a bases-loaded walk in the sixth inning to give Panama a 3-2 victory over Australia.
Pineda cruised through the first five innings, striking out 11 and giving up just two hits. But he was replaced in the sixth after Sydney's Brent Iredale hit a two-run homer to tie it at 2-2.
South Korea will play Panama on Wednesday night in the international semifinals. Canada, a club from Vancouver, British Columbia, faces Mexico in an elimination game on Tuesday.
Oregon wins: Isaiah Jensen allowed just two hits and no earned runs in 4 1/3 innings to help Bend, Oregon, beat Emilia, Italy, 6-2 in a consolation game.
Lakers sign Chinese star Yi Jianlian
NBA: The Los Angeles Lakers announced they have officially signed 6-foot-11 Chinese star forward/center Yi Jianlian.
The contract for Yi is one year at the veteran's minimum of $1.13 million that could reach as high as $8 million this season if he reaches several wide-ranging incentive bonuses.
Yi, 28, who was drafted sixth overall by Milwaukee in 2007, last played in the NBA for Dallas during the 2011-12 season.
He had been playing in China since then. During the Olympic Games in Rio de Janeiro, Yi averaged 20.4 points and 6.6 rebounds.
Bucks sign Terry: The Milwaukee Bucks have signed free-agent guard Jason Terry.
The 17-year NBA veteran spent the last two seasons with Houston. Terry, 28, played in 72 games, including seven starts, last season, averaging 5.9 points, 1.4 assists and 1.1 rebounds in 17.5 minutes per game.
Four-time champ dumped in first round
MISCELLANY: Caroline Wozniacki entered the Connecticut Open in New Haven as a wild card, hoping a tournament she has won four times would help her tune up for the U.S. Open.
Instead, the former top-ranked player from Denmark saw her struggles continue in a 7-5, 6-2 first-round loss to Jelena Ostapenko of Latvia.
Wozniacki, now ranked 51st, was coming off a second-round loss to Petra Kvitova of the Czech Republic at the Olympics.
Fantasy OK in New York: DraftKings, FanDuel and other daily fantasy sports companies have been cleared to resume business in New York state.
The state's Gaming Commission granted permits to five daily fantasy operators following the passage of a new state law regulating the popular online games.
Geniez wins 3rd Vuelta stage: Alexandre Geniez of France held off an attack by the title favorites on a brutal final climb to win the third stage of the Spanish Vuelta.
Geniez completed the hilly 176.4-kilometer (109.6-mile) ride along the Atlantic coast finishing at the Mirador de Ezaro summit in 4 hours, 28 minutes, 36 seconds. The FDJ rider collapsed to the ground after recording his second career win on the Spanish grand tour, needing several minutes to rest before stepping onto the podium.
Ruben Fernandez crossed 21 seconds later and took the overall lead. Alejandro Valverde was third, just ahead of Tour champion Chris Froome.
Ute pleads guilty: Suspended Utah receiver Cory Butler-Byrd has pleaded guilty to a misdemeanor charge of criminal mischief after authorities say he damaged a university police patrol car and building last month.
Butler-Byrd's guilty plea is part of a deal with prosecutors that allows the senior to have his record cleared if he has no additional criminal charges in the next year, undergoes mental health counseling and pays about $1,700 in restitution.
Coach Kyle Whittingham has suspended Butler-Byrd indefinitely.
Local journalism is essential.
Give directly to The Spokesman-Review's Northwest Passages community forums series -- which helps to offset the costs of several reporter and editor positions at the newspaper -- by using the easy options below. Gifts processed in this system are not tax deductible, but are predominately used to help meet the local financial requirements needed to receive national matching-grant funds.
Subscribe to the sports newsletter
Get the day's top sports headlines and breaking news delivered to your inbox by subscribing here.
---