Sports
WSU position preview: Defensive line has skills to make up for lack of size
Mon., Aug. 22, 2016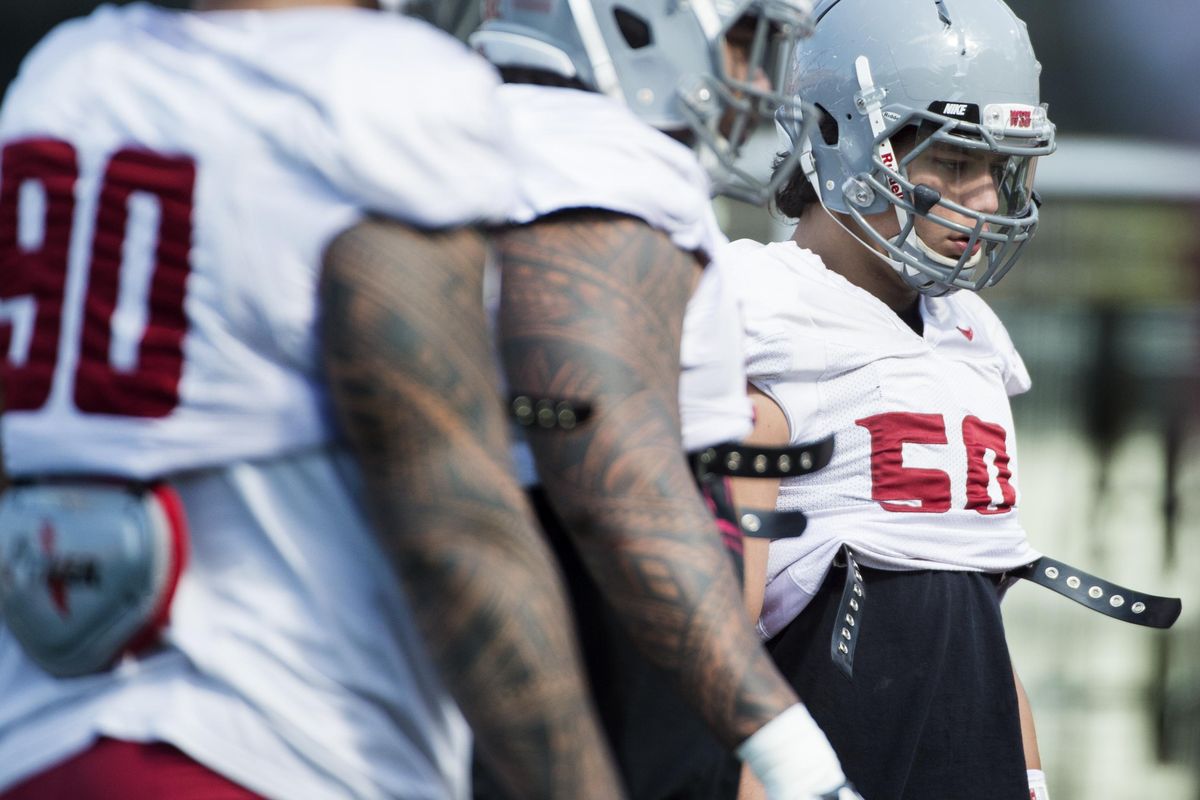 WSU defensive end Hercules Mata'afa, right, listens to defensive coordinator Alex Grinch during a spring practice. (Tyler Tjomsland / The Spokesman-Review)Buy a print of this photo
This is the fifth of eight WSU Cougars football position previews. Today: Defensive line. Next: Linebackers
PULLMAN — The transition from high school to college is tough for everybody, even harder for football players and particularly challenging for those who play on the defensive line.
A defensive line recruit spent years being the biggest, baddest kid in his high school league, one whose superlative size and athleticism made him the terror of scrawny linemen and pipsqueak quarterbacks. He probably did not have to do much other than run around and beat people up.
But in college, all of a sudden he's got to rush a passer and then reverse course when the pass thrown. He's got to control a gap, redirect running backs, and deal with offensive linemen who are three or four years older, and have spent all of those extra years eating and lifting weights.
It's a lot to ask.
And it's why a guy like Hercules Mata'afa, who was probably the team's best defensive player by the end of 2015, did not make so much of an impact the early part of his redshirt freshman season.
He did not collect his first college sack until the team's third game, against Wyoming. He broke out in the next game, sacking California quarterback Jared Goff twice. By the end of the year he was a USA Today freshman All-American.
"I was still in that transition stage from high school to collegiate level," Mata'afa said. "I never got to test the college level until I stepped onto that field for the first game. It grew on me so I got more competitive as the season went on, because I was able to trust myself."
It's a transition many of WSU's defensive linemen will have to navigate in 2016. The starters are talented and experienced – Robert Barber, Daniel Ekuale and Mata'afa have all play plenty of snaps against Pac-12 competition.
But the next unit is worrisome. Because defensive line is such a grind, it's imperative that a team have capable backups who can spell the starters without giving up big plays. And injury is always a concern.
Some players who have been around the program for a while have not developed enough in practice to give the coaches confidence in them come game time.
"That's one of my frustrations is we've given guys opportunities and I don't know that enough have taken advantage," said defensive coordinator Alex Grinch.
So the Cougars may turn to some talented, if unseasoned underclassmen who have seized the opportunities they've been given. One who has been a consistent playmaker is Nnamdi Oguayo, a defensive end who is likely to play this season at a scant 220-pounds.
Oguayo makes up for his lack of size with exceptional athleticism, and he is stronger than he looks. These attributes make him similar to Mata'afa, who is 255-pounds now, but was able to hold up the interior of the defensive line occasionally last year, when he was barely 230-pounds.
For both he and Oguayo, it's their motor that has them in the two-deeps.
"He's still growing. I'm not really interested in the size right now, but the fight and the heart, and the passion that our guys need to be attacking the football with," said defensive line coach Joe Salave'a.
"He's in the same mode as Hercules," Salave'a continued. "Undersized, and we may not be an overly-big outfit every Saturday but that doesn't dictate and will not dictate the measure of our intensity and the way we attack the opponent."
Local journalism is essential.
Give directly to The Spokesman-Review's Northwest Passages community forums series -- which helps to offset the costs of several reporter and editor positions at the newspaper -- by using the easy options below. Gifts processed in this system are not tax deductible, but are predominately used to help meet the local financial requirements needed to receive national matching-grant funds.
Subscribe to the sports newsletter
Get the day's top sports headlines and breaking news delivered to your inbox by subscribing here.
---