News > Spokane
Inslee declares state of emergency
Tue., Aug. 23, 2016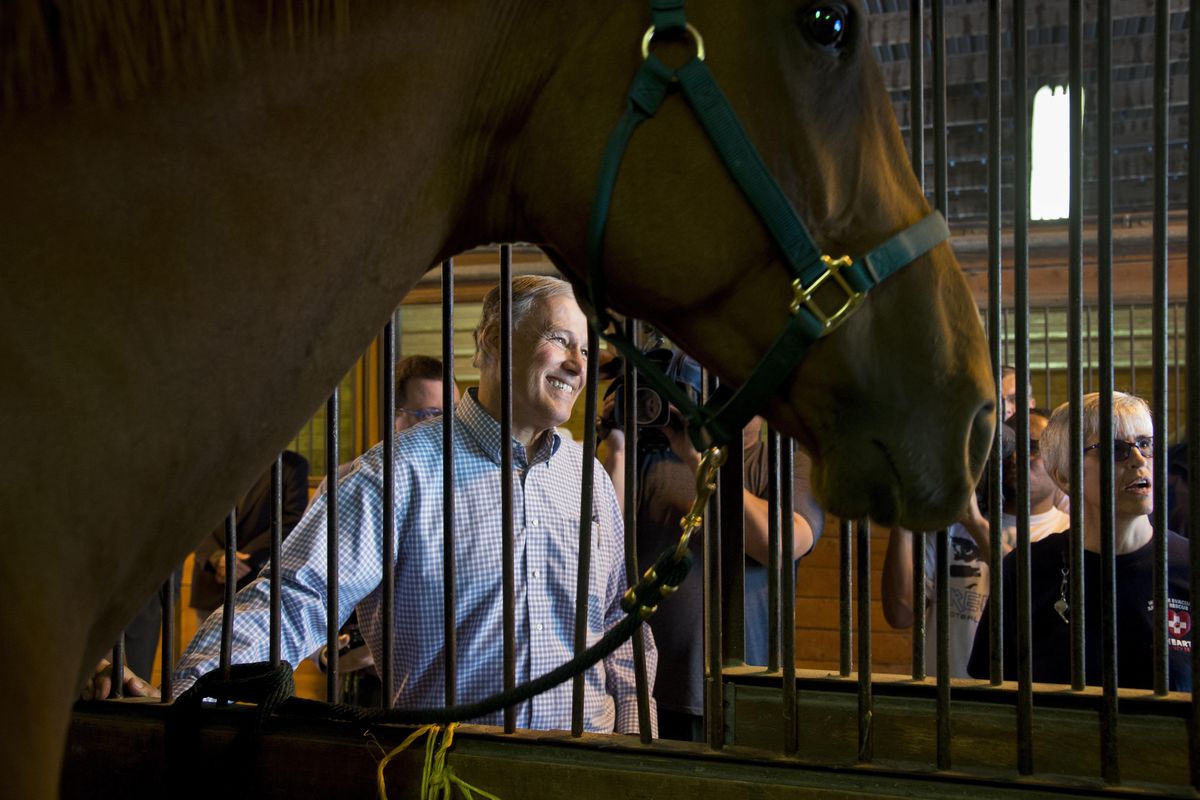 After receiving a briefing on the Spokane Complex fires, Gov. Jay Inslee visits Waylon, a thorough bred horse transported from the the Yale Road Complex Fire, Tuesday, Aug. 23, 2016, in Spokane. Eleven horses, two dogs, a cat and about a dozen chickens are being cared for by the Spokane County Regional Animal Protection Service (S.C.R.A.P.S.) at the Spokane County Fair and Expo Center. (Colin Mulvany / The Spokesman-Review)
Washington governor Jay Inslee declared a state of emergency in 20 Eastern Washington counties after visiting a fire command center in Spokane.
State agencies were ordered to do everything possible to help local governments and the State Emergency Operations Center will help coordinate firefighting efforts.
The Washington National Guard is on standby to send firefighters to blazes around Spokane, but they haven't been needed, Inslee said Tuesday as he toured the command center for fires in the Valleyford and Beacon Hill areas.
So far crews from local, state and tribal agencies were managing fires, with an assist from the weather as winds have died down. Some families, as well as their pets and livestock, have returned to evacuation zones.
"The real challenge is in the canyons," Fire Boss Nathan Rabe told Inslee while looking at a map of the Yale Road Complex fire near Valleyford, which had grown to an estimated 3,500 acres. "Hot shot" crews are working on the steep canyons, he said.
Spokane County Fire District 8 Lt. Nate Hawley was among a crew at the Emergency Operating Center that had recently returned from the Yale fire, where he said they had lost some homes but managed to save others.
Inslee asked how the firefighters make a decision on which homes can be saved. Hawley said it depends partly on the structure, but also on the amount of "green space" around the home that separates it from the dried grasses, brush and trees.
The state's Firewise program encourages homeowners in suburban and rural areas to clear at least 100 feet around their homes and other buildings; Inslee said that message needs to be reinforced. The state also needs to do a better job of forest management, increasing programs to fight insect infestations and thin dead trees, he said. He acknowledged that such programs are expensive and time-consuming, but said, "We are chipping away at that."
Part of the long-term solution is "attack climate change itself", which is expected to produce hotter, drier summers like the Northwest experienced in 2014 and 2015, he said. Inslee made a pitch for programs to reduce carbon pollution, something he's tried to get through the Legislature without success.
While at the operations center, Inslee made a stop at the animal rescue facility set up for pets and livestock evacuated from wildfire areas.
Nan Livingston, a volunteer with the Humane Evacuation Animal Rescue Team, said the number of animals had dropped since the weekend, with several horses, four goats and a llama picked up by their owners. But the shelter still had 11 horses in the stalls, including Waylon, a 10-year-old thoroughbred who stuck his nose against the bars of the stall for a rub from the governor.
Waylon and another horse, Elwood, are owned by Sally Schiller of Valleyford who lives in the evacuation zone for the Yale fire.
Local journalism is essential.
Give directly to The Spokesman-Review's Northwest Passages community forums series -- which helps to offset the costs of several reporter and editor positions at the newspaper -- by using the easy options below. Gifts processed in this system are not tax deductible, but are predominately used to help meet the local financial requirements needed to receive national matching-grant funds.
Subscribe now to get breaking news alerts in your email inbox
Get breaking news delivered to your inbox as it happens.
---