Sports
Digest: New York secures spot in U.S. championship game of LLWS
Wed., Aug. 24, 2016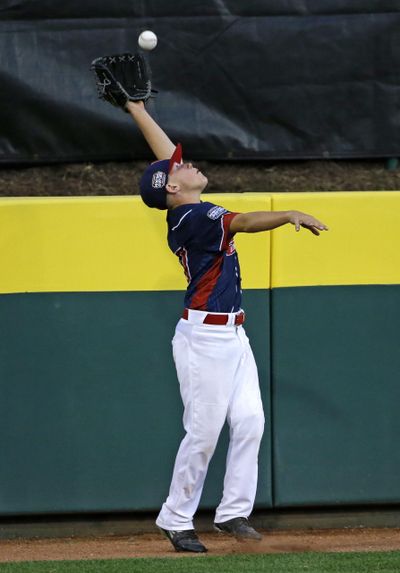 Little League: Jude Abbadessa was 5 for 5 with six RBIs to lead Endwell, New York past Bowling Green, Kentucky 13-10 on Wednesday night in South Williamsport, Pennsylvania, for a place in the U.S. championship game of the Little League World Series.
Abbadessa hit a two-run homer to center field to give New York a 4-3 lead in the second inning. Conner Rush walked with two outs, got to second and third on wild pitches, and scored on Jack Hopko's single for a 5-3 lead.
New York put runners on first and third with two outs in the third to chase Kentucky starter Devin Obee. On the second pitch from the reliever, Abbadessa had a RBI double to left field for a 6-4 lead and scored on Rush's bases-loaded, two-run single.
Abbadessa sent a two-out, two-run double down the left-field line in the fourth to give New York a 10-8 lead.
New York had runners on the corners with two outs in the fifth when Jordan Owens hit it off the glove of the pitcher to score Hopko. Michael Mancini sent the next pitch to center, driving in Jayden Fanara from second for a 12-10 lead. Two pitches later, Abbadessa had an infield single to score Owens.
Kentucky faces Tennessee in an elimination game on Thursday.
Tennessee eliminates Iowa: RJ Moore hit a go-ahead three-run homer in a six-run fourth inning and Goodlettsville, Tennessee beat Johnston, Iowa 14-3 in five innings in an elimination game of the Little League World Series.
After Moore's shot over the center-field wall, Tennessee loaded the bases and Zach McWilliams hit a bloop double to score two and Tyler Jones scored from first after an error for a 7-3 lead.
The bases were full again in the fifth for Tennessee. With no outs and the infield in, Brock Duffer rolled it through the hole on the left side to score two and Ryan Oden crossed home on an error to make it 10-3. Duffer scored on a fielder's choice.
Tyler Jones drove in Tanner Jones from second for a 12-3 lead and Robert Carroll sent it up the middle to score two more.
Kaiden Dinh put Iowa in front 3-1 with a three-run homer in the third.
Mexico blanks Australia: Jose Angel Leal struck out 10 of 11 batters in 3 2/3 innings and Mexico eased past Australia 10-0 in four innings in an elimination game of the Little League World Series. Angel Leal threw 51 pitches and only allowed one hit on Clayton Campbell's single in the first.
The first three Mexico batters reached base in the first and the club from San Nicolas took a 2-0 lead when Patricio Juarez and Gael Isaac Cortez scored on wild pitches.
Mexico scored six runs in the third inning. Angel Leal hit a solo home run on the second pitch of the inning for a 3-0 lead. Mexico loaded the bases with no outs and pinch-hitter Diego Cantu lifted a shot over the center fielder to score two. Fabian Alejandro Mar also had a two-run double to make it 7-0 and he scored on a passed ball.
Victor Juarez hit a two-run home run deep over the left-center wall in the fourth for Mexico's fifth homer of the LLWS.
Pineda leads Panama: Esmith Pineda smashed a go-ahead three-run homer in the fifth inning and Panama beat South Korea 3-2 for a spot in the international championship game of the Little League World Series.
Tomas Sarmiento and Carlos Gonzalez both reached on walks to set the table for Pineda's shot to deep center field to give the team from Aguadulce a 3-2 lead.
Seum Kwon led off the top of the sixth by laying down a successful bunt. It was South Korea's first hit of the game. He advanced to second on passed ball and went to third on a wild pitch with two outs but Youbin Choi grounded out to the shortstop.
It was the first loss for South Korea in 14 LLWS games. The club from Seoul will face Mexico in an elimination game on Thursday.
South Korea scored two runs in the fourth without the benefit of a hit. Jungtaek Ru walked to lead off the inning and had a heads-up play to reach second while the Panama catcher was distracted. He scored on a throwing error to first base and Choi's sacrifice fly scored Kwon for a 2-0 lead.
Chargers pull offer to first-round pick Bosa
Miscellany: Joey Bosa's holdout turned ugly when the San Diego Chargers pulled their contract offer to the first-round draft pick and said they'll restructure a new deal that would reflect him playing less than a full season.
Bosa has missed all of training camp as his agents and the team wrangle over how much of his $17 million signing bonus he'll get up front, as well as offset language in the case he gets cut.
The Chargers were counting on the former Ohio State star to help bolster their pass rush and bring some excitement to a season that could be pivotal to their future in San Diego.
Olympic weightlifters fail doping retests: Three Olympic champion weightlifters from China and eight other medalists stand to be stripped of their titles after failing retests of their doping samples from the 2008 Olympics.
The IWF said in a statement on its website that Chinese gold medalists Cao Lei, Liu Chunhong and Chen Xiexia all tested positive for GHRP-2, which stimulates growth hormone production, while Liu also tested positive for the stimulant sibutramine.
Federer, Nadal to team up in Laver Cup
Tennis: Roger Federer and Rafael Nadal, who have faced each other in eight major finals, plan to team up as doubles partners next year during the inaugural Laver Cup.
With a combined 31 Grand Slam titles, Federer and Nadal have committed to the team event, which attempts to create a tennis version of golf's Ryder Cup. The competition pitting a squad of European men's players against a group from the rest of the world was first announced in January. The first edition would be held in Prague on Sept. 22-24, 2017, indoors at the O2 Arena.
Rogers falls to Larsson: American Shelby Rogers has lost to Johanna Larsson of Sweden 7-6 (1), 6-4 at the Connecticut Open in New Haven, Connecticut. Rogers managed one point in the first-set tiebreaker. She trailed 5-2 in the second set before winning two straight games.
Kvitova moves to quarterfinals: Defending champion Petra Kvitova of the Czech Republic advanced to the Connecticut Open quarterfinals, beating Canada's Eugenie Bouchard 6-3, 6-2 on Wednesday night.
Kvitova, the two-time Wimbledon winner and a bronze medalist in the Rio Olympics, won 10 straight games after falling behind 3-1 in the first set. She will face Ekaterina Makarova of Russia. Makarova won her second-round match Tuesday.
U.S. Soccer suspends Solo for six months
Soccer: U.S. women's national team goalkeeper Hope Solo has been suspended for six months for what U.S. Soccer termed conduct "counter to the organization's principles." The suspension is effective immediately.
U.S. Soccer President Sunil Gulati said that comments Solo made after the U.S. lost to Sweden during the Rio Olympics were "unacceptable and do not meet the standard of conduct we require from our National Team players."
Solo called Sweden a "bunch of cowards" after the Swedes beat the U.S. 4-3 on penalties following a 1-1 draw in the quarterfinals of the Olympic tournament.
Solo, who was previously suspended for 30 days early in 2015 for her conduct, will not be eligible for selection to the national team until February.
Moenchengladbach, Man City cruise to playoffs: Manchester City and Borussia Moenchengladbach built on commanding first-leg advantages to cruise through the Champions League playoffs in Manchester, England, while Russian side Rostov thrashed Ajax 4-1 to reach the group stage for the first time.
City will play a sixth straight season in Europe's elite competition after beating Steaua Bucharest 1-0 thanks to Fabian Delph's 56th-minute goal and completing a 6-0 win on aggregate.
Raffael and Thorgan Hazard scored hat tricks as Moenchengladbach routed Young Boys 6-1 for a 9-2 win on aggregate, sealing an immediate return to the group stage for the German side.
Both Germany and England will have a full quota of four teams in Thursday's draw. City, a semifinalist last season, will be one of the second seeds.
Rostov advanced 5-2 on aggregate over Ajax – a four-time European champion – in its first season trying to qualify for the Champions League. FC Copenhagen is back in the group stage for the second time in four years, after scoring an 86th-minute equalizer to draw 1-1 with APOEL and progress 2-1 on aggregate.
Dinamo Zagreb was the last team to go through, beating Salzburg 2-1 after extra time to advance 3-2 on aggregate. The Croatian team equalized in the 87th minute through Junior Fernandes to take the match to extra time before El Arabi Hilal Soudani grabbed the winner in the 95th minute.
Local journalism is essential.
Give directly to The Spokesman-Review's Northwest Passages community forums series -- which helps to offset the costs of several reporter and editor positions at the newspaper -- by using the easy options below. Gifts processed in this system are not tax deductible, but are predominately used to help meet the local financial requirements needed to receive national matching-grant funds.
Subscribe to the sports newsletter
Get the day's top sports headlines and breaking news delivered to your inbox by subscribing here.
---