Sports
MLB Notes: Rob Segedin homers, races to hospital for son's birth
Wed., Aug. 24, 2016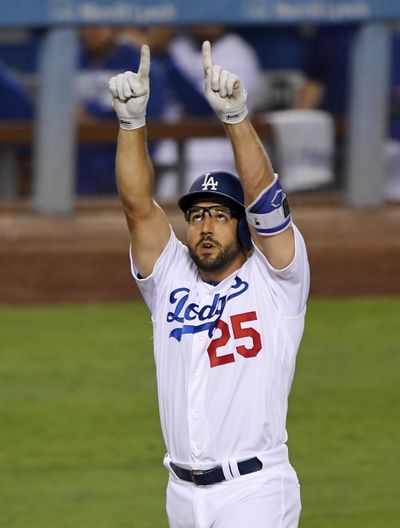 Rob Segedin sprinted from the outfield to the dugout, got frenzied high-fives from teammates and flew down the stairs toward the clubhouse.
"I don't even know if he showered," Dodgers manager Dave Roberts said.
Innings after getting his second major league home run – off ace Madison Bumgarner, no less – Segedin left to meet his wife, Robin, at the hospital for the birth of their first child, missing the end of the Los Angeles Dodgers' 9-5 win over the San Francisco Giants on Tuesday night.
Segedin was called in from the outfield for a double switch in the eighth inning. He confirmed on his Instagram account that his son, Robinson Marley, was born at 11:36 p.m.
"After we made that double switch, he made a bee line to the hospital," Roberts said. "I'm not sure her current status, but she was getting close. He was moving pretty quickly."
Rookies Segedin and Andrew Toles each homered, with Segedin taking Bumgarner deep in the second inning.
Segedin and Toles homered for the second straight game after getting their first big league homers in an 18-9 win over Cincinnati on Monday.
Segedin posted a photo on Instagram of him and his wife in the hospital Monday while he was holding the ball from his first home run. Segedin will go on paternity leave for one day. Players can take up to three days.
The 27-year-old debuted in the majors earlier this month after playing 561 minor league games. He nearly retired last year when the Yankees demoted him from Triple-A to Double-A.
Corey Seager, Justin Turner and Adrian Gonzalez combined for eight hits and four RBIs, and the banged-up Dodgers extended their NL West lead to two games on the same day they tied a major league record by placing their 27th player on the disabled list.
"It was a big team offensive effort," Gonzalez said. "Everybody swung the bat great. Just had good at-bats up and down the lineup. It was a lot of fun for us."
Bumgarner (12-8) is 0-2 with a 5.63 ERA in three starts against the Dodgers this season. Gonzalez hit a two-run single to center with the bases loaded against Bumgarner in the fifth to break a tie.
"I don't get concerned about that with Bum. There's nobody tougher than Bum," Giants manager Bruce Bochy said. "They just did a good job."
Kenley Jansen allowed a homer to Denard Span but still got his 36th save.
Seager, an MVP and Rookie of the Year candidate, extended his hitting streak to 14 games by going 3 for 4 with a walk and three runs scored. Gonzalez extended his hitting streak to 16 games.
The Dodgers and Giants still play eight more times this season, including the last three games of the regular season.
Bumgarner allowed five earned runs and nine hits in five innings. He struck out seven, but the fifth inning was his demise. The Giants bullpen, which has struggled of late, allowed four runs.
Dodgers starter Kenta Maeda (13-7) allowed three runs and six hits in five innings and issued a career-high four walks while striking out four. He threw 103 pitches and managed to work his way out of trouble, albeit with the help of his defense.
With two outs in the fifth, he intentionally walked Brandon Crawford, then struck out Hunter Pence. He yelled and punched his glove before handing off to the bullpen.
The Giants' Angel Pagan extended his hitting streak to 19 games.
Tillman on DL, O's turn to Jimenez
After the Orioles put pitcher Chris Tillman on the 15-day disabled list, manager Buck Showalter defended his decision to give his next start to Ubaldo Jimenez.
Baltimore sidelined Tillman with bursitis in his right shoulder and recalled right-hander Mike Wright. Jimenez, who is 5-10 with a 6.94 ERA in 22 appearances this season, will start Thursday against the Nationals.
Tillman is 15-5 with a 3.76 ERA this season. Showalter mentioned him as an American League Cy Young candidate, and Jimenez knows he's facing pressure replacing him.
"It's never a good feeling when you have to take the spot when someone gets hurt, especially Tilly, the way he was pitching," Jimenez said. "We really need him to be out there, but it's part of the game."
Showalter said Jimenez has the "pedigree" to fill Tillman's spot in the rotation, at least for one start.
"He's probably the most equipped," Showalter said. "He's pitched well here and against these guys … felt like he was the one worthy of getting an opportunity."
The 32-year-old is 4-0 with a 0.92 ERA in four career starts at Nationals Park.
Clearing the bases
MLB agreed to hold games in Puerto Rico and will work with the players' association to invest $5 million in developing baseball on the island. The joint commitment will be paid out over the course of the next collective bargaining agreement. The current agreement is set to expire Dec. 1. … A's DH Billy Butler, who is on the seven-day concussion DL, apologized for his role in the fight with teammate Danny Valencia on Friday in Chicago that led to the concussion. … Minor league right-handers Israel Cuevas, Felix Jimenez and Enyer Morales were banned 72 games after testing positive for a performance-enhancing substance. … Angels closer Huston Street has undergone season-ending arthroscopic surgery on his right knee. … The White Sox announced that beginning Nov. 1, the team's ballpark will be named Guaranteed Rate Field after inking a 13-year naming rights agreement with the national mortgage lender. … Red Sox third baseman Pablo Sandoval started doing defensive drills as part of his rehab program following season-ending left shoulder surgery in May. He has not been cleared to start hitting. Sandoval is expected to be ready for spring training next year. … The Diamondbacks have given team president and CEO Derrick Hall an eight-year contract extension. … Mets OF Yoenis Cespedes says he has no plans to exercise an opt-out clause in his contract with New York. Cespedes is in the first year of a three-year, $75 million deal that has an escape clause after the first season. … The Mets put pitcher Jonathan Niese on the 15-day DL (knee).
Local journalism is essential.
Give directly to The Spokesman-Review's Northwest Passages community forums series -- which helps to offset the costs of several reporter and editor positions at the newspaper -- by using the easy options below. Gifts processed in this system are not tax deductible, but are predominately used to help meet the local financial requirements needed to receive national matching-grant funds.
Subscribe to the sports newsletter
Get the day's top sports headlines and breaking news delivered to your inbox by subscribing here.
---