News > Spokane
Besieged by fire again, Wellpinit residents welcome help
Thu., Aug. 25, 2016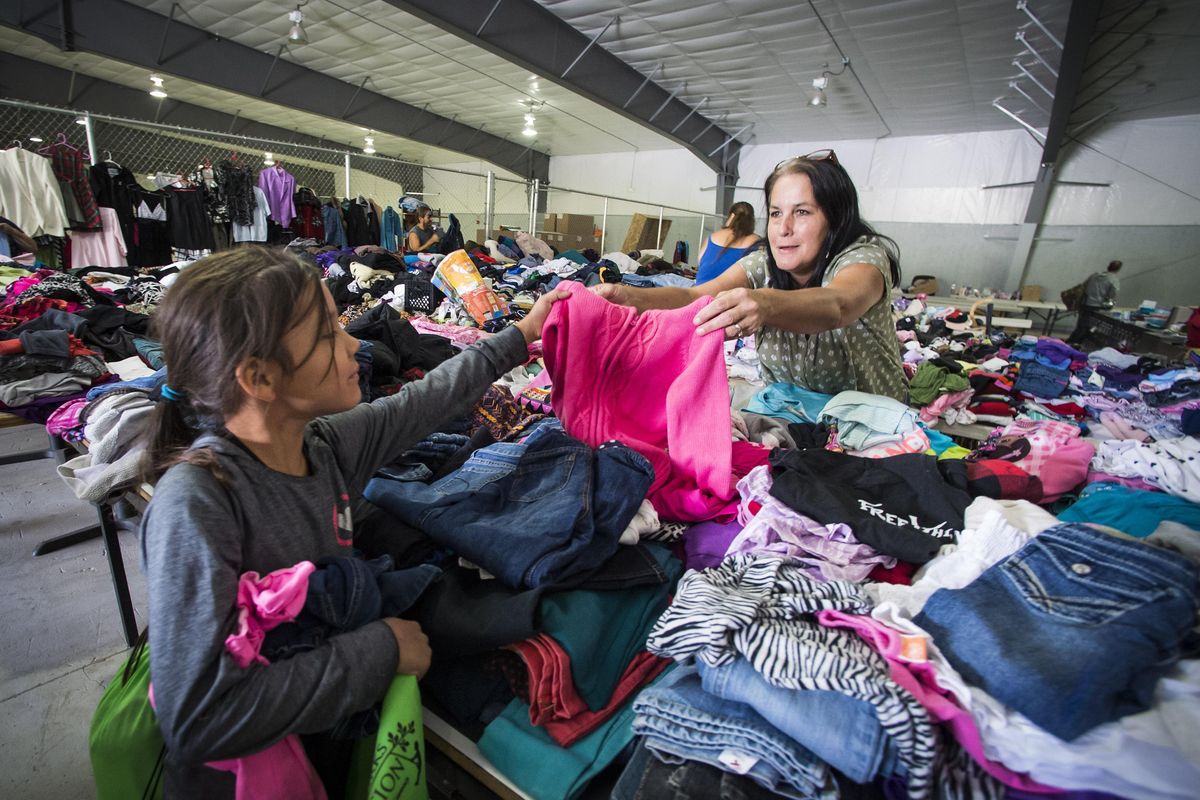 Angela Andrew hands her grand daughter Cienna Abrahamsom, 7, a shirt she might like inside a Wellpinit School warehouse full of donated clothing,Thursday, Aug. 25, 2016. Shipments have been arriving every hour from other tribes and surrounding communities. They include everything from bottled water, clothing, hygiene products and furniture. Local leaders say the donated items have helped people impacted by the fire get back on their feet. (Colin Mulvany colinm@spokesman.com / SR)
When a fast-moving wildfire disappeared behind a hill on the horizon, Vern Scherrer thought it had fizzled out in the Spokane River. When he saw it crown another hill, this one on his side of the river, he knew he was in trouble.
"I called the police department, and they said, 'Get out of there!' " said the 83-year-old Korean War veteran, who lived alone in a trailer on the Spokane Indian Reservation. "So I set my horse loose and hollered at him, hoping he'd run off to find a mare over the hills. And instead I came back and he's dead in that gulley."
In addition to his prized stallion and his home, Scherrer lost his cat and dog, and several cars and trucks he said were worth $40,000. He lived off Social Security and didn't have insurance, like many of those on the reservation northwest of Spokane.
But if there's one thing keeping his spirits up, it's the outpouring of support he has received from surrounding communities. Since his property was reduced to ash heaps on Monday, Scherrer has spent every night in the gymnasium at the Wellpinit School, where volunteers have been working tirelessly to connect residents with donated goods.
"They've been fantastic," said Scherrer, who's not a member of the Spokane Tribe.
The Cayuse Mountain fire spared the tiny town of Wellpinit, Washington, which serves as headquarters for the Spokane Indian Reservation. But it has burned more than 18,000 acres of forests and farmland in Lincoln and Stevens counties, and destroyed 13 homes on the reservation.
The resulting power outage caused food to spoil at the only grocery store in Wellpinit, and blew a pump in the town's only well.
Avista Utilities wasn't aware of the well problem until Thursday, said spokeswoman Debbie Simock. Wendy Wynecoop, who sits on the board of the Spokane Tribal Network, said a new pump is on the way.
"(Drinking) water was starting to be an issue," said Scott Peone, who manages the tribe's food assistance program. "But with all these donations, I don't think we're quite as worried anymore."
The Cayuse Mountain fire comes a year after the much larger Carpenter Road fire torched parts of the reservation.
On Thursday, Diane Andrews and her family visited the Wellpinit store to pick up fresh produce and several cases of bottled water donated from the Kalispel Tribe.
Just up the road at the Wellpinit School, Angela Andrew helped her 7-year-old grandaughter, Cienna Abrahamson, choose a pink shirt from a stockpile of donated clothing.
"It's made all the difference," said Wynecoop, who also works at the school. Her aunt and uncle, who lived beside the river, were the first to lose their home in the fire.
"It just hit so fast," she said. "I think everyone is still in shock from how fast that came through."
Local journalism is essential.
Give directly to The Spokesman-Review's Northwest Passages community forums series -- which helps to offset the costs of several reporter and editor positions at the newspaper -- by using the easy options below. Gifts processed in this system are not tax deductible, but are predominately used to help meet the local financial requirements needed to receive national matching-grant funds.
Subscribe now to get breaking news alerts in your email inbox
Get breaking news delivered to your inbox as it happens.
---