News > Spokane
Community rallies on behalf of Cayuse Fire victims
Thu., Aug. 25, 2016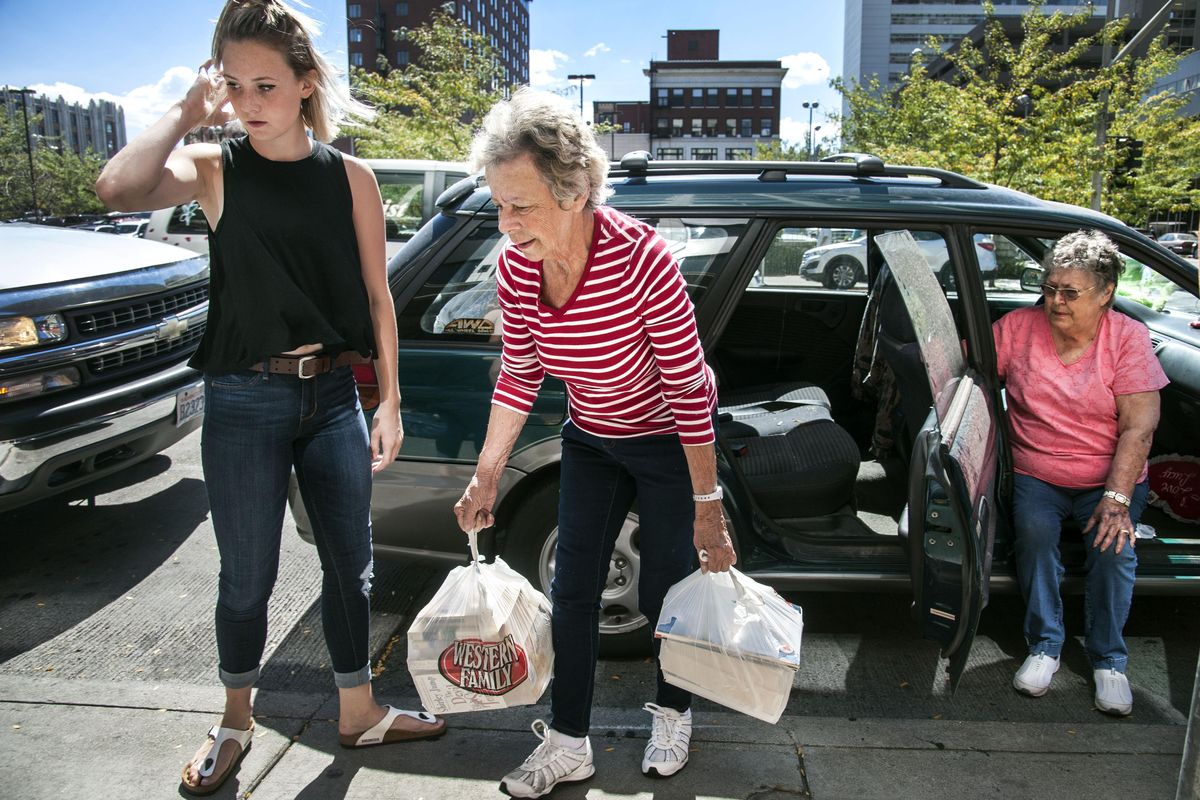 Gloria Alverson, of Spokane Valley, center, and Lucy Baker, right, of Spokane, drop off their second load of donations at the corner of Riverside and Howard in Spokane for the Cayuse Fire victims, Aug. 25, 2016. Alverson toured the Wellpinit area and saw the fire destruction. Volunteer Bailey Claassen is at left. (Dan Pelle / The Spokesman-Review)Buy a print of this photo
Spokane answered a call to help the wildfire-stricken community of Wellpinit, donating piles of clothes, and stacks of bottled water and food. People also gave thousands of dollars during a one-day drive Thursday.
The tiny town on the Spokane Indian Reservation northwest of Spokane may have been spared by the flames, but the fire burned down more than 80 power poles. The town's water well was unable to meet the heavy demand of a community in crisis as residents watered property to keep the fire away.
People drove up to the giant "Cayuse Fire Victims Donation Area – Thank You!" banner (also donated) to drop off supplies or give money outside the Fidelity Building on the corner of Riverside Avenue and Howard Street.
"We have it pretty good," said Connie Hutchinson as she handed a volunteer a check for $100. "We at least have a roof over our heads."
The 92-year-old got a call from her friend Thursday morning telling her about the donation effort for victims of the Cayuse Mountain fire still burning in Stevens County. "I don't have much anymore," she said, "but I do have this."
Jamie Sijohn, an account manager at BHW1 Advertising, which organized the effort, is deeply connected to the Spokane Tribe of Indians and the town of Wellpinit, which is still under Level 2 evacuation-readiness orders and has fires burning miles away.
On Sunday, the Hart Road wildfire jumped the Spokane River and tore across the reservation, burning dozens of homes and buildings and 17,000 acres of tribal land.
Many families who evacuated or lost their homes have been taking shelter in the Wellpinit School, a combined middle and high school.
"Seeing it firsthand and experiencing it firsthand, it was overwhelming," Sijohn said, recalling how she had rushed home Monday to evacuate her parents.
The town's power has been inconsistent and on Wednesday, officials asked residents to start conserving water. Sijohn said the residents of the town and surrounding areas are in rough shape and could use items such as toilet paper, socks and "anything you use every day, like the couch you're sitting on or the coffee in your hand."
Volunteers set up the donation drop-off at 6 a.m., and not long after, vehicles full of goods started to pull up. By 12:30 p.m., people had donated over $2,000 in cash and checks, dozens of bags of clothes and bedding supplies and even some furniture, such as recliners and high chairs.
One man brought a Christmas tree to brighten spirits. Young men handed over rumpled dollar bills. Others brought bags of clothes and boxes of food.
As volunteers ran back and forth from the curb to stack the donations inside the Fidelity Building, a constant stream of cars pulled in as other vehicles waited in line. One woman donated an entire yard-sale worth of items instead of selling them, taking two trips to the drop-off location in the process.
"I just decided I should put it to good use," said Lucy Baker.
Sijohn said a homeless man returned from Rite Aid with a case of water he bought with the last of his money. A homeless woman came by and donated a dime, saying " 'I want you to have what I have,' " Sijohn recounted.
Another woman, who lives at Rose Pointe Assisted Living in Spokane Valley, convinced the facility's transit driver to take her and a few other tenants to the donation center after seeing the effort on the news.
"It made all of us cry," Sijohn said. "The outpouring of support has been amazing."
Early Friday, volunteers are going to transport the supplies 40 miles west to Wellpinit in U-Hauls and other trucks (also donated). There, they'll join a large stockpile of water and clothes the community has helped assemble.
"A lot of our families didn't have insurance," said Penny Spencer, who works at the Wellpinit School and sits on the board of the Spokane Tribal Network, a nonprofit. "And a lot those who have insurance didn't have enough to save what was lost."
Staff writer Chad Sokol contributed to this report.
Local journalism is essential.
Give directly to The Spokesman-Review's Northwest Passages community forums series -- which helps to offset the costs of several reporter and editor positions at the newspaper -- by using the easy options below. Gifts processed in this system are not tax deductible, but are predominately used to help meet the local financial requirements needed to receive national matching-grant funds.
Subscribe now to get breaking news alerts in your email inbox
Get breaking news delivered to your inbox as it happens.
---