Sports
Digest: South Korea advances to international title game of LLWS
Thu., Aug. 25, 2016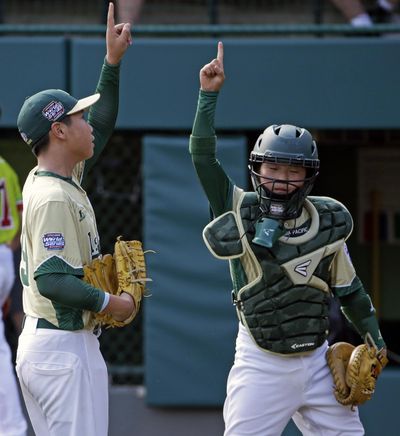 Little League: Seum Kwon had two home runs and three RBIs, Sangheon Park struck out nine and South Korea beat Mexico 7-0 on Thursday in South Williamsport, Pennsylvania, to advance to the international championship game of the Little League World Series.
Kwon hit a solo shot over the left-center wall to give Seoul a 1-0 lead in the first inning and he hammered the first pitch he saw in the second for a two-run homer.
Jaekyeong Kim also homered – with two on – in the second and Yoomin Lee came home on a wild pitch in the fourth. South Korea, which recorded its third shutout of the LLWS, will play Panama on Saturday.
Tennessee moves to final: Zach McWilliams hit a grand slam in the fourth inning, RJ Moore struck out five in two relief innings and Goodlettsville, Tennessee beat Bowling Green, Kentucky 8-4 for a spot in the U.S. championship game of the Little League Series.
Tennessee plays Endwell, New York on Saturday.
Rio charges Lochte with false report
Miscellany: Brazilian police charged American swimmer Ryan Lochte with filing a false robbery report over an incident during the Olympics in Rio de Janeiro.
A police statement said Lochte would be informed in the United States so he could decide whether to introduce a defense in Brazil.
Lochte initially said that he and fellow swimmers Jack Conger, Gunnar Bentz and Jimmy Feigen were robbed at gunpoint in a taxi by men with a police badge as they returned to the Olympic Village from a party Aug. 15. However, security video suggested the four actually faced security guards after vandalizing a gas station restroom.
Putin attacks ban on Russia's Paralympic team: Russian President Vladimir Putin attacked the ban on his country from the Rio de Janeiro Paralympics as immoral and inhumane. Russia was suspended on Aug. 7 over what International Paralympic Committee president Philip Craven called a "medals over morals" culture with evidence of state-sponsored doping.
"The decision to disqualify our Paralympians is outside the bounds of law, morality and humanity," Putin said at an award ceremony for Olympic athletes.
Thompson stars as Bolt skips Diamond League: Olympic 100-meter champion Elaine Thompson took center stage in the absence of her Jamaican teammate Usain Bolt in the first Diamond League meet in Lausanne, Switzerland, after the Rio de Janeiro Games. Thompson timed 10.78 seconds with a slight tailwind at Athletissima – just .07 outside her time in the 100 final in Rio and .08 behind her world-leading time this season.
Kvitova moves to semis: Defending champion Petra Kvitova needed just an hour to beat Ekaterina Makarova 6-3, 6-1 and move into the semifinals of the Connecticut Open in New Haven, Connecticut, despite suffering from a cold.
Looking to join Venus Williams and Caroline Wozniacki as a four-time winner in the tournament, Kvitova overpowered the Olympic doubles champion, breaking her four times.
Dover sells Nashville track: Dover Motorsports Inc. said Panattoni Development Company, a commercial real estate development company, will buy the Nashville Superspeedway for $27.5 million and also take over Dover's obligations under bonds issued in 1999 to help build infrastructure supporting the track.
Longhorns extend Smart's contract
College athletics: Texas is giving men's basketball coach Shaka Smart an extra year on his original contract with an additional $100,000 per season. Smart's first team finished 23-10 and the Longhorns lost in the first round of the NCAA Tournament last season.
Virginia Tech names Evans as starting QB: Junior college transfer Jerod Evans will be Virginia Tech's starting quarterback in the opener against Liberty. Evans beat out redshirt senior Brenden Motley and freshman Josh Jackson.
QB White to start for Auburn: Sean White will open this season like he finished the last one: As Auburn's starting quarterback. Coach Gus Malzahn proclaimed White the winner of the three-man race over Jeremy Johnson and junior college transfer John Franklin III.
Reed, Laird share lead at Barclays
Golf: Two days after Patrick Reed broke the gavel during the ceremonial closing bell at the New York Stock Exchange, the American kept a clean card and shot 5-under 66 to share the lead with Martin Laird at The Barclays in Farmingdale, New York.
Reed was dressed in a blue blazer with an American tie when he was asked to bang the gavel three times at the stock exchange closing on Tuesday. On the third hit, the top of the gavel flew off into the crowd.
Ko falls one behind Meadow in Canada: Three-time champion Lydia Ko was back on the Canadian Pacific Women's Open leaderboard. Ko shot a 5-under 67 at Priddis (Alberta) Greens in the round delayed for three hours, leaving her a stroke behind leader Stephanie Meadow.
Blatter says he will accept CAS verdict
Soccer: Former FIFA president Sepp Blatter arrived for a marathon appeal hearing against a six-year ban from football, pledging to accept the verdict of the Court of Arbitration for Sport
He denies wrongdoing in authorizing a $2 million payment to former FIFA vice president Michel Platini in 2011.
Ronaldo wins UEFA Best Player in Europe award: Cristiano Ronaldo has won UEFA's award as the best player in Europe last season after helping Portugal to win the European Championship and having another stellar campaign for Real Madrid.
Crosby named World Cup captain
Hockey: Canada has chosen Sidney Crosby as its captain for the World Cup of Hockey.Crosby returns as Canada's captain after wearing the "C" for the 2014 Sochi Olympics. He is coming off his second Stanley Cup as captain of the Penguins.
Avalanche hire Bednar: The Colorado Avalanche hired Jared Bednar as their head coach. Bednar replaces Patrick Roy, who abruptly stepped down as coach and vice president of hockey operations earlier this month.
Local journalism is essential.
Give directly to The Spokesman-Review's Northwest Passages community forums series -- which helps to offset the costs of several reporter and editor positions at the newspaper -- by using the easy options below. Gifts processed in this system are not tax deductible, but are predominately used to help meet the local financial requirements needed to receive national matching-grant funds.
Subscribe to the sports newsletter
Get the day's top sports headlines and breaking news delivered to your inbox by subscribing here.
---