Sports > Seattle Mariners
Mariners blow three-run lead in seventh, lose in ninth
Thu., Aug. 25, 2016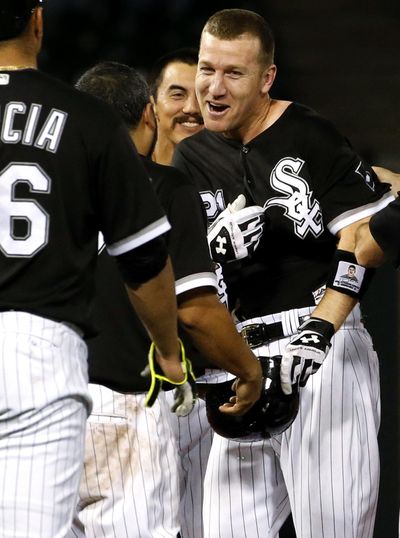 CHICAGO – Whether through heavy usage or the law of averages, the Mariners' potent bullpen, which fueled their recent surge, is showing signs of slippage.
The bullpen coughed up a three-run lead Thursday in a 7-6 walk-off loss to the Chicago White Sox at U.S. Cellular Field.
The end came against Nick Vincent (3-4) in the ninth inning after Adam Eaton lofted a leadoff single into left field. Eaton moved to second on Tim Anderson's sacrifice bunt.
An intentional walk to Jose Abreu set up the desired force plays, but Todd Frazier, who tied the game with a two-run single in the seventh inning, pulled a winning single into left field.
"Todd Frazier," M's manager Scott Servais noted with shrug, "was 0 for 4 with four strikeouts against Nick Vincent."
This makes three straight losses for the Mariners and four in five games after winning 14 of their previous 18 and climbing back into postseason contention.
As for the bullpen, this was just the latest stumble.
The relief corps squandered a three-run lead in the ninth inning last Sunday in a 7-6 loss to Milwaukee and let two games get away last week when the Mariners settled for a split in a four-game series at Anaheim.
"Those guys have been very good," Servais said, "and it was lined up good. We had the error in the seventh. Then a walk. Those things will bite you.
"You give teams more than three outs in an inning, and they usually come back to get you. It did tonight."
Chicago closer David Robertson (4-2) got the victory after pitching a scoreless ninth inning. The Mariners had spanked him for four ninth-inning runs on July 18 at Safeco Field in rallying for a 4-3 victory.
The Mariners built a 6-3 lead, which starter James Paxton handed to the bullpen to start the sixth inning. Tom Wilhelmsen worked an easy sixth in his first outing since Sunday's collapse against the Brewers.
But Chicago pulled even by scoring three runs in the seventh against Arquimedes Caminero and Steve Cishek. An error by shortstop Ketel Marte started the White Sox rolling.
"It changed a lot in the last two seconds," Marte said. I was charging in on it. I did what I can do, and that's part of the game. It took a funny bounce, but it's part of the game. You can't do anything about it."
After Marte booted J.B. Shuck's leadoff grounder, left fielder Nori Aoki made a diving catch on Tyler Saladino's sinking liner.
It proved a temporary reprieve.
Caminero walked Adam Eaton before Anderson atoned for his error in the Mariners' three-run sixth by driving a double over Leonys Martin's head in center that hopped the wall.
The White Sox were back to within 6-4 and had runners at second and third with one out. The Mariners replaced Caminero with Cishek, who struck out Jose Abreu with a sweeping slider.
That got the game to Frazier, who had struck out three times against Paxton. This time he grounded a two-run single through the left side. The White Sox were back even at 6-6.
All three runs were unearned because of Marte's error.
It stayed 6-6 until the ninth.
Afterward, Vincent and Caminero each parked themselves in front of video machines to study their performances.
"I thought we were in a good spot tonight, up three," Servais said. "We just weren't able hold them down."
And as an added penalty for not beating Chicago starter Anthony Ranaudo, who sports a 9.61 ERA, the Mariners face All-Star lefties Chris Sale and Jose Quintana in the next two games.
The Mariners broke a 3-3 tie in the sixth by cashing a gift.
Robinson Cano followed his game-tying homer in the fourth inning by lining a one-out single to left. Nelson Cruz followed with a sharp hopper back to the mound that Ranaudo deflected.
Anderson grabbed the carom but made a wild throw to first. The scoring was an infield single for Cruz, and a throwing error on Anderson for allowing Cano to take third.
Adam Lind flicked a tie-breaking single into right for a 4-3 lead.
When Ranaudo then loaded the bases by walking Mike Zunino, the White Sox went to the bullpen for their only lefty reliever, Dan Jennings, to face Martin.
The strategy didn't work. Martin lined Jennings' first pitch into center for a two-run single. The Mariners led 6-3. All six runs were charged to Ranaudo, who escaped with a no-decision.
Local journalism is essential.
Give directly to The Spokesman-Review's Northwest Passages community forums series -- which helps to offset the costs of several reporter and editor positions at the newspaper -- by using the easy options below. Gifts processed in this system are not tax deductible, but are predominately used to help meet the local financial requirements needed to receive national matching-grant funds.
Subscribe to the sports newsletter
Get the day's top sports headlines and breaking news delivered to your inbox by subscribing here.
---