News > Spokane
Community, connectivity part of Hotel RL conversion
Fri., Aug. 26, 2016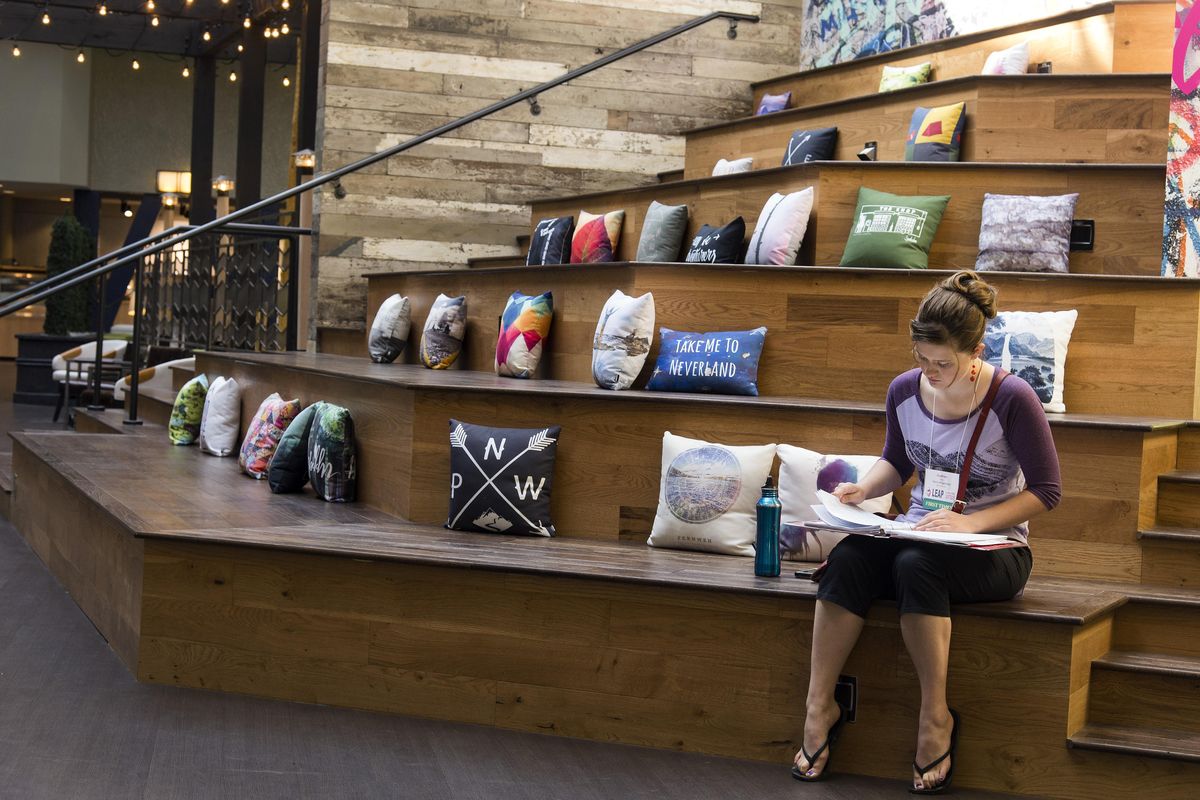 In the lobby of the newly renovated Hotel RL by Red Lion, Andrea Falk, 19, sits in an area called The Steps, a place across from a community performance stage. The downtown hotel, along the north bank of the Spokane River, has been remade to be more inviting to guests and the community. (COLIN MULVANY colinm@spokesman.com / The Spokesman-Review)
Back in 1983, Cavanaughs Inn at the Park opened with fanfare over its riverfront location and its atrium lobby filled with plants and trees.
Thirty-three years later, the 402-room hotel has been renamed and redesigned to reflect changes in the way people travel, offering communal spaces with Wi-Fi, plenty of charging stations for electronic devices and check-in via kiosk or mobile app.
But despite the emphasis on technology, the Hotel RL's proximity to the river, Riverfront Park and the Centennial Trail are still its main selling points.
Hotel RL in Spokane is the fourth in the Red Lion Hotels Corp. chain to be converted to the new, upscale look.
The heart of the new look is what the Spokane-based hospitality company calls its "Living Stage," which will feature community speeches and performances. Presenters need to sign up in advance for their 15 minutes in front of a hotel audience. Guests can sit on wooden risers festooned with pillows, or other seating areas including hanging cocoons.
Fitzgerald said the idea is to get guests out of their rooms and mingling with other people, including locals who will have new reasons to go to the hotel.
"We want to invite the community back to the hotel," said Michael Fear, the general manager.
Ruth Fitzgerald, director of sales and marketing, said the lobby is "a multifunctional space" that can be used solo or by a group.
"I think we are pioneering," she said, "kind of leading the way in how the next generation of travelers experience a hotel."
Lines between the bar, restaurant and lobby are blurred; anyone can order food from wherever they are sitting. And a new walk-up "grab and go" bar will feature made-to-order or precooked foods.
The coffee shop features Victrola brand from Seattle. Each guest gets a complimentary coffee drink each day, and rooms no longer have coffee makers.
Douglas Quinby, vice president of research for Phocuswright, an industry tracking firm, said the changes at Hotel RL are a "pretty clear shift to appeal to younger travelers (millennials), who are more digitally connected and eschewing the cookie-cutter hotel experience."
The trend is occurring across the hotel industry, and Red Lion is pushing the change into what is considered an economy brand, he said via email. The change to an economy hotel is a bit of a twist, he said.
"This is an indication that every segment of the hotel industry is feeling the pressure to up their game in terms of the guest experience. We are also seeing this in a big way in hostels – one of the most affordable hospitality segments," Quinby said.
Among the changes, the hotel is creating a bicycle shop in the area formerly occupied by the front desk that's open to anyone who needs a repair or tune-up, and is ideally located for Centennial Trail users.
The hotel has a restored 1968 Volkswagen van to haul guests around town.
Guest rooms have been remodeled with laminated wood flooring, a large area rug, mural art and a 55-inch television.
Art is found throughout the hotel, including chalk art that will change periodically.
In an email, Harry Sladich, executive vice president of hotel operations and sales, said, "Spokane is a city of great restaurants with a vibrant cultural atmosphere and a unique landscape. Now we have a hotel that reflects where we're headed as a destination."
Local journalism is essential.
Give directly to The Spokesman-Review's Northwest Passages community forums series -- which helps to offset the costs of several reporter and editor positions at the newspaper -- by using the easy options below. Gifts processed in this system are not tax deductible, but are predominately used to help meet the local financial requirements needed to receive national matching-grant funds.
Subscribe now to get breaking news alerts in your email inbox
Get breaking news delivered to your inbox as it happens.
---