Sports
EWU wraps up fall camp with high-energy scrimmage
Fri., Aug. 26, 2016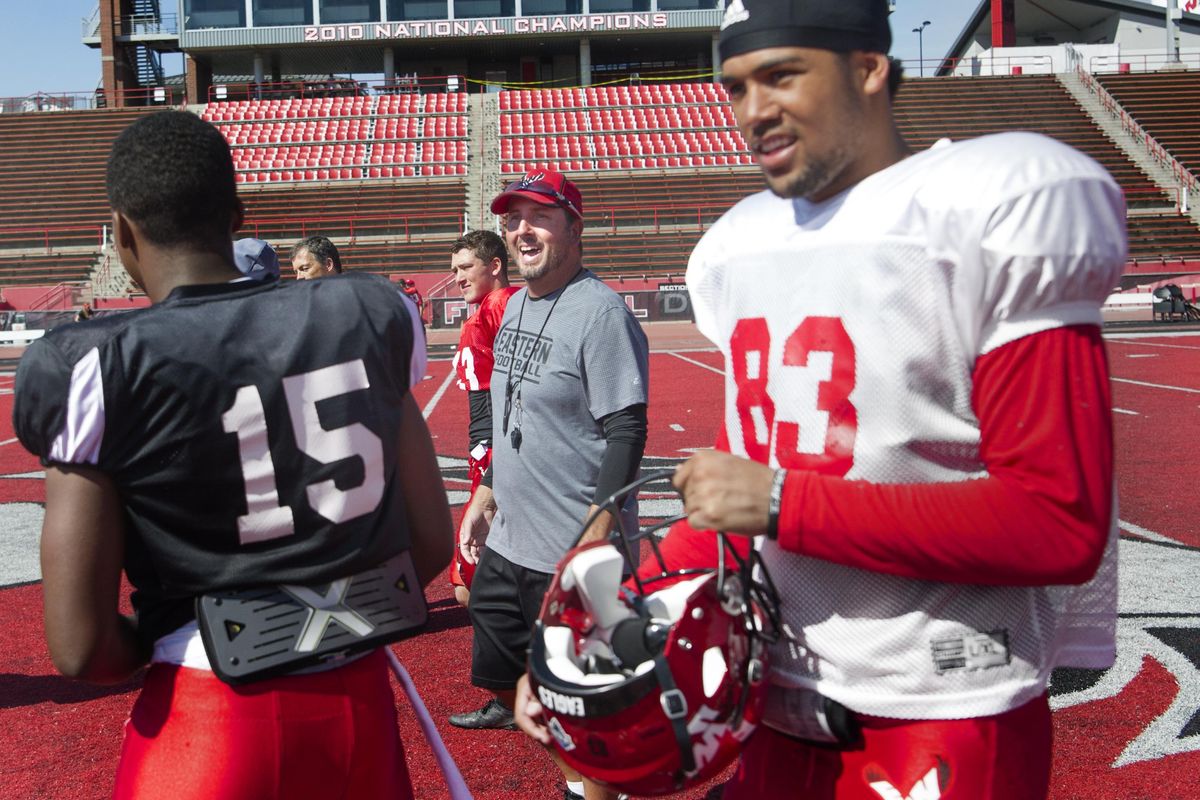 EWU head coach Beau Baldwin smiles with freshman quarterback Eric Barriere (15) and Talolo Limu-Jones (83) after a scrimmage on Friday, Aug. 26, 2016, at Roos Field in Cheney, Wash. TYLER TJOMSLAND tylert@spokesman.com (Tyler Tjomsland / The Spokesman-Review)Buy a print of this photo
The offense and defense battled to a draw, but emotion carried the day in Eastern Washington's final scrimmage Friday morning.
With no music blaring from the Roos Field speakers, the Eagles made their own noise in the final tuneup before the Sept. 3 opener at Washington State.
"I really thought, especially from a defensive standpoint, that's as much emotion as we've shown," coach Beau Baldwin said. "You're talking about a 9 a.m. scrimmage and a lot of guys sitting out … but I thought that we came out with some amazing emotion."
And all that with second- and third-stringers getting most of the snaps while the offense pushed the tempo.
The defense banged the drums hard in the opening minutes, getting two interceptions and holding the offense scoreless on its first five possessions.
"That was the idea," said cornerback D'londo Tucker, whose defensive mates got the worst of last week's scrimmage. "This is a real confidence booster, to get us riled up."
However, the offense got untracked behind a pair of true freshmen, quarterback Eric Barriere and running back Tamarick Pierce. Depending on the coaches' decision on redshirts, Friday's action could be their last of the season – or the start of something big.
"(Before the scrimmage), the players were telling me I was going to get a lot of reps," Barriere said. "So I didn't want to make many mistakes."
Barriere didn't; he completed 10 of 14 passes for 95 yards and a score.
Pierce made his case with 121 yards of total offense on just five plays. Most came on a short pass from Reilly Hennessey, after which Pierce juked one defender and followed his blockers all the way to an 87-yard touchdown.
Pierce likely ran his way into seeing his redshirt burned, but he stayed humble. "I just followed my blockers," said Pierce, who rushed for 34 yards on six carries.
True freshman tight end Talolo Limo-Jones led all receivers with three catches for 37 yards.
The offense finished with 268 yards on 58 plays.
The Eagles get the next two days off. Practice resumes at 9:15 a.m. Monday. After that, most sessions will begin at 4 p.m.
"I thought that we finished up this week and did a lot of things that we wanted to accomplish," Baldwin said.
Local journalism is essential.
Give directly to The Spokesman-Review's Northwest Passages community forums series -- which helps to offset the costs of several reporter and editor positions at the newspaper -- by using the easy options below. Gifts processed in this system are not tax deductible, but are predominately used to help meet the local financial requirements needed to receive national matching-grant funds.
Subscribe to the sports newsletter
Get the day's top sports headlines and breaking news delivered to your inbox by subscribing here.
---