Sports > Seattle Mariners
Felix Hernandez, bullpen outpitch Chris Sale as M's top White Sox
Fri., Aug. 26, 2016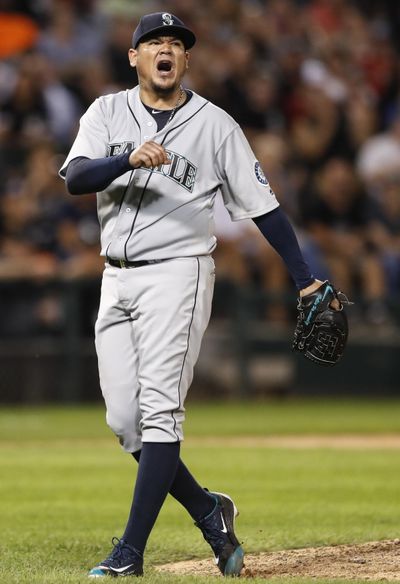 CHICAGO – Friday was Elvis Night at U.S. Cellular Park and, sure enough, it turned into a tribute to the King. With a little Sugar on the side.
King Felix Hernandez outpitched Chicago ace Chris Sale as the Mariners snapped their three-game skid with a 3-1 victory. And it was everything you'd expect from a this pitching matchup.
"I know I was facing Sale," Hernandez said, "and he's a great pitcher. It's going to be a tough game. Then we scored those three runs, and the bullpen tired, so I needed to go deep in the game. I was able to do my job."
The Mariners built that 3-0 lead by scoring single runs in the second, third and fourth innings before Sale (15-7) turned unhittable in pitching his fifth complete game of the season and striking out 14.
"Thank God, we did it early," M's manager Scott Servais said, "because as everybody saw, when he gets on a roll, he's lights out. We had no chance, really, after the fourth or fifth inning."
Hernandez lost his shutout with two outs in the seventh inning when Todd Frazier, who tormented the Mariners in Friday's walk-off loss, crushed a full-count fastball for his 32nd homer of the season.
It ended Frazier's homerless drought at 62 plate appearance and trimmed the Mariners' lead to 3-1.
The White Sox then put the tying run on base with one out in the eighth inning after getting a pair of singles before the lineup turned over. A walk to Adam Eaton, the leadoff hitter, loaded the bases and finished Hernandez.
Rookie closer Edwin "Sugar" Diaz quelled the threat.
Tim Anderson's dribbler to third turned into a force at the plate before Diaz ended the inning by retiring Jose Abreu on a foul pop. Diaz then struck out the side in the ninth inning for his 11th save in 11 chances.
"I just started working a couple of days ago on my mechanics," said Diaz, who wobbled through his three previous outings. "You saw the results in the game today. I stayed back, and my fastball was pretty good.
"I was locating everything good."
Hernandez (9-4) gave up one run and eight hits in 7 1/3 innings. It was his fourth straight quality start, and he is now 5-0 in eight starts since returning from a two-month stay on the disabled list because of a strained calf muscle.
"It was good," he said. "I'm feeling better every time I go out there. Better and better. Good pitches. Good fastball. Good secondary pitches."
There was an anxious moment as Hernandez prepared to take the mound in third inning. He felt dizzy and experienced a loss of feeling in his legs. He took his warm-ups throws under the eye of assistant trainer Rob Nodine.
"I was worried, too," Hernandez said. "I don't know what happened. I couldn't feel my legs. I felt a little dizzy. After that, it went away."
The Mariners were 0-4 in eight previous outings against Sale, although they rallied for a 4-3 victory on July 18 at Safeco Field in a Sale start by scoring four times in the ninth inning against closer David Robertson.
Sale blew through the first five Mariners before Franklin Gutierrez drove a 1-1 fastball over the right-center wall for a 1-0 lead. It was his 12th homer of the year and snapped a 0-for-16 skid.
The Mariners loaded the bases with no outs in the third inning but settled for one run when Guillermo Heredia grounded into a double play.
Adam Lind's two-out RBI double in the fourth boosted the lead to 3-0.
"You're hoping he hangs something," Lind said, "or leaves something in the middle of the plate."
Sale then retired the last 16 batters at Lind's double. Nine by strikeouts.
But the Mariners had all they needed. This was the King's night, after all. With a little Sugar.
PLAY OF THE GAME: Shawn O'Malley started for a third straight game at third base in place of Kyle Seager, who is nursing a sore right foot.
The Mariners led 3-1 with one out in the eighth inning, but Chicago had the bases loaded. Rookie closer Edwin Diaz had just replaced Felix Hernandez and got Tim Anderson to hit a slow dribbler to third.
O'Malley charged in, made a barehanded pickup and snapped a throw to the plate that beat J.B. Shuck for a force out.
"It was hit slow," O'Malley said, "and I just realized I had to barehand and get rid of it as quick as I can and try to make the best throw to Mike (Zunino) that I could.
"I know I got the whole thing in my hand, which is good. The first thing going through my head was to secure the ball and then try to make the best throw I could."
Diaz ended the inning by retiring Jose Abreu on a foul pop to O'Malley before striking out the side in the ninth inning.
PLUS: Felix Hernandez's delivery from the stretch apparently baffled Chicago baserunners. Twice they broke for second while he still had the ball and, each time, Hernandez trapped the runner in a rundown for an out. … The Mariners are 7-1 in Hernandez's eight starts since returning from the disabled list.
MINUS: Robinson Cano might have had his roughest night of the year at the plate. He struck out three times while going 0 for 4. … Guillermo Heredia and Mike Zunino were also 0 for 4.
Local journalism is essential.
Give directly to The Spokesman-Review's Northwest Passages community forums series -- which helps to offset the costs of several reporter and editor positions at the newspaper -- by using the easy options below. Gifts processed in this system are not tax deductible, but are predominately used to help meet the local financial requirements needed to receive national matching-grant funds.
Subscribe to the sports newsletter
Get the day's top sports headlines and breaking news delivered to your inbox by subscribing here.
---