A&E > Seven
Fruit-full event encourages fresh, healthy eating
Fri., Aug. 26, 2016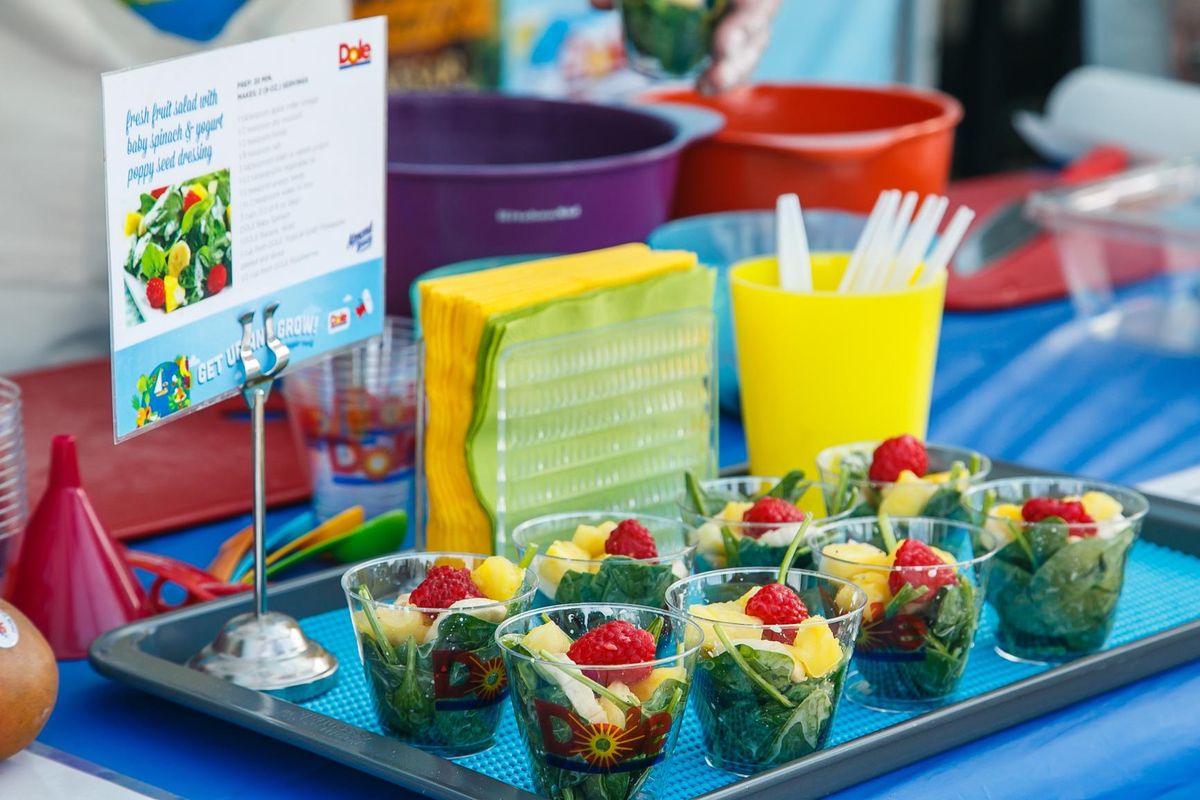 Participants will be able to sample recipes using fresh produce at Dole's "Get Up and Grow Together Tour." (Dole)
Dole's "Get Up and Grow Together Tour" celebrates fruits, vegetables and healthy eating. The caravan will be in the Spokane area and North Idaho Saturday through Monday, making stops at local grocery stores.
At each stop, visitors will be able to sample smoothies, salads, sides and desserts, including Pine-Berry Spice Punch, Broccoli and Fruit Slaw, and Cafe Banana Frappe.
In the Kid's Corner, children and parents can create healthy recipes. There will also be fruit and veggie trivia, a photo booth and a healthy living challenge.
The challenge encourages people to pledge to eat healthier, then recruit friends to compete as a team to win a tasting and teaching culinary party.
Visitors with a receipt showing a qualifying purchase of Dole fresh produce will receive a gift, such as a Get Up and Grow T-shirt or a portion plate.
The tour will make five stops in the region:
10 a.m.- 1 p.m. Saturday, Rosauers at 2610 E. 29th Ave. in Spokane;
3-6 p.m. Saturday, Rosauers at 10618 E. Sprague Ave. in Spokane Valley;
10 a.m.- 1 p.m. Sunday, Super 1 at 305 Kathleen in Coeur d'Alene;
3-6 p.m. Sunday, Super 1 at 15837 N. Westwood Drive in Rathdrum; and
10 a.m.- 1 p.m. Monday, Yoke's at 1233 N. Liberty Lake Road, Liberty Lake.
For more information, visit http://dolegetupandgrow.com/.
Kimberly Lusk
Local journalism is essential.
Give directly to The Spokesman-Review's Northwest Passages community forums series -- which helps to offset the costs of several reporter and editor positions at the newspaper -- by using the easy options below. Gifts processed in this system are not tax deductible, but are predominately used to help meet the local financial requirements needed to receive national matching-grant funds.
Subscribe to the Spokane7 email newsletter
Get the day's top entertainment headlines delivered to your inbox every morning.
---