Sports
'Greater' tells story of late Arkansas walk-on Brandon Burlsworth
Fri., Aug. 26, 2016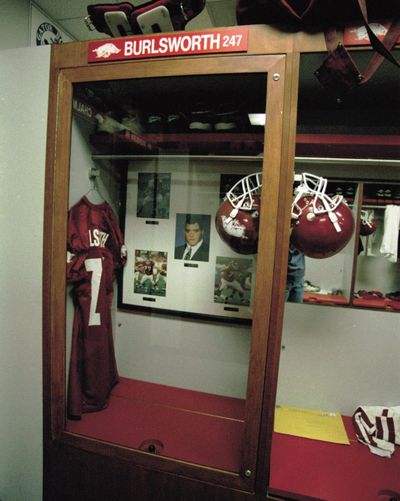 In Brandon Burlsworth, the bespectacled former walk-on from Arkansas, former Colts general manager Bill Polian believed he had drafted a player who could be to Indianapolis' offensive line what Peyton Manning was at quarterback.
Burlsworth was working with the Colts' starters at his first minicamp in 1999. He never got the chance to prove Polian correct. Eleven days after being drafted, Burlsworth was killed in a car crash while driving from Fayetteville, Arkansas, to his hometown of Harrison. He was 22.
Burlsworth's inspiring life story is the subject of the film "Greater," which opened Friday in theaters around the country.
"The good thing about this is Brandon's legend lives on in Arkansas, but through this film millions of kids and families around America will get to know him," said Polian, who is now working as an NFL analyst for ESPN.
"Greater" is the first film made by producer Brian Reindl, an Arkansas football fan and real estate developer. Reindl convinced Burlsworth's parents to trust him with their son's story in 2005.
Burlsworth's walk-on tale is familiar in many ways. He dreamed of playing major college football for the big state school, but was not good enough to receive scholarship. A late bloomer, he was 260 pounds as a senior in high school, but had enough athleticism and determination to earn a spot at Arkansas as a walk-on. Once he got the chance he took off. He became a three-year starter and as a senior was a second-team AP All-America and legitimate NFL prospect.
Even before Polian met Burlsworth face-to-face the reports he received about him were glowing.
"Incredible perseverance and dedication and the highest possible character," Polian said.
Burlsworth could play, too, even though he never had the typical look of potential star. The dark horned-rim glasses he wore under his helmet were the first thing that stood out, Polian said.
"The body was Baby Huey, but inside that body was a really tremendous athlete," Polian said.
The Colts drafted Burlsworth in the third round, 63rd overall.
Colts offensive line coach Howard Mudd had worked with Burlsworth at the Senior Bowl before the draft and knew what he was getting. Mudd quickly installed Burslworth in the starting lineup, Polian said.
"The other players were saying, 'Wow, this guy must be pretty special,'" Polian said.
After Burlsworth's death, his brother, Marty, started a foundation in Brandon's name that helps provide glasses to needy children in Arkansas and gives kids a chance to attend a Razorbacks football game. In 2010, the Burlsworth Trophy was created to honor the top FBS player who began his career as a walk-on.
"There's never a day where I don't think about Brandon," Marty Burlsworth wrote in a story posted on The Players' Tribune on Friday. "Whether I'm driving around town, past the baseball park where we used to play catch, past the Razorbacks signs on front lawns, I feel his presence."
Local journalism is essential.
Give directly to The Spokesman-Review's Northwest Passages community forums series -- which helps to offset the costs of several reporter and editor positions at the newspaper -- by using the easy options below. Gifts processed in this system are not tax deductible, but are predominately used to help meet the local financial requirements needed to receive national matching-grant funds.
Subscribe to the sports newsletter
Get the day's top sports headlines and breaking news delivered to your inbox by subscribing here.
---