Sports
Visiting Madison handles Lake City 48-7 in opener
Fri., Aug. 26, 2016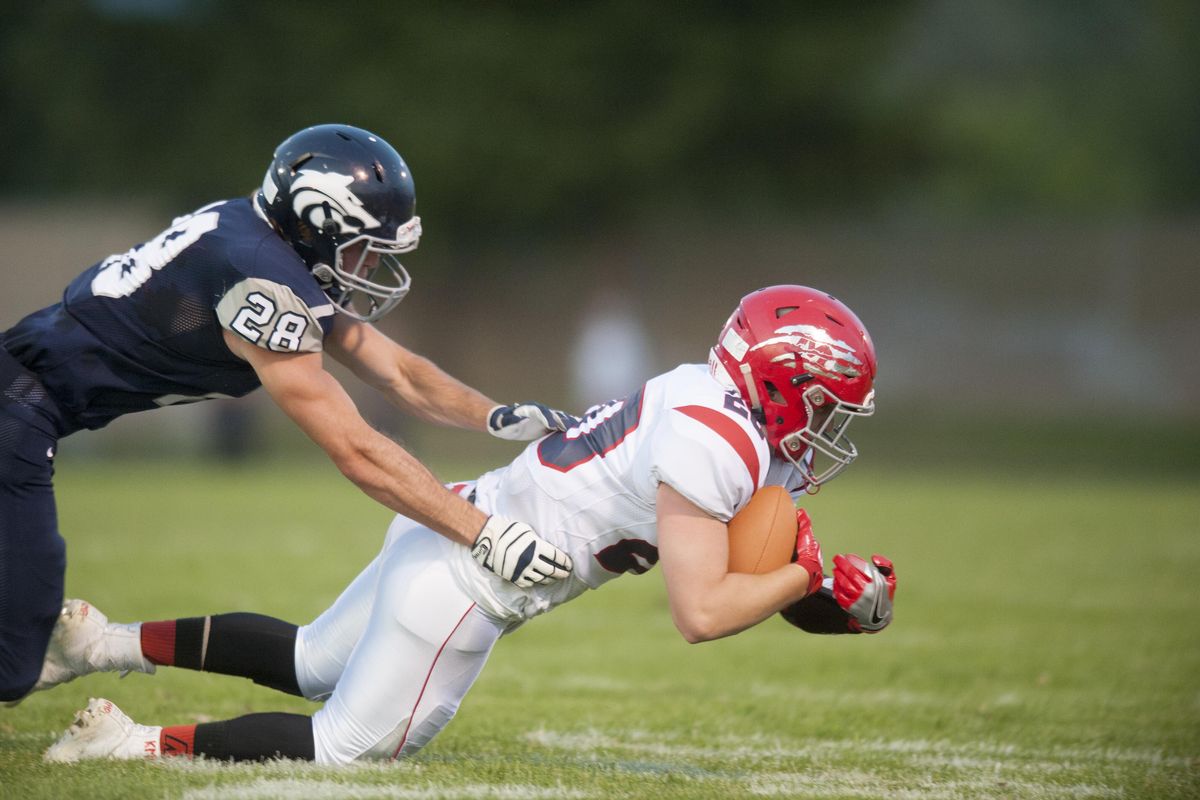 Lake City's Kyle Kazmierski (28) brings down Madison receiver Ryan Perkes (20) during the first half of a high school football game on Friday, Aug 26, 2016, at Lake City High School in Coeur d'Alene, ID. (Tyler Tjomsland / The Spokesman-Review)Buy a print of this photo
Friday night there was a classic season-opening football matchup between a team coming off a state semifinal appearance and a team coming off a 2-7 season.
If that game is an indication, the visiting Madison Bobcats could be destined for another special season. The Lake City Timberwolves, under first-year coach Bryce Erickson, have much work ahead.
Madison took advantage of two fumbles on Lake City's first two possessions, scoring two touchdowns in a span of 13 seconds, and the Bobcats never were stopped in a 48-7 decision.
Lake City avoided a shutout when backup quarterback Bryce Buttz found Nick Goldthorpe on an 8-yard pass with six seconds remaining.
The Timberwolves took the opening kickoff and moved from their 18-yard line to Madison's 45. But on their fifth play, junior Grant Clark was stripped.
Seven plays later, Madison converted when Blake Moseley scored on a 2-yard run.
LC quarterback Matt Duchow and Clark had a botched exchange on the T-Wolves' next play, giving the Bobcats the ball at LC's 21.
On the next play, quarterback Devin Berry threw a TD pass to Mason Downy.
"You've got to give all the credit to Madison and their coaching staff," Erickson said. "They're a well-coached football team. They came out with good energy. And I thought we did too. We had that first drive going and turn the ball over. Then the next series right on the next play we turn it over and kind of lost the momentum."
Madison added one more TD before the opening period expired, and the Bobcats extended the lead to 28-0 with 4:44 to go before halftime.
LC moved the ball at times but couldn't sustain a drive.
The T-Wolves' Derek Peters intercepted a pass, setting LC up at Madison's 23 with 54 seconds left in the second quarter.
Aided by a facemask penalty, LC moved to the 5. But poor clock management cost the T-Wolves a TD when Duchow was tackled for no gain as the clock expired.
Things went from bad to worse on the first play of the second half when Moseley, after bobbling the kickoff, retrieved the ball and scampered 89 yards for a TD, extending the lead to 35-0.
"We just didn't execute the way that I wanted to," Erickson said. "The thing that I'm proud of the kids, I didn't see any give-up in them. I thought defensively the second half we played well aside from the opening kickoff."
LC converted on its final possession. The T-Wolves marched 80 yards on 11 plays before Buttz found Goldthorpe.
"It's the little things we've got to keep cleaning up," Erickson said. "We've got a lot of good teaching tape to look at the next few days and fix those mistakes. It's like I told them all week, it's going to come down to execution and mental mistakes and turnovers."
Erickson was pleased to see his team wipe the zero off the scoreboard.
"This is a good football team, and I expect that we'll come back next week, and there needs to be a lot of improvement," Erickson said. "My dad (Dennis Erickson) would have killed me if we'd gotten shut out. He'd never talked to me again. There's a lot of season left."
Local journalism is essential.
Give directly to The Spokesman-Review's Northwest Passages community forums series -- which helps to offset the costs of several reporter and editor positions at the newspaper -- by using the easy options below. Gifts processed in this system are not tax deductible, but are predominately used to help meet the local financial requirements needed to receive national matching-grant funds.
Subscribe to the sports newsletter
Get the day's top sports headlines and breaking news delivered to your inbox by subscribing here.
---