News > Spokane
100 years ago on the Columbia River: Brothers' canoe trip turns deadly
Sun., Aug. 28, 2016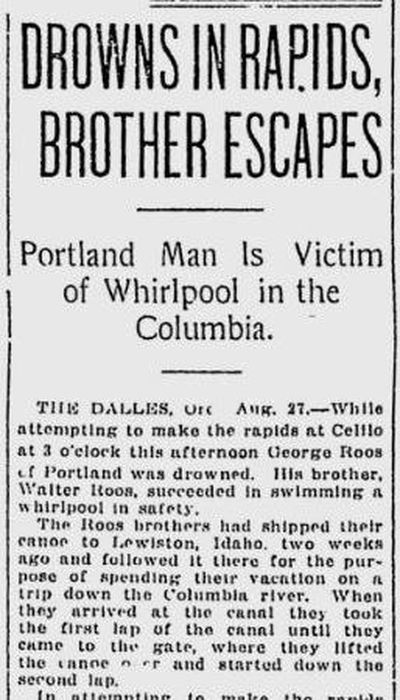 From our archives, 100 years ago
The canoeing vacation of brothers George and Walter Roos of Portland ended in tragedy at The Dalles, Oregon.
The pair had shipped their canoes to Lewiston to paddle down the Snake and Columbia rivers to Portland.
Like many river travelers before them, they found the rapids at Celilo to be a dangerous proposition.
"In attempting to make the rapids they hugged the Washington state side and managed to get close to the Big Eddy," the paper said. "Here they misinterpreted the river and hearing what they thought to be the falls, turned in closer to the river edges. Their canoe was twice turned around and then upset."
Walter Roos grabbed their pack and yelled at his brother to let the canoe go. Walter started swimming to shore, but was twice pulled under. He landed on a rock, where he was able to recover his breath. From there, he made it to the bank.
When he looked back, however, he saw no trace of his brother. All he saw was the canoe, "standing straight up in the middle of the whirlpool."
George Roos was missing and presumed drowned.
From the theater beat: An animal act entertained crowds at the Pantages Theater, but not intentionally. Two half-grown kittens wandered onto the stage and interrupted three of the five acts with their lively gambols.
The human entertainers "took the feline interruptions in good spirit and the audience enjoyed them," the paper said.
Local journalism is essential.
Give directly to The Spokesman-Review's Northwest Passages community forums series -- which helps to offset the costs of several reporter and editor positions at the newspaper -- by using the easy options below. Gifts processed in this system are not tax deductible, but are predominately used to help meet the local financial requirements needed to receive national matching-grant funds.
Subscribe now to get breaking news alerts in your email inbox
Get breaking news delivered to your inbox as it happens.
---