Sports
Michael Phelps put a name to his famous Phelpsface: Future
Sun., Aug. 28, 2016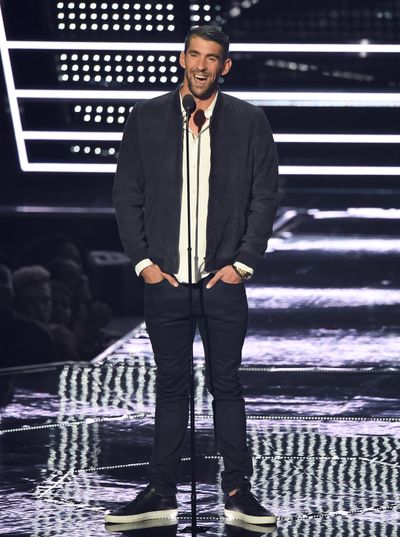 NEW YORK – The most decorated Olympian of all time, swimmer Michael Phelps, offered a name to go with his famous Phelps face Sunday night and it's one word: Future.
Phelps introduced Future at the MTV Video Music Awards, revealing that he was listening to the rapper and singer when he was photographed grimacing, hood up, headphones on, sitting in a chair near rival near Chad le Clos, from South Africa, before a race at the Rio Olympics.
The moment grew into a trending hashtag (Phelpsface) on Twitter during the games.
Live from Madison Square Garden, Phelps wore, well, clothes, a chill white shirt, black pants and black jacket to fawn over Future before the Atlanta artist performed.
The U.S. women's gymnastics team also made an appearance, but without Gabby Douglas, who was hospitalized Sunday night.
"Gabby is back in the hospital tonight being treated for a seriously infected past mouth injury. She continues to have deep swelling and adverse reactions to medications," publicist Lesley Burbridge said in an email to the Associated Press.
Earlier Sunday, 20-year-old Douglas posted on social media that she was out of the hospital.
"Out of the hospital & resting comfortably," Douglas said on Instagram. "#FinalFive so sad I can't be with u all to present tonite (at)MTV thank u xoxo #VMAs #myview."
Douglas had been scheduled to present an award alongside teammates Simone Biles, Laurie Hernandez, Madison Kocian and Aly Raisman at Madison Square Garden.
Local journalism is essential.
Give directly to The Spokesman-Review's Northwest Passages community forums series -- which helps to offset the costs of several reporter and editor positions at the newspaper -- by using the easy options below. Gifts processed in this system are not tax deductible, but are predominately used to help meet the local financial requirements needed to receive national matching-grant funds.
Subscribe to the sports newsletter
Get the day's top sports headlines and breaking news delivered to your inbox by subscribing here.
---