Sports
EWU depth chart has a few surprises; QB still 'either, or'
Mon., Aug. 29, 2016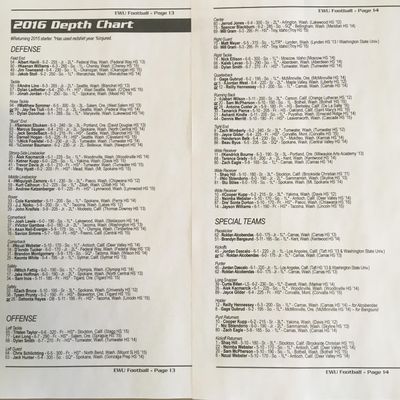 Eastern Washington has released its depth chart for Saturday's football opener, and for the most part it's what you'd expect.
However, coach Beau Baldwin has thrown in a few surprises, while trying to prolong the mystery on who will start at quarterback this weekend at Martin Stadium.
At least four, and possibly five or six, are expected to make their first starts this week. Most of those are on the offensive line, where all five starters and the top two backups have departed.
Freshman redshirts Tristen Taylor (left tackle) and Chris Schlichting (left guard) make their debuts on the left side of Eastern's line, and sophomore Matt Meyer makes his debut at right guard. Right tackle Nick Ellison (four career starts) and senior center Jerrod Jones (two) are the only O-linemen
Sophomore Gage Gubrud is expected to start at quarterback, but the depth chart follows his name with the word "or" – as in or sophomore Reilly Hennessey, "or" senior Jordan West.
Gubrud, a third-stringer last year, attempted just 13 passes in 2015, while West started 10 games and Hennessey two.
Likewise, three players are also listed as possible starters at running back, including true freshman Antoine Custer Jr. and sophomore Sam McPherson. They would be making their first starts, while the third, senior Jabari Wilson, has 10 starts in his career.
The lone starting debut expected to be made on defense is sophomore cornerback Josh Lewis, but Eastern has plenty more experience at that position. Nzuzi Webster (10 career starts), Victor Gamboa (21) and D'londo Tucker (one) have a collective 32 starts between them. Webster is listed as the other starter at cornerback.
The biggest surprise could be junior defensive lineman Albert Havili, a former middle linebacker who missed all of the 2015 season with injury. He's atop the depth chart at field end, ahead of true sophomore Keenan Williams.
He set an Eastern true-freshman record with 61 tackles in 2013.
Placekicker. Roldan Alcobendas, who missed most of the 2014 season and all of last year with an ACL injury, apparently has beaten out 2015 starter Brandyn Bangsund. Alcobendas also is listed as the top backup to Jordan Dascalo at punter and as a possible starter for kickoffs.
Local journalism is essential.
Give directly to The Spokesman-Review's Northwest Passages community forums series -- which helps to offset the costs of several reporter and editor positions at the newspaper -- by using the easy options below. Gifts processed in this system are not tax deductible, but are predominately used to help meet the local financial requirements needed to receive national matching-grant funds.
Subscribe to the sports newsletter
Get the day's top sports headlines and breaking news delivered to your inbox by subscribing here.
---