News > Spokane
Spokane Valley Boy Scouts help injured woman on the Pacific Crest Trail
Mon., Aug. 29, 2016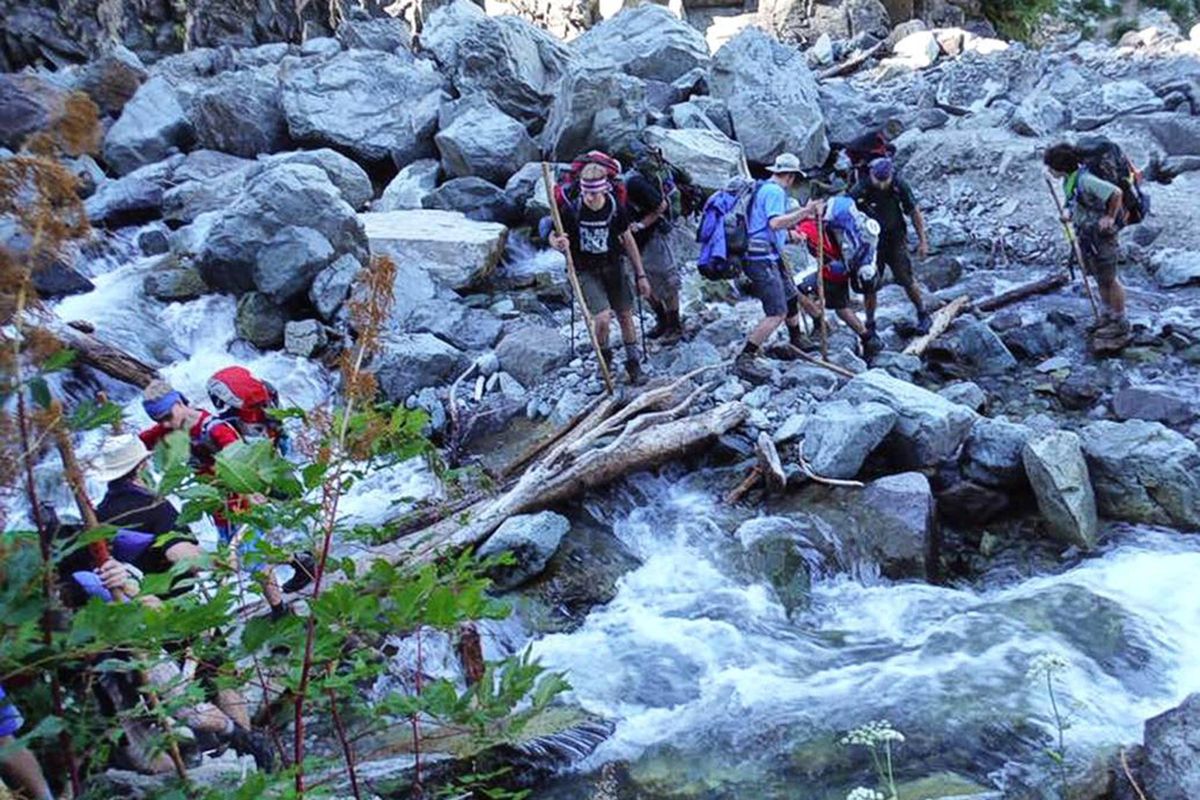 Boy Scout Troop 464 on the section of the Pacific Crest Trail between Marmot Lake and Deep Lake in the Alpine Lakes Wilderness, Okanogan-Wenatchee National Forest. (Rob Behm)
Spokane Valley Boy Scout Troop 464 had just finished crossing a rocky waterfall when they heard a call for help.
Scoutmaster Wade McNeilly worried one of the nine boys in the group might be hurt, but quickly realized the call came from behind them.
"We took off down the trail not knowing what to expect," he said.
The group was halfway through a six-day, 50-mile trip through the Alpine Lakes Wilderness along the Pacific Crest Trail on Aug. 17. Doubling back on a rocky section of trail coming out of a canyon, the troop leaders found a young woman bleeding heavily from her head and face. Her boyfriend, Tanner Dean, had run after the Scouts, sounding the alarm.
"He was desperate, 'Please come and help me, my girlfriend's been injured,' " said Rob Behm, one of the leaders on the trip.
The woman, Paige Hardy, was sitting in a rocky, low-lying area the troop had just crossed. Behm said he'd been warned the section of trail was "fairly treacherous." Late summer glacial melt had the river running across a section of boulders in two places, with a small waterfall upstream near the end of the canyon.
The couple were hiking in the opposite direction from the troop when they entered the valley around 4 p.m.
"They had gotten down there and instead of just crossing the river and getting the heck out of there, they decided to sit down, take a selfie and look at the pretty waterfall," Behm said. While they were sitting, a boulder came loose and hit Hardy in the face, splitting her lip nearly up to her nose.
"When she pulled her hand away, that's when I realized what had happened," Dean said.
McNeilly was the first to arrive and began cleaning up the blood and putting pressure on her wounds.
"It goes back to your gut instincts and everything you've been trained for throughout your life," he said. "The Boy Scout oath is to help other people at all times."
Hardy's injuries looked grim. Behm said she couldn't lie down because she'd be choking on her own blood, making an evacuation by stretcher a daunting prospect. Dean's car was the closest, but it was about 7 miles away.
The Scout leaders kept her upright and kept pressure on the wound while assessing her for other injuries. Hardy's nose appeared broken and she suspected her jaw was as well, though the hospital would later diagnose her with two broken cheekbones instead. She had lost a few teeth and had symptoms of a mild concussion, McNeilly said. They closed her split lip with medical adhesive strips.
Luckily, the leaders had recently persuaded the troop to purchase a satellite communicator, which they had been using to post updates on their progress to Facebook. Behm and McNeilly were able to use the device to call a helicopter and confirmed it would arrive just after sunset.
By that time, the leaders decided the Scouts needed to continue on; assistant Scoutmaster David Frye led the boys, making camp shortly after dark just a few miles from their intended camp at Deep Lake.
McNeilly and Behm stayed with Dean and Hardy until the helicopter arrived. By then, the woman was faint from blood loss. She was taken to Harborview Medical Center, then transferred to her home state of Texas.
Dean said Hardy has already had one reconstructive surgery and bone grafts, and doctors say she's looking at a six- to eight-month recovery.
McNeilly's leg was injured when rocks shifted as he was trying to load Hardy onto a basket lowered from the helicopter; Behm patched the injury and the two set out at 9 p.m. on a 5-mile hike to rejoin the group. They reconnected with the Scouts after midnight.
"I'm just proud of our troop and the group that we were with. It definitely strengthened our bond and our relationships," McNeilly said.
Frye said spirits were high for the rest of the trip, with many boys excited they'd gotten to be part of a helicopter rescue.
"It's a story they're going to remember forever," he said.
Dean and Hardy were just ending a weeklong hiking vacation in Washington when the accident happened. Dean noted that he's an experienced hiker and cautious. Still, "We really were super-lucky to have those guys there."
Local journalism is essential.
Give directly to The Spokesman-Review's Northwest Passages community forums series -- which helps to offset the costs of several reporter and editor positions at the newspaper -- by using the easy options below. Gifts processed in this system are not tax deductible, but are predominately used to help meet the local financial requirements needed to receive national matching-grant funds.
Subscribe now to get breaking news alerts in your email inbox
Get breaking news delivered to your inbox as it happens.
---