News > Pacific NW
Donald Trump returns to Washington with rally in Everett
Tue., Aug. 30, 2016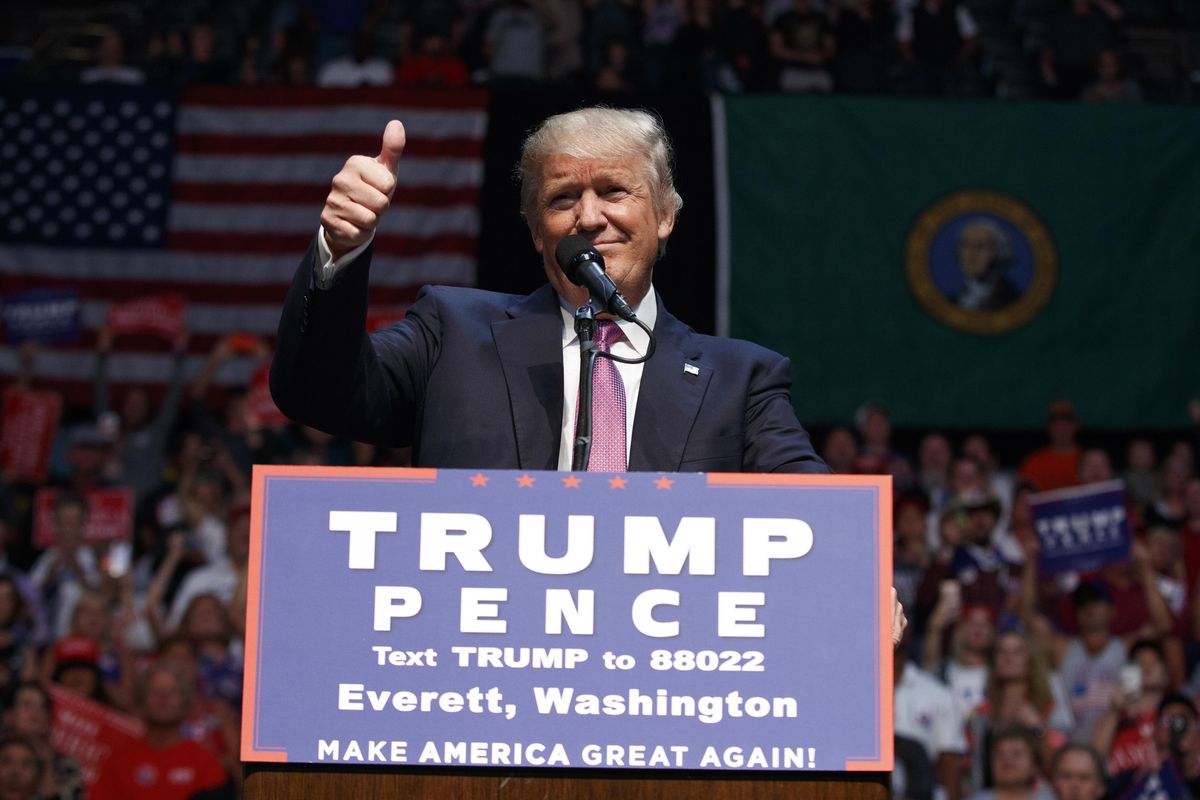 Republican presidential candidate Donald Trump speaks during a campaign rally at Xfinity Arena of Everett on Tuesday, Aug. 30, 2016. (Evan Vucci / Associated Press)
EVERETT – Donald Trump told thousands of supporters in Everett Tuesday evening that he would win in Washington in November, which hasn't voted for a Republican presidential candidate since Ronald Reagan in 1984.
"You know a Republican would never come to the state of Washington," said Trump, who arrived for a rally and a fundraiser. "We're gonna win it, that's why I'm here."
The New York businessman's speech to cheering backers at Xfinity Arena was interrupted several times by protesters who were escorted out of the facility.
People started gathering outside the arena hours before the doors opened, with thousands gathering and the line stretching for blocks. There was a large police presence in the area. Protesters gathered near the facility but were outnumbered by Trump supporters.
An organized protest rally began Tuesday afternoon at Clark Park. Everett Mayor Ray Stephanson and other officials planned to attend before marching to the nearby arena.
Brandon Knox, 18, of Auburn, arrived early in the morning to line up to see the candidate.
"I like Trump because he's pro-gun and he wants to enforce immigration," he told The Daily Herald.
Several prominent Washington state Republicans were staying away from the Trump event, having previously said they wouldn't support their party's nominee. GOP Senate candidate Chris Vance, gubernatorial candidate Bill Bryant and Rep. Dave Reichert, who represents the state's 8th Congressional District, have all said they won't vote for Trump because of his controversial statements.
Trump told the Everett crowd that refugees and people living in the U.S. illegally "take jobs from hardworking African-Americans and Hispanic citizens."
The GOP nominee also said he's going to stop the flow of drugs across the southern border, which he said he'll addressin a speech Wednesday.
Trump railed against the Democratic Party, calling it the party of slavery and Jim Crow. The GOP presidential nominee said his party is the party of freedom, equality and opportunity.
Trump continued his efforts to appeal to minority voters in Everett, where he drew a largely white crowd.
He claimed Democrats have "used" minority voters for "decades and decades" and will continue to use them.
He said he "will fight for you like no one ever has before."
Trump last visited the state in May, when he held rallies in Spokane and Lynden.
A recent Elway Poll showed Democratic nominee Hillary Clinton with a double-digit lead over Trump in Washington – 43 percent to 24 percent.
Local journalism is essential.
Give directly to The Spokesman-Review's Northwest Passages community forums series -- which helps to offset the costs of several reporter and editor positions at the newspaper -- by using the easy options below. Gifts processed in this system are not tax deductible, but are predominately used to help meet the local financial requirements needed to receive national matching-grant funds.
Subscribe now to get breaking news alerts in your email inbox
Get breaking news delivered to your inbox as it happens.
---