News > Spokane
Pig Out in the Park: What to know before you feast
Tue., Aug. 30, 2016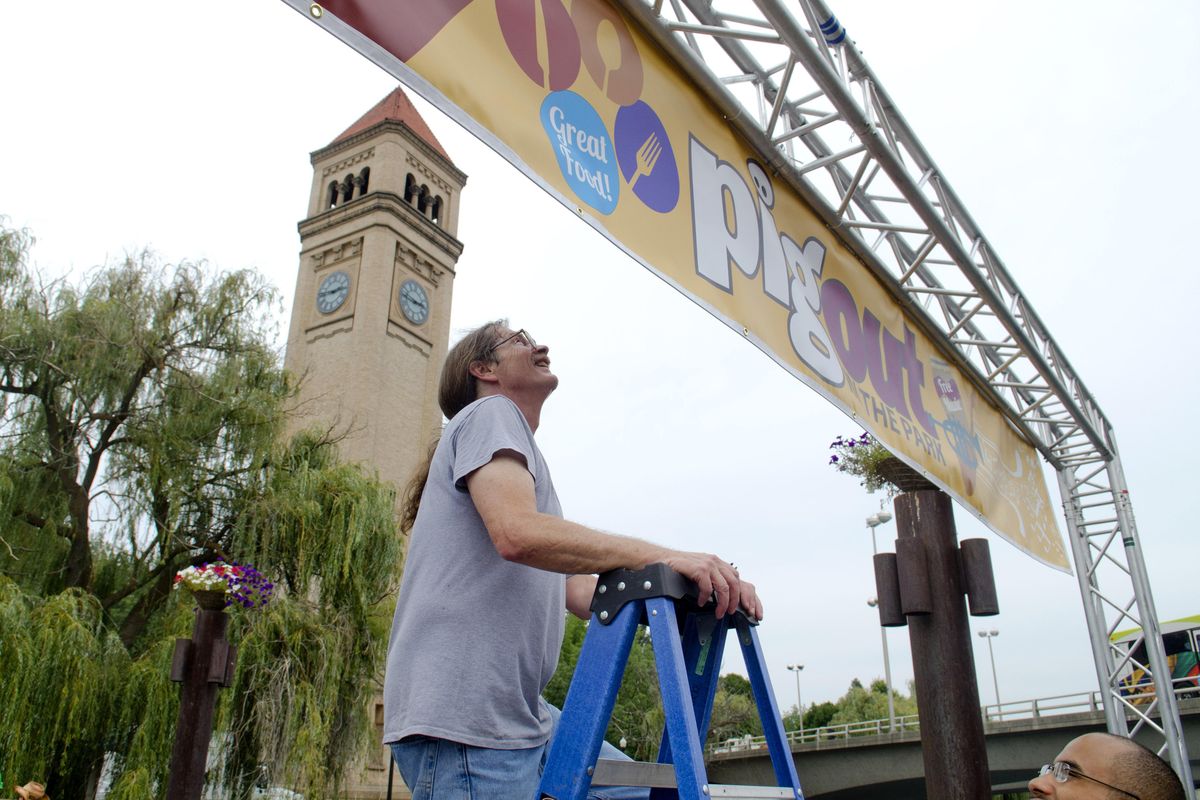 Bill Burke, longtime organizer of Pig Out In The Park food and music festival, finishes hanging the last of three banners on a foot bridge across the south channel of the Spokane River leading to the Clocktower Meadow in Riverfront Park Tuesday, Aug. 30, 2016. "This (bridge) is something we've never had before," said Burke, "an entrance." The funnel effect of the bridge entrance prompted Burke to create the banners. Most visitors will have to cross the footbridge just east of the Howard Street Bridge, which is under construction. Most of the food booths, displaced by construction on the park's southwest corner, will be in the Clocktower Meadow or in the nearby Imax Meadow. The festival runs Wednesday through Monday. (Jesse Tinsley / The Spokesman-Review)Buy a print of this photo
Gumbo, elephant ears, deep-fried desserts, gyros, egg rolls and more burgers than Grimace could gobble await visitors to Pig Out in the Park, Spokane's outdoor summer feast.
Nearly 200,000 people will descend on Riverfront Park during the six-day smorgasbord beginning Wednesday to fill their bellies with sundry snacks from eateries both local and far-flung.
"The park's awesome," said Brian Bilger, overseeing preparations at Piggly's barbecue out of Mesa, Arizona, on Tuesday, where the cherrywood and applewood had been laid out in a pile in preparation to smoke beef for sandwiches. "We were excited to come back."
Here's a six-pack of Pig Out things-to-know:
1. It's moved! The $64 million overhaul of Riverfront Park has pushed the savory and sweet fumes of roasting meat and fried desserts north of the Howard Street bridge, which is slated for demolition following the event. Prep work to install an "ice ribbon" skating facility has left Pig Out's usual headquarters in the meadow east of City Hall surrounded by construction fences.
Bill Burke, the longtime promoter of Pig Out, said the event has changed layouts at least five times over the past three decades.
"We've changed as the park has changed," Burke said. "We're always looking for better power, better plumbing."
Vendors returning for the 2016 edition were uncertain Tuesday how the layout change could affect business, but said the park still affords a better space than other regional events.
Jennifer Tannehill of Carlson Catering pointed to a line of fryers her team was setting up on a hill in the Clocktower Meadow, across from a planned beer garden and music stage. She said they'd had to practically pile them on top of each other at Seattle's Hempfest last month.
"This is nothing," she said.
The Howard Street bridge won't be open for foot traffic, and parking will be restricted in the west lot between the park and City Hall. Event organizers hung signs pointing to the Clocktower bridge, which will be the main entrance into Pig Out from downtown this year.
2. It wasn't always called Pig Out. The most expensive item at what was called the Spokane YUM YUM Restaurant Fair in 1983 cost $3.50. The first booth belonged to the Red Lion Tavern, which served barbecued ribs and chicken, according to an advertisement in The Spokesman-Review. The two-day event took over Riverfront Park, then less than a decade old, on Sept. 23 and 24.
The event was known by several different monikers throughout the 1980s, including "Food-O-Rama" in 1987.
The first reference to the restaurant fair as "Pig Out in the Park" came in 1988. Sometime in the mid-1990s, the "restaurant fair" part of the name was dropped and the event simply became known as Pig Out in the Park.
3. Those red podiums provide power. No, there aren't any speaking engagements planned next to the fried Twinkie stand.
Those little red podiums that dot the meadows provide the power needed to run the 44 food stands that will be serving up orders for Pig Out. Burke said it took four weeks for Spokane Valley contractor Electric City to get the power system up and working to energize vendors.
"This is very much an electrically driven event," he said.
As for other utilities, including water, vendors are on their own.
4. Lilac Bowl takes center stage. Music has always been a part of Pig Out festivities, including four dinnertime concerts during the first restaurant fair. In recent years, the event has attracted such famous recording acts as the Spin Doctors, Los Lobos, the Zombies and the Yardbirds.
The 2016 musical lineup will include headliner shows each night in the Lilac Bowl just east of the Clocktower. It's the first time in the event's history musical acts will take the stage there, Burke said.
Headliner shows kick off each night at 9 p.m., with early '90s rap star and Seattle native Sir Mix-a-Lot, aka Anthony Ray, performing Friday. Mark Farner, who led Grand Funk Railroad through the early 1970s with classic rock radio staples such as "We're an American Band" and "Some Kind of Wonderful," will perform Saturday. Cowboy Mouth, New Orleans rockers who became college radio mainstays in the '90s with their most successful single "Jenny Says," takes the Lilac Bowl stage on Sunday.
Concerts will take place on three stages around the park throughout the weekend, and they are free to the public.
5. Happy hour returns. In 2013, event organizers began requiring their vendors to provide $3 "bites" during specific times of the day, a kind of happy hour for Pig Out participants not looking to cut new holes in their belts.
Between the hours of 2-5 p.m., and again from 9 p.m. to closing time at 10 p.m., each food stand will have a selection of smaller portions that cost about as much as the original restaurant fair offerings did in 1983.
Burke said the idea had become so successful, he should have done it years ago.
"It's helped us build traffic at night, sort of the late dinner crowd," Burke said. "People dig it."
Bites are available each day of the event, Wednesday through Monday. Food vendors will be open daily from 11 a.m. to 10 p.m.
6. Same great tastes, and newcomers. Forty-four food vendors have registered for the 2016 edition of Pig Out, just one fewer than took part last year.
Piggly's will join Spokane mainstays such as Pizza Rita, Longhorn barbecue and Azar's Greek cafe. Burke said there are four or five newcomers this year, including Unique Buns Burgers & Fry Shack, which plans to serve up hamburgers and cheeseburgers flanked by waffles, bagels and Krispy Kreme donuts.
One thing you won't be able to buy from the food stands: beverages. Riverfront Park has an exclusive contract with Pepsi to provide drinks to parkgoers.
Jon Moog, Riverfront Park director for the city of Spokane, said drink sales are the main way the city can recoup its cost for providing services in the park during the six-day event. The other is selling permits to the public market, where local businesses not selling food will set up to attract eaters with other merchandise.
Burke's company pays the city a little more than $4,000 annually as part of a three-year contract that will expire at the end of this summer. Moog said the city will renegotiate terms at that time to keep the event going. Meanwhile, food vendors sign contracts requiring a $2,850 flat fee to do business in the park, plus a 9 percent sales commission.
All the moving parts to put on Pig Out in the Park really just boil down to being a good host, Burke said.
"Imagine if you went home and told your wife, we're going to have a dinner party with 190,000 people this weekend," he said. "That's what we're doing."
Local journalism is essential.
Give directly to The Spokesman-Review's Northwest Passages community forums series -- which helps to offset the costs of several reporter and editor positions at the newspaper -- by using the easy options below. Gifts processed in this system are not tax deductible, but are predominately used to help meet the local financial requirements needed to receive national matching-grant funds.
Subscribe now to get breaking news alerts in your email inbox
Get breaking news delivered to your inbox as it happens.
---