News > Spokane
100 years ago in Spokane: 'Thug' assaults nurse
Wed., Aug. 31, 2016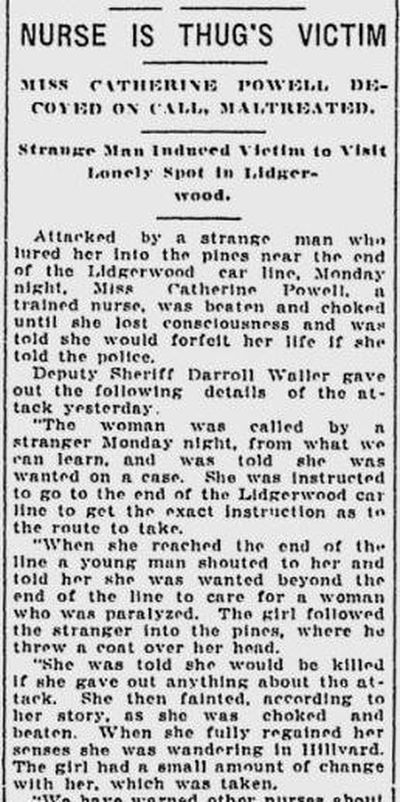 From our archives, 100 years ago
A mysterious "thug" lured Miss Catherine Powell, a trained nurse, into the woods, where he assaulted her.
Miss Powell told police that she was phoned by a stranger, who said he wanted to hire her to take care of a paralyzed woman. He told her to go to the end of the Lidgerwood streetcar line, where he would meet her and take her to the home.
When she got off the streetcar, a man met her and asked her to follow him. Yet instead of going to a house, he took her into the pines, where he suddenly turned and threw a coat over her head.
He threatened her with death if she raised the alarm. She was choked, beaten and then she fainted. When she fully regained her senses, the man was gone and she was wandering in Hillyard.
Police were warning other nurses to be wary of a similar ruse.
From the popularity beat: Miss Minnie Small and Miss May Carden were running neck and neck in the citywide Booster Day Popularity Contest.
The young women were competing to see who could win the most votes as the most popular girl in Spokane – as determined by who could sell the most tickets to Booster Day at the Interstate Fair. Miss Small and Miss Carden each had nearly 5,000 votes apiece. Several others were lagging far behind.
The winner would win a new Chevrolet auto. She would also win driving lessons, so that "she may drive it home herself."
Local journalism is essential.
Give directly to The Spokesman-Review's Northwest Passages community forums series -- which helps to offset the costs of several reporter and editor positions at the newspaper -- by using the easy options below. Gifts processed in this system are not tax deductible, but are predominately used to help meet the local financial requirements needed to receive national matching-grant funds.
Subscribe now to get breaking news alerts in your email inbox
Get breaking news delivered to your inbox as it happens.
---