Sports > Outdoors
Ammi Midstokke: The enchanting peaks of the Enchantments
Wed., Aug. 31, 2016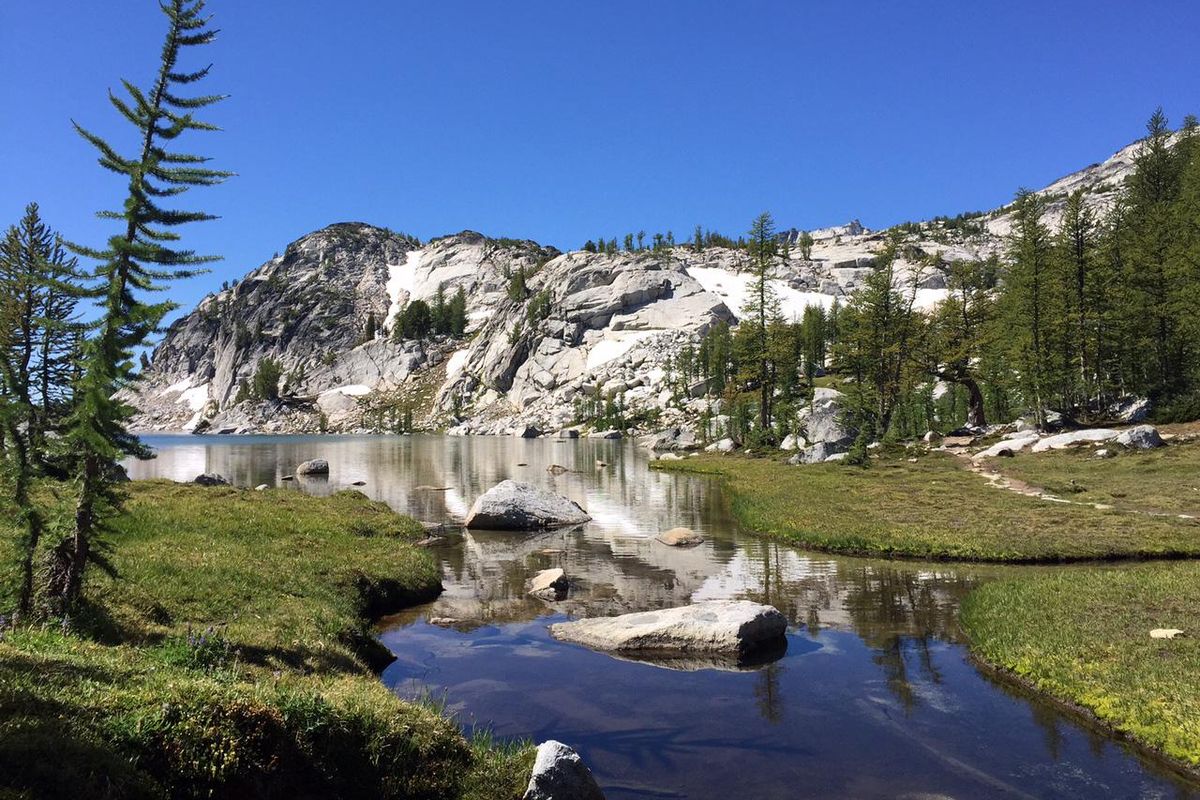 Enchantment Lakes area of the Alpine Lakes Wilderness. (Courtesy of Ammi Midstokke)
Sometimes I do not realize where I have been until I'm looking at the pictures later. This is a classic outdoors person mistake, also known as Not-Stopping-To-Smell-The-Bear-Grass.
But when you've invited your most mountain-athlete friend to do a 20-mile trek of the famed Enchantments, it's best not to expect a lot of time spent soaking up the views. Note: If you take slower people with you for these things, you can stare in awe at mother nature while they are gasping up the hillside behind you.
The Enchantment Lakes, if you have not heard of them, are a circuit of alpine lakes and peaks located just outside of Leavenworth in the Alpine Lakes Wilderness. Being a wilderness area, one requites a permit to camp along the route – unless of course you want to tackle it in a day.
I had read the guide books on the area and noted that our proposed route of climbing Aasgard Pass was referred to as a "climbers' route" and "suicidal by all accounts" in more than one reference. I raised my concern with my running partner.
"Oh yeah, someone dies every year on that thing," she said, rather disgusted by the apparently unprepared climbers that ruined the reputation of the route. "But they were being stupid."
I would have felt better about that if I did not have a long history of doing very stupid things in the wilderness. The books said we must only attempt such a route with appropriate equipment and training.
We were equipped with running shoes, and my training basically consisted of nursing my latest injury in the sauna. With my first aid kit, I was as ready as I could ever be.
A note on first aid kits: Always travel with one. Everyone has different needs and thus differing ingredients to their perfect kit. For this trip I carried a lighter, a thermal blanket, a pack of glucose, band-aids, a knife, ibuprofen, and an anti-nausea medication. The latter, because keeping up with my friend Christi has made me toss my cookies more than once. And in the back country, it seems such a waste of calories.
Aasgard Pass is not only steep, the trail is carved into a 3,000-foot slope of my favorite terrain: Granite talus. While this is always therapeutic for a woman who spent a night trapped under a boulder, it pretty much guarantees a panic attack. We never slowed down enough for me to acknowledge it.
The pass was not as treacherous as I expected, though my knees were grateful to be descending a different route. We went in at the Stuart Lake trailhead, passed Colchuck Lake, climbed the pass into the Enchantments, and made our way out via Snow Lake trailhead.
Climbing up into the mountains is as amazing as any mountain adventure, but the Enchantments are aptly named for their mesmerizing geology. It was as if I had accidentally hopped off a cloud and into the backyard of the gods. I half-expected to find them feeding each other grapes on a slab of granite somewhere, cherubs and Pegasus happily skipping across the peaks.
Instead I came across virgin grass valleys with snow white goats, lakes as clear as glass so that one could see the fish swimming fifty feet away. I struggle with fish in alpine lakes. I think they know they don't belong there, swimming by shyly like apologetic imposters.
I stopped at a waterfall to put my head in the rush of white froth, only to decide that clothes were superfluous in the land of the gods. The waterfall poured over a wall of granite as if the lake itself was an overfilled cup. When I put my hands into the water and stepped into the fall, I discovered the rock was covered in a mattress of the softest moss. I laid against it, sun on my back, water rushing over me.
All of these adventures fill my life with a richness that I hope one day comforts me in my sunset years. But not all of them leave me with these memories of joy and the human experience – the ones that I can always recall are because of their profundity in my history. They shape my very person.
The Enchantments don't just promise great views, they promise the nostalgia of sweet mountain air and memories you will cherish for the rest of your life.
If you have not been there yet, go. Your soul will come alive with a rush of gratuity and joy that is unforgettable. And if you get in the waterfall, leave your clothes on the rock, right next to your worries and your cell phone.
Local journalism is essential.
Give directly to The Spokesman-Review's Northwest Passages community forums series -- which helps to offset the costs of several reporter and editor positions at the newspaper -- by using the easy options below. Gifts processed in this system are not tax deductible, but are predominately used to help meet the local financial requirements needed to receive national matching-grant funds.
Subscribe to the sports newsletter
Get the day's top sports headlines and breaking news delivered to your inbox by subscribing here.
---