Sports
Digest: Hit by cramps, Milos Raonic loses to qualifier Ryan Harrison at U.S. Open
Wed., Aug. 31, 2016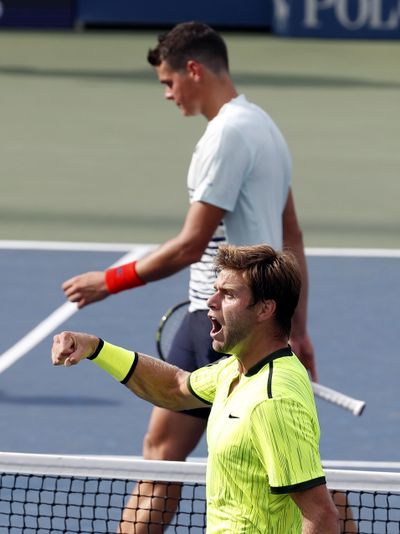 Tennis: The cramping became so debilitating, Milos Raonic said, he couldn't grip his racket properly.
The Wimbledon runner-up just last month, and seeded No. 5 at the U.S. Open, Raonic began to feel pain near his left wrist midway through the second set of what would become a stunning 6-7 (4), 7-5, 7-5, 6-1 second-round loss to 120th-ranked American qualifier Ryan Harrison on Wednesday.
Eventually, the problem spread to Raonic's right forearm. Then both thighs. Then his left hip flexor. Afterward, his back seized up when he tried to sling his equipment bag over a shoulder. No way to try to win a tennis match. Or to serve: That's normally his most effective stroke, yet he double-faulted 15 times.
He was one of a trio of highly seeded players to exit Flushing Meadows on Day 3.
No. 3 Garbine Muguruza, the French Open champion, made 38 unforced errors and bowed out 7-5, 6-4 against Anastasija Sevastova at night. All four of Muguruza's U.S. Open appearances have ended in the first or second round. No. 9 Svetlana Kuznetsova, the 2004 champion, took the first four games before losing 6-4, 6-4 to Caroline Wozniacki, who is unseeded but can rely on the muscle memory from two trips to the final in New York.
Raonic was a semifinalist at Wimbledon in 2014 and at the Australian Open this January. Then, while briefly working with John McEnroe, he beat Roger Federer in the semifinals at the All England Club in July to reach his first Grand Slam final.
Harrison finally has the sort of breakthrough victory predicted long ago for him. He entered Wednesday with a 1-26 record for his career against top-10 opponents
The 24-year-old, born in Louisiana and now based in Texas, earned his first trip to the third round at a Grand Slam tournament. He had been 0-6 in second-round matches.
Until Monday, Harrison hadn't won a main-draw match at any major in 3 1/2 years.
Harrison next faces 44th-ranked Marcos Baghdatis, the 2006 Australian Open runner-up.
NFL clears players
in PEDs investigation
NFL: NFL stars James Harrison, Clay Matthews and Julius Peppers can start the regular season without having the specter of a league investigation over whether they used performance-enhancing drugs hanging over their heads.
The NFL cleared all three players, saying there was "no credible evidence" the players were guilty of any of the claims made in a documentary by Al-Jazeera America in January.
An NFL statement said "the investigation involved witness interviews, a review of relevant records and other materials, electronic research, and laboratory analysis and review."
Brown leads Redskins: Mack Brown ran for 149 yards and a touchdown in the rain to lead the Washington Redskins to a 20-13 preseason-closing victory over the Tampa Bay Buccaneers in Tampa, Florida.
With Tropical Storm Hermine approaching Florida's Gold Coast, the game – played in mostly empty Raymond James Stadium – was moved up 24 hours from Thursday, when the NFL's other 30 teams will conclude the exhibition schedule.
Brown, a first-year pro out of Florida, spearheaded a 245-yard rushing attack and scored on a 60-yard burst in the second quarter. He also broke runs of 21 and 22 yards in helping Washington built a 13-0 halftime lead.
Steelers restructure deal for Brown: A person familiar with the deal tells The Associated Press the Pittsburgh Steelers have restructured Antonio Brown's current contract, giving him a $4 million advance against his 2017 salary. The person spoke on condition of anonymity because the details had not been made public. ESPN first reported the reworked deal.
The team advanced the two-time All-Pro $2 million in 2015. Brown will make $10.25 million this season.
Loyd, Stewart lift Seattle over Dallas
Miscellany: Jewell Loyd scored 23 points, Breanna Stewart added 17 points and 12 rebounds and the host Seattle Storm beat the Dallas Wings 78-66 to move into eighth place in the WNBA playoff standings.
The Storm led by 15 in the first half but Dallas opened the third quarter on a 10-2 run, capped by Odyssey Sims' baseline jumper, to pull to 43-40. Plenette Pierson sank a 3-pointer to tie it at 52-all late in the third quarter.
Dallas outscored Seattle 24-13 in the third and pulled to 62-61 midway through the fourth. But Loyd hit a long jumper and after Aerial Powers missed a 3-pointer, Stewart made a bank shot to extend Seattle's lead to 70-63 with 2:46 remaining.
Big 12 not considering East Carolina, UNLV, New Mexico: East Carolina, UNLV and New Mexico are out of the Big 12's expansion derby.
Officials at each school said they were notified by the Big 12 that they are no longer being considered for membership.
East Carolina is beginning its third season in the American Athletic Conference after winning two Conference USA championships in football in the 2000s.
UNLV President Len Jessup and athletic director Tina Kunzer-Murphy issued a statement later in the day to acknowledge the Rebels were no longer being considered. UNLV has been a member of the Mountain West since 1990.
New Mexico President Robert told the Albuquerque Journal that the school "received very positive feedback from the Big 12," but was informed it would no longer be part the conference's expansion search. The Lobos are also a member of the Mountain West.
NHL adds meldonium to banned list: Following the lead of the World Anti-Doping Agency, the NHL has added meldonium to its list of banned substances.
Deputy commissioner Bill Daly confirmed the addition in an email to The Associated Press. It was first reported by the Russian news agency Tass.
The change goes into effect for the upcoming season. The NHL and NHL Players' Association had to agree to add meldonium to its list of prohibited substances, as with any changes to the performance-enhancing drug program.
Froome wins 11th Vuelta stage: Chris Froome won a thrilling uphill duel against climbing rival Nairo Quintana by a bike length to win the 11th stage of the Spanish Vuelta in Pena Cabarga, Spain.
Quintana defended his race lead and is now 54 seconds ahead of Froome, who overtook Alejandro Valverde to move second overall.
Valverde finished six seconds behind, dropping to third overall and 1:05 behind Quintana.
Froome, who clinched his third Tour de France title in July, got his first stage win at a major race on this same Pena Cabarga peak in 2011 – the year the British rider finished as the Vuelta runner-up.
Local journalism is essential.
Give directly to The Spokesman-Review's Northwest Passages community forums series -- which helps to offset the costs of several reporter and editor positions at the newspaper -- by using the easy options below. Gifts processed in this system are not tax deductible, but are predominately used to help meet the local financial requirements needed to receive national matching-grant funds.
Subscribe to the sports newsletter
Get the day's top sports headlines and breaking news delivered to your inbox by subscribing here.
---