This column reflects the opinion of the writer. Learn about the differences between a news story and an opinion column.
Opinion > Column
Doug Clark: the man who brought you Keyboard Cat revolutionizes the tiny house
Wed., Aug. 31, 2016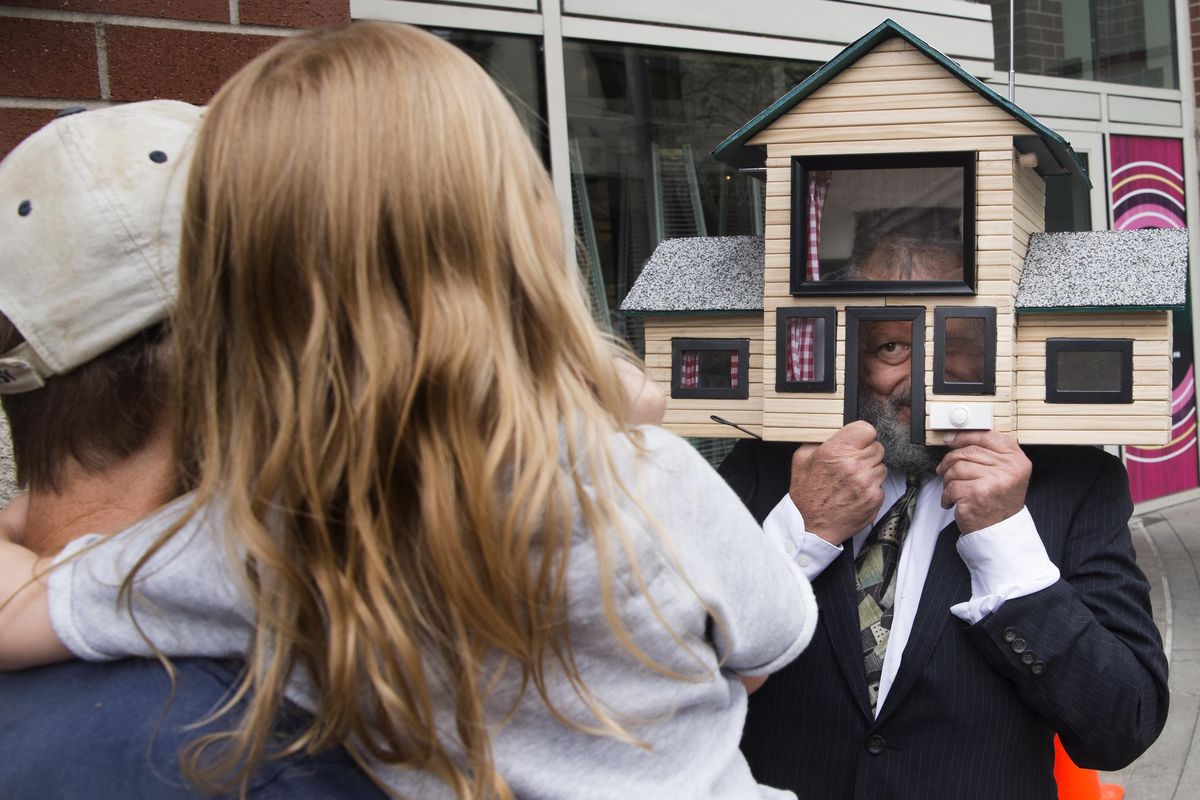 Charlie Schmidt, a Spokane performance artist and Keyboard Cat inventor, demonstrates his latest gag, "the Head Suite" to youngster Etty Jane Cramer, 3, and her grandfather Mark Cramer on Tuesday, Aug. 30, 2016, in downtown Spokane, Wash. The house is a spoof of the tiny house movement. (TYLER TJOMSLAND tylert@spokesman.com / SR)
Charlie Schmidt, known worldwide as the creator of the Keyboard Cat internet sensation, is now bent on revolutionizing America's tiny house movement.
The "Head Suite," as Schmidt calls his invention, is the sort of cozy two-story home one would expect to find on leafy Manito Boulevard.
With one small exception: True to the name, the Head Suite is sized to fit perfectly over a homeowner's head.
Or in this case Charlie Schmidt's noggin.
On Tuesday, the Spokane native wore his "advance in micro-living" downtown to get feedback from the lunchtime crowd outside River Park Square.
Reaction was quick in coming.
"That is a small house!" a suited businessman uttered while passing.
A bemused young woman stopped to document what she was seeing on her cellphone.
Toddler Etty Jane Cramer, cuddled in the arms of her grandfather, Mark, had a swell time pushing the Head Suite doorbell.
Necks craned. People stared.
"This is the future of downsizing," Schmidt explained through his miniature front door.
Like the finest of homes, the Head Suite comes with real wood siding, picture windows, central lighting and curtains for privacy.
"Home is where your head is," added Schmidt. "Studies have shown that legs and arms don't really care where they are."
After gathering enough research, Schmidt, attired in a suit, tie and Head Suite, wandered into River Park Square to settle his parking bill.
"Mind if I pay from home?" he asked the perplexed cashier.
Later, Schmidt agreed to sit with me for a question-and-answer session regarding his innovative mode of abodes.
Clark: Isn't your Head Suite a reaction to that "Tiny House" TV show?
Schmidt: Those aren't tiny houses. They're just wooden trailers with bad toilets.
Clark: And so?
Schmidt: So I started working on developing something that would actually fit the tiny house scenario.
Clark: I see you have an amazing website: www.tiniesthouseintheworld.com. Was that easy to obtain?
Schmidt: Getting a website with the right name was harder than building the Head Suite. I tried all sorts of "tiny house" combinations and they were all taken.
Clark: Really?
Schmidt: Yes. And some of those other sites had questionable material.
Clark: Getting back to the topic, what's the main advantage to Head Suite living?
Schmidt: The biggest advantage, of course, is affordability. Say goodbye to house payments and property taxes.
Clark: For the record, how much does a Head Suite sell for?
Schmidt: Under $300 and delivery is free.
Clark: That's reasonable.
Schmidt: And financing is available at under a dollar a month.
Clark: Plus you don't have to pay some slick Realtor a commission, huh?
Schmidt: That'd be another three or four bucks.
Clark: Are there other benefits?
Schmidt: Almost too many to count. But, say, you always wanted to live in fancy beach house.
Clark: Yeah?
Schmidt: Well, just walk to a beach.
Clark: I get it. But is the lack of commode facilities a concern?
Schmidt: Not really. Head Suite makes you feel at home in any public restroom.
Clark: You make this sound quite appealing, don't you?
Schmidt: Work from home the rest of your life. Go out yet stay in at the same time. Jump on a bike to relocate anytime you want. What's not to like?
Clark: Isn't the Head Suite a little, um, claustrophobic?
Schmidt: Every one of my micromansions comes with 184 square inches of luxurious living space, plus 30-year roofing and a working doorbell, guaranteed.
Clark: Any drawbacks?
Schmidt: Well, sneezing is pretty rough on the windows.
Clark: I see on your website that, along with an entertaining infomercial, you made the cover of the prestigious Architect magazine. Is that right?
Schmidt: It was one of my proudest moments. Getting that cover changed my life.
Clark: Although with all due respect, Mr. Schmidt, was that cover Photoshopped?
Schmidt: Seeing it still makes me proud.
Clark: So how big do you envision the Head Suite market to be?
Schmidt: Sky's the limit. For starters, this will revolutionize elder care.
Clark: What do you mean?
Schmidt: Most older people will tell you that they want to die at home. Head Suite makes it happen.
Clark: Anything else?
Schmidt: Empty nesters. Kids move out. Couples find themselves rambling around in homes that are suddenly too big. Answer: Head Suite. And I haven't even touched on disaster relief.
Clark: Disaster relief?
Schmidt: My product is much less degrading than government-supplied emergency housing. I've talked to FEMA and was told they want at least 100,000 units.
Clark: Really?
Schmidt: Maybe. And remember the 2008 housing collapse. If people were living in Head Suites that whole disaster would have been averted.
Clark: You do have a point.
Schmidt: Then there's all the aging seniors who are on fixed incomes and can't afford decent housing. Hey, problem solved.
Clark: What do you mean?
Schmidt: I mean Medicare will pay for their Head Suites just like all those little scooters or that chair that you sit on that takes you upstairs.
Clark: I've seen those little chairs.
Schmidt: Yes, but you don't need one of those in a Head Suite.
Clark: Because you're already upstairs?
Schmidt: Now you're getting it.
Clark: I'll grant you, Charlie. You've really devoted an enormous amount of time to thinking about this, haven't you?
Schmidt: I'm an artist. I really don't have much else to do.
Doug Clark is a columnist for The Spokesman-Review. He can be reached at (509) 459-5432 or by email at dougc@spokesman.com.
---
---