Sports
MLB Notes: Indians acquire OF Coco Crisp for pennant drive from A's
Wed., Aug. 31, 2016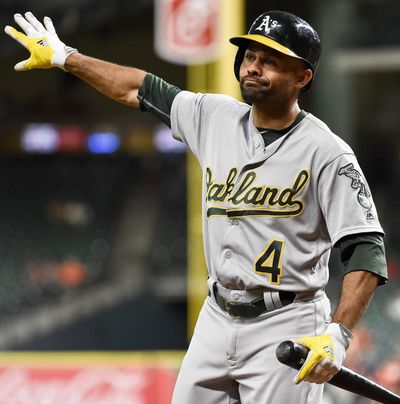 Cleveland added much-needed outfield depth and postseason experience on Wednesday by acquiring Coco Crisp in a trade with the Oakland Athletics. The A.L. Central leaders sent minor league pitcher Colt Hynes to the A's for Crisp, who began his career with the Indians in 2002.
The Athletics also gave $1,673,497 to the Indians to help offset Crisp's contract.
The 36-year-old Crisp gives Indians manager Terry Francona another switch-hitter, more speed and a player who knows his way around October. Crisp has played in 31 postseason games and won a World Series with the Boston Red Sox – under Francona – in 2007.
The Indians were in the market for another outfielder after Michael Brantley had to undergo season-ending surgery and Abraham Almonte was disqualified from the postseason following an 81-game suspension for performance-enhancing drugs.
Crisp is scheduled to join the Indians on Thursday and will officially be added to the roster Friday. Because he was acquired ahead of Wednesday's postseason-eligibility deadline, the outfielder will be able to play for the Indians if they make the playoffs.
"He's got history here in Cleveland I have history with him, so I think that makes adding somebody at this time in the season a lot easier," Francona said. "We've been through so much as a team and we want to remain a team. I think Coco has a really good chance of sliding in here and being a part of what we're doing really quickly."
Crisp batted .235 with 11 homers and 47 RBIs in 102 games this season. He played 58 games in left field and 36 in center for the A's, who are in last place in the A.L. West.
He's under contract for $11 million and Crisp has a $750,000 buyout for next season. His deal includes a $13 million vesting option for 2017.
Crisp played in 415 games over four seasons with the Indians from 2002-05. He batted .287 after joining the Indians, who acquired him from St. Louis as part of the deal for left-hander Chuck Finley. Cleveland packaged Crisp in a six-player deal with the Red Sox in 2006.
Crisp also played one season for Kansas City.
Hynes, a 31-year-old lefty, played 22 games for San Diego in 2013 and five games for Toronto last year. This season, he was a combined 3-1 with a 3.99 ERA in 38 games in Triple-A and Double-A.
Baseball relics to be auctioned
Nearly 500 baseball artifacts including a "Shoeless" Joe Jackson game bat and material from the Negro Leagues will be auctioned off by Christie's this fall in New York. The items come from the National Pastime Museum, an online museum based on a private collection of baseball artifacts, photographs and memorabilia. Shoeless Joe's "Black Betsy" bat is one of only two known to survive from his career, and the only one with his full signature in script stamped into the barrel, according to Christie's. It has the scars of game use, including ball and cleat marks and a handle crack. Christie's experts think it might sell for $500,000 to $700,000.
Jackson was accused with other Chicago White Sox teammates of accepting payments for throwing the 1919 World Series. The Major League great was acquitted but banned from the sport.
"He's a legendary figure and to have an actual object that he touched and used in a game, it's a very special piece," said Simeon Lipman, Christie's pop culture specialist.
The auction record for a game-used baseball bat is a 1923 Babe Ruth bat that sold for $1.2 million in 2004.
The sale also has a game bat used by Negro Leagues slugger Josh Gibson when he played for the Pittsburgh Crawfords from 1932 to 1936 and a Jackie Robinson bat that could sell for $300,000 to $400,000. Robinson, who played for the Brooklyn Dodgers from 1947 to 1956, gave the bat to a collector and signed it for him at a 1955 game at Philadelphia's Connie Mack Stadium.
The Christie's sale also includes other items and photography related to the Negro Leagues, including a 1907 book that chronicles the history of black baseball from 1885 through 1907. The "History of Colored Base Ball" was written by Sol White, captain of the Philadelphia Giants and future Hall of Famer. The auction house thinks it might sell for between $15,000 and $20,000.
Rangers' Jeffress seeks treatment
Texas Rangers reliever Jeremy Jeffress will remain on the restricted list while entering an unspecified treatment program following an arrest on a drunken driving charge.
The right-hander apologized to his teammates and fans in a statement issued through the players' union Wednesday. Jeffress, who was arrested last week in Dallas, asked for privacy while in rehab.
"I made a mistake that not only jeopardized my wellbeing, but the wellbeing of others, and I thank God that nobody was hurt because of my mistake," Jeffress said.
The 28-year-old was pulled over on a traffic stop early Friday morning and booked several hours later in the Dallas County jail. He's out on $500 bond.
Major League Baseball is investigating the arrest, and Jeffress could face a suspension.
Clearing the bases
The Yankees acquired minor league OF Eric Young Jr. from the Brewers for cash and sent OF Ben Gamel to Seattle for minor league right-handers Juan De Paula and Jio Orozco. … The Orioles claimed OF Drew Stubbs from Texas and cut pitcher Kyle Lobstein just two hours after getting the pitcher in a trade with Pittsburgh. … Tigers' Miguel Cabrera was out of the lineup against the White Sox because of inflammation in his right ankle. … The Padres put catcher Christian Bethancourt on the 15-day DL with a left intercostal strain. … Twins CF Danny Santana will likely miss the rest of the season with a left shoulder injury. Santana got hurt on Sunday in Toronto when he collided with teammate Robbie Grossman while trying to make a catch. … The Marlins put pitcher David Phelps (left oblique) on the 15-day DL shortly before his scheduled start. … Mets second baseman Neil Walker was out of the lineup again with a herniated disk in his back. … The Royals placed righty Chien-Ming Wang on the DL with biceps tendinitis and recalled lefty Scott Alexander and right-hander Brooks Pounders from Triple-A Omaha and optioned IF Christian Colon to the same club.
Local journalism is essential.
Give directly to The Spokesman-Review's Northwest Passages community forums series -- which helps to offset the costs of several reporter and editor positions at the newspaper -- by using the easy options below. Gifts processed in this system are not tax deductible, but are predominately used to help meet the local financial requirements needed to receive national matching-grant funds.
Subscribe to the sports newsletter
Get the day's top sports headlines and breaking news delivered to your inbox by subscribing here.
---