Sports > Outdoors
Outpeople: Moose researcher loves thrill of the chase
Wed., Aug. 31, 2016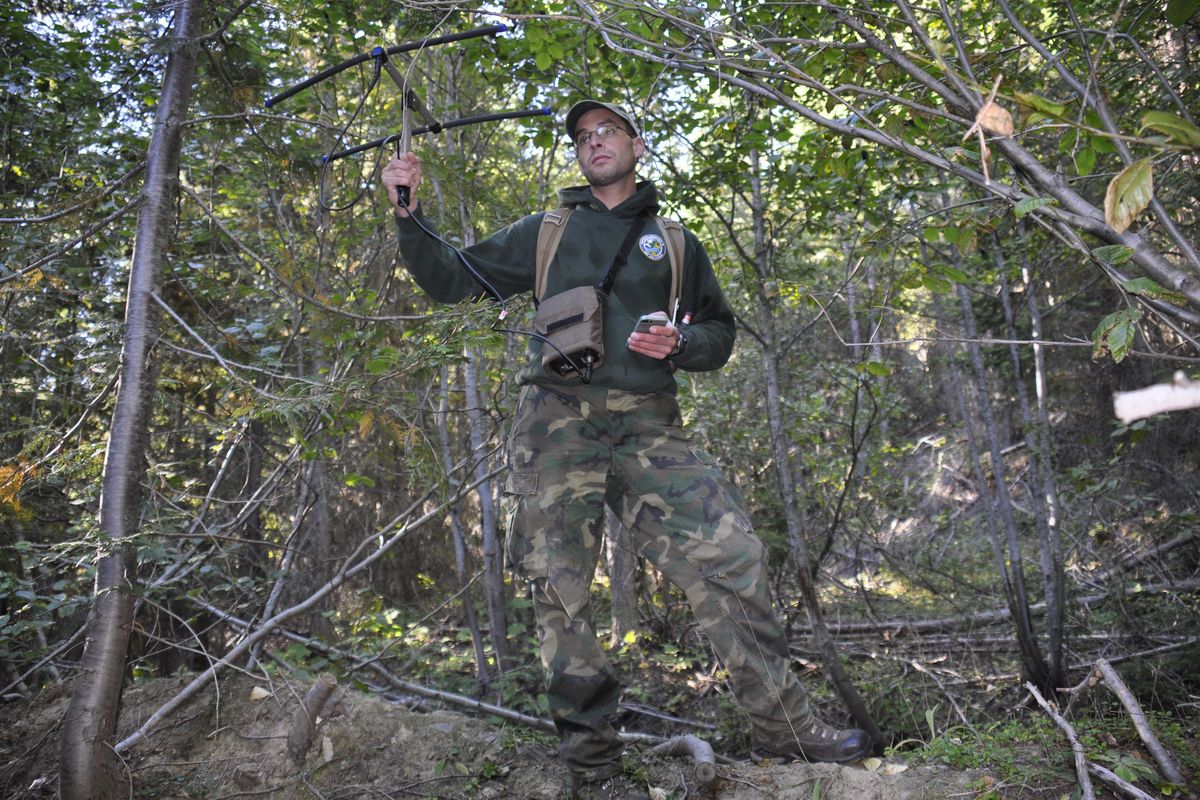 Wildlife researcher James Goerz, a University of Montana graduate student, uses an antenna and receiver to track a radio collared moose in northeastern Washington for in a study co-sponsored by the Washington Department of Fish and Wildlife. (RICH LANDERS richl@spokesman.com)
James Goerz has his eye on moose in northeastern Washington.
The University of Montana graduate student is among a small staff in the field every week monitoring moose that were captured and fitted with GPS collars by the Washington Department of Fish and Wildlife in the winter of 2013-14.
They're conducting a multi-year study to determine the population dynamics of moose, which are declining in many parts of the country. So far, moose populations appear to be stable or expanding in Washington. The study focuses on deaths and survival of cows and calves.
Six decades ago, virtually no moose were in Washington. The numbers sifting in from Idaho didn't grow large enough for a limited hunting season until 1977.
Goerz served in the Marine Corps for two tours in the Middle East, including one in Iraq, before choosing wildlife biology as the next chapter in his life.
He and a couple of other researchers are monitoring collared moose from just north of Spokane to the Chewelah area.
"I've always been fascinated by wildlife as a hunter and hiker," he said. "This is a dream come true to be a part of this study."
Goerz moves quickly and quietly on trails. His pace does not slow when moving through blowdowns or uphill through thick brush on overgrown skid roads.
He uses an antenna and receiver for signals that lead him close to collared moose, but he still needs to get a visual sighting to see if the moose has a calf and other factors.
The largest member of the deer family can be difficult to see even at close range in the dense, brushy forests.
The public can help the researchers by reporting sightings of any moose wearing a collar in northeastern Washington.
"You quickly learn that these moose are all individuals," he said.
One cow has ranged from Mount Spokane northeast across the state line to nearly to Sandpoint. "In one spurt it covered 40 miles in four days," he said.
Another moose remained for most of a year within a half-mile of where it was collared.
"There is considerable variation in where they go and how far they range, but many stay within a 25-50 square kilometer area throughout the year.
"They just use different parts of that area seasonally – north or south facing mountainsides, ephemeral wet areas, and so on."
The researchers are monitoring 36 moose which are collared and currently transmitting signals. In some cases, the transmitters may not be working or the moose have died since they were collared.
Deaths are expected. The researchers track down the carcasses for valuable information.
"We are still collecting a substantial amount of data on habitat use, predation risk, and adult-calf survival, but I am personally amazed at how diverse the sources of adult mortality have been thus far in the project," Goerz said.
So far, 15 collared moose have died since the winter of 2013-14. The causes include parasites, malnourishment, predation by mountain lions or wolves and several in which the cause could not be determined for lack of evidence.
Hunting has been the top cause of deaths among the collared moose.
"We have had four radio-collared moose harvested in the last two years which, while modest in magnitude, is our leading single cause of death thus far," Goerz said.
"Researchers look for patterns in our data, but with so few mortalities these last two and a half years and the varied causes, it is difficult to draw conclusions at this point. It will take more time and monitoring to see trends if they indeed are present."
Incidentally, radio-collared moose are legal game for hunters who draw the coveted tags. A moose in the study killed by a hunter is another valuable piece of the data puzzle, he said.
Being out and often sitting quietly in the woods monitoring signals of radio-collared moose opens the researchers to a wide range of wildlife encounters.
"While monitoring a moose and her calf on the backside of Mount Spokane this year, a volunteer and I were very near an adult female mountain lion and her sub-adult offspring," Goerz recalled.
"The youngster became intensely interested in Tommy Williams, the wildlife biology volunteer on the project, and he was able to get a great picture of the young cat.
"We say it nearly every day we are out in the woods: "You never know what could happen today."
Goerz will wrap up his data collection for his master's thesis at the University of Montana in May, but state Fish and Wildlife staff will continue at least some monitoring of these collared moose after he leaves the study.
Local journalism is essential.
Give directly to The Spokesman-Review's Northwest Passages community forums series -- which helps to offset the costs of several reporter and editor positions at the newspaper -- by using the easy options below. Gifts processed in this system are not tax deductible, but are predominately used to help meet the local financial requirements needed to receive national matching-grant funds.
Subscribe to the sports newsletter
Get the day's top sports headlines and breaking news delivered to your inbox by subscribing here.
---