News > Spokane
Three 'Raging Grannies' arrested for blocking oil and coal trains
Wed., Aug. 31, 2016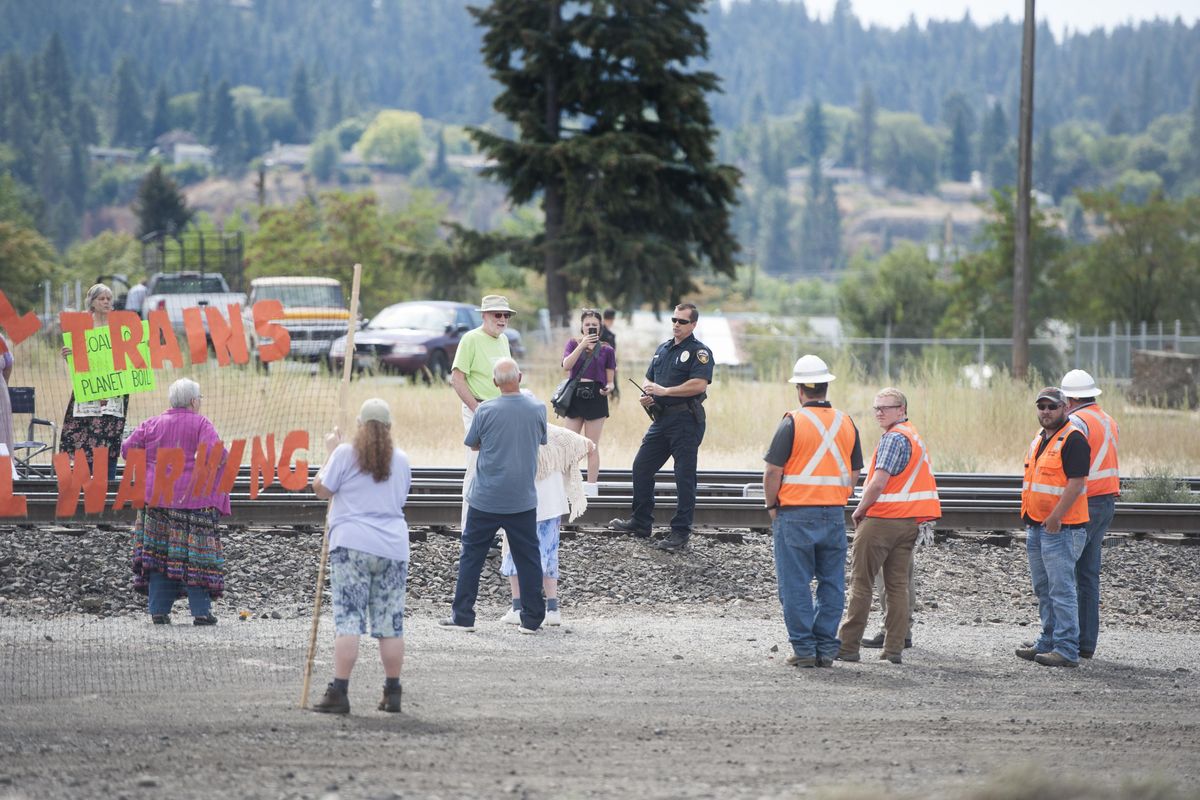 Protesters gather on railroad tracks near 2302 East Trent to protest the movement of oil and coal trains through Spokane on Wednesday, Aug. 31, 2016, in east Spokane, Wash. (Tyler Tjomsland / The Spokesman-Review)
Police arrested three protesters calling themselves "Raging Grannies" on Wednesday after the women blocked BNSF tracks to protest oil and coal trains.
"We were willing to be arrested to stop climate change," said Nancy Nelson, dressed in a blue floral dress with a matching hat. "With the oil and coal trains coming right through our city, this is a very serious issue, which we have to address."
The women – all grandmothers – were the last of about 20 people who blocked rail lines near Trent Avenue and Napa Street.
Trains carrying crude oil from North Dakota's Bakken region and Alberta's tar sands pass through the city every day. Coal from the Powder River Basin heading to Northwest ports for shipment to Asia also moves through the city on trains.
"Climate change is the most urgent issue of our time. Today, short-term profit by fossil fuel corporations is coming at the cost of environmental destruction and our children's future," said Margie Heller, a protester and one of the Raging Grannies arrested Wednesday. The others were Nelson and Deena Romoff.
All three are members of the activist group Raging Grannies – an international nonviolent group that began in 1987 in Victoria, British Columbia, to protest the environmental impact of a U.S. Navy ship. Membership is restricted to grandmothers, though there is no age limit.
Across the United States and Canada, members in "gaggles" – chapters – have donned satirical attire. Romoff wore a large cooking apron and sang songs while standing in the middle of a track with a freight train stopped a few hundred yards away and Spokane police officers nearby.
The protest began at noon and lasted for about an hour. It affected as many as eight trains carrying coal, oil, containers and mostly grain, BNSF Railway spokeswoman Courtney Wallaces said. The trains were stalled as officials worked to clear the tracks.
Arrests were made peacefully. The women sang a protest song to the tune of "I've Been Working on the Railroad" before being led off the tracks and into police custody, where they face charges of trespassing and obstructing railroad tracks.
"Don't ship coal or oil on railroads, it's not smart to do," the women sang. "Burning fossil fuels is foolish, cause it makes more CO2."
Rusty Nelson, husband of Nancy Nelson – one of the three women arrested – said the protesters' intent wasn't to say they hate trains or to stop the flow of passenger trains, which also travel on BNSF lines.
"But, there's just no excuse to be sending coal and oil across the world when it's obsolete," he said.
Wallace said BNSF Railway – the largest rail shipper of crude oil to Washington refineries – respects people's First Amendment rights, but said safety is the railroad's paramount concern.
"They are putting themselves in harm's way," she said of the protesters. "They are putting our crews in harm's way. We ask that they do the right thing: Stay off the tracks and exercise their First Amendment rights safely."
In May, more than 50 anti-oil protesters were arrested for occupying railroad tracks near Anacortes, Washington. On Saturday, five protesters in Bellingham blocked another BNSF Railway rail line and were arrested.
On Aug. 15, the Spokane City Council voted to withdraw an unprecedented measure that would have fined railroad operators up to $261 per car carrying crude or coal through downtown Spokane. Council President Ben Stuckart, who introduced the idea in late July, said the measure would have exposed citizens to too much legal liability.
"I don't believe that it's legally defensible, or defensible for us to bring forward," Stuckart said during the Aug. 15 meeting.
Staff writers Kip Hill and Becky Kramer contributed to this report.
Local journalism is essential.
Give directly to The Spokesman-Review's Northwest Passages community forums series -- which helps to offset the costs of several reporter and editor positions at the newspaper -- by using the easy options below. Gifts processed in this system are not tax deductible, but are predominately used to help meet the local financial requirements needed to receive national matching-grant funds.
Subscribe now to get breaking news alerts in your email inbox
Get breaking news delivered to your inbox as it happens.
---