Sports > Seattle Seahawks
Seahawks QB coach: Carl 'Tater' Smith is a team favorite
Wed., Aug. 31, 2016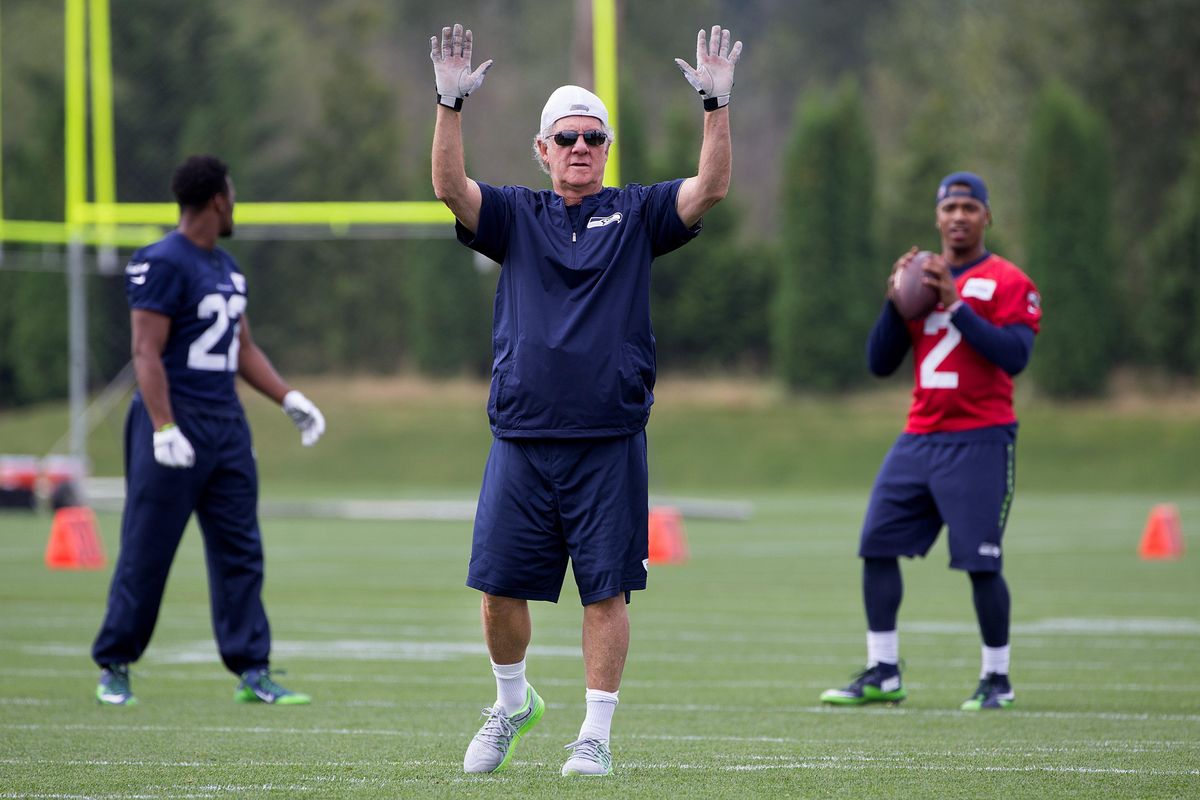 Seattle Seahawks quarterbacks coach Carl Smith, center, monitors his unit as quarterback Trevone Boykin, right, looks to pass during training camp on Tuesday, August 16, 2016, in Renton. (Johnny Andrews / The Seattle Times)
Subject: Carl Smith. Occupation: Seahawks quarterback coach; mentor to Russell Wilson. Problem: Many players, maybe even most, don't know or remember his name. "Carl Smith?" receiver Jermaine Kearse asks. "The basketball coach?" When informed that Carl Smith is, in fact, the Seahawks quarterback coach who has been there since Kearse joined the team in 2012, Kearse's face jolts. "Ooooooh, you mean Tater," he says. Solution: Refer to Carl Smith exclusively as Tater, because that's how he's best known and because it becomes clear traditional storytelling methods won't work with him. So Tater it is, told in eight non-traditional parts. Tater is 68 years old, four years older than coach Pete Carroll ("He's like my younger brother," he says of Carroll). Tater is one of Carroll's favorite people and quite possibly the Most Interesting Man on the Seahawks.
He got fired in 2007 and used his time off to coach high school football and go door to door for Barack Obama's presidential campaign. He has his master's degree, a real-estate license and enough potato-farming knowledge to host lectures. He dances at practice, occasionally flips his hat backward and has been known to use an emoji or three in text messages.
If he didn't work for Carroll, he might have the most fun of any coach in the NFL.
His philosophy is not as fun or interesting, at least not at first: Do the best job you can, and be good to the people around you, which one of his sons admits is a little "Oprah-ish."
But like so many things with Tater, it's more complicated, more meaningful and therefore more interesting than it first appears.
1. Tater
The nickname, what he calls a "good sports nickname," presents another issue. Mostly because the origin story seems to change depending on the day or year. But that's how he's known: Tater.
One of Smith's coaching buddies was in San Francisco when former Seahawks receiver Ricardo Lockette was with the 49ers. The coach asked Lockette (who rejoined the Seahawks after his 49ers stint) about Carl Smith.
Lockette shook his head.
The quarterback coach for the Seahawks?
Lockette shook his head again. "No," he said, "our quarterback coach is Tater."
A couple years ago, Tater said he got the nickname because he worked in the potato fields growing up in Wasco, California. The potato-fields part is true; the nickname part is not.
"I used to tell stories about that," Tater admits. "This is the true story. It was in the first week I was at Bakersfield Junior College. Gerry Collis, who was the quarterback and defensive backs coach at the time, was saying, 'Way to throw that tater.' He said it about five times, and he just looked, pointed and said, 'Tater.' Now, he gave everybody nicknames. He was outstanding at that. But that was it. And everywhere I've gone, somebody has shown up from the past."
2. Pete Carroll shows up in his past
Here are the places where Carroll and Tater have coached together: North Carolina State (1982), New England (1997-99), USC (2004) and Seattle (2011-present).
Carroll on Tater: "He's one of my favorite guys in the world."
And: "Everywhere he's ever been, I've watched different quarterbacks in different settings have the best years they've ever had. Go back and look. Drew Bledsoe, Matt Leinart, all the way through Russell."
And finally: "I believe in his savvy, wisdom and outlook as much as I can believe in somebody."
3. The potato fields
He did work in the potato fields. And the watermelon fields. And the cotton fields.
He started when he was 12 or 13 and kept at it even after he got his masters at Cal Poly. At first he loved the money, but then he learned to love the job.
It takes about nine minutes for Tater to explain the different stages of potato farming. He gets out of his chair in the middle of the atrium at the Seahawks practice facility to demonstrate, both visually and audibly, how the process unfolds and his variety of job titles — sprinkler, jigger, sewer and trucker.
He is so animated and enthusiastic it's hard not to care a little more about the plight of the potato. When he's finished, he sits back down.
"I like talking about this; I've told my sons all these stories," he says, pausing for effect. "They hate 'em. I can't believe you're listening."
His middle son, Tyler: "I know he has decades now in football, but he'd rather give us the lessons he learned in the potato shed or watermelon fields."
His youngest son, Nick: "When he'd give me 20 bucks to go to the movies, he'd tell me how many sacks of potatoes it would have cost him to make that $20 before giving it to me."
Tyler: "My dad's never missed a day of work in football since I've been alive. Never, ever. Saying you were too sick to go to work or school or practice was ridiculous. I never missed a football practice; it wouldn't have been allowed. He wasn't a disciplinarian or a hard-charging guy with our sports when we were kids. But just the idea of missing work was like a joke to him. It just didn't make sense. He sees those times in the potato shed or watermelon fields as glorious days."
4. Hours and hours spent with Wilson
Russell Wilson Year 1: 64 percent, 3,118 yards, 26 touchdowns, 10 interceptions.
Russell Wilson Year 4: 68 percent, 4,024 yards, 34 touchdowns, eight interceptions.
"For me and him, over the past four years, we've been through some amazing times," Wilson says. "We've won a lot of football games, and a lot of that is credit to him and how he helps prepare me in such an amazing way.
"He positively affects everyone around him in everything he does. And that's the best thing I can say about Tater: He positively affects everyone he knows and everyone around him. I just really believe he's a true difference-maker for our team. I tell Tater he's still got another 10 years left in coaching."
5. The lesson of 'do more'
USFL, Philadelphia Stars, mid-1980s. Tater is coaching special teams.
First loss, the head man, Jim Mora, unloads. It doesn't matter how hard you're working, how smart you think you are, if we don't win, it's not worth a damn. It's not good enough.
Tater walks to his office. Screw you, he thinks, I'm working my tail off for you. But he keeps walking, lets the emotion drain.
Next game, he goes back at it, watches more tape and works out a return play: touchdown.
"I just nodded to myself," he says. "That's what he was talking about. There was more in there."
6. He apologizes for dancing
"Sorry," he says. "It's the music."
Russell Wilson apologizes for nothing.
"You should have seen him at the wedding when Earth, Wind & Fire was playing," he says, referring to his offseason wedding to singer Ciara. "He was grooving the whole night. He even got a couple of dances with Jennifer Hudson. I think that was the highlight of his life – that and the Super Bowl."
7. Never fired, only liberated
That's what he calls his firings. And his three years away from football after two of those firings — 2000 and 2007-2008? Those are "redshirt" years.
When he got "liberated" as the Jaguars offensive coordinator in 2007, he had promised his youngest son, Nick, he wouldn't have to move again. Nick was a junior in high school.
"I said, 'Nick, do you want to go to Pittsburgh and coach Ben Roethlisberger?'" Tater says. "He said, 'No, Dad, you can go.' He was doing well in school, doing well in football and socially. It was like, OK, he didn't need to move again. So I sat out. They asked me to come coach, and I wound up coaching the quarterbacks on his high school team for two years."
Nick: "He did some cool stuff. He got his real estate license and went door to door on the Obama campaign his first term. And he said he was going to learn Spanish, but it never happened."
Tyler: "He ended up getting a hug from Obama when he got to the White House. When the Seahawks were at the White House to meet Obama, after Obama went down the line and shook the coaches' hands, (then-Seahawks receivers coach) Kippy Brown piped up and said, 'Carl went door to door in Florida in '08.' And Obama said, 'Oh, that deserves a hug.'"
8. Meaning of his philosophy
His philosophy sounds simple and obvious, but he believes in it, and the way he talks, it makes you believe, too. The hard part isn't understanding his philosophy; it's actually doing it.
"I got it from my dad," he says. "He didn't tell it to me, but I watched him like you watch your dad when you're little. I watched him work on chemistry tests and grade tests. I had him in chemistry class as a junior, and I understood how hard he was working and how much he cared even in the face of how little his students cared. He always did the best job he could teaching, and people loved him."
He learned it from watching his father in the obscurity of a classroom, and his sons learned it from watching him on the big stages of pro sports. But the message never changed.
His oldest son, Tracy, is a special-teams coach with the Oakland Raiders. Tracy ends a long email about his dad with a personal note, the philosophy extended: "He is a great guy and my best friend. I've wanted to be like him for as long as I can remember and I have never seen or heard anything that made me change my mind."
Local journalism is essential.
Give directly to The Spokesman-Review's Northwest Passages community forums series -- which helps to offset the costs of several reporter and editor positions at the newspaper -- by using the easy options below. Gifts processed in this system are not tax deductible, but are predominately used to help meet the local financial requirements needed to receive national matching-grant funds.
Subscribe to the sports newsletter
Get the day's top sports headlines and breaking news delivered to your inbox by subscribing here.
---