News > Pacific NW
Washington employees rally for higher wages
Wed., Aug. 31, 2016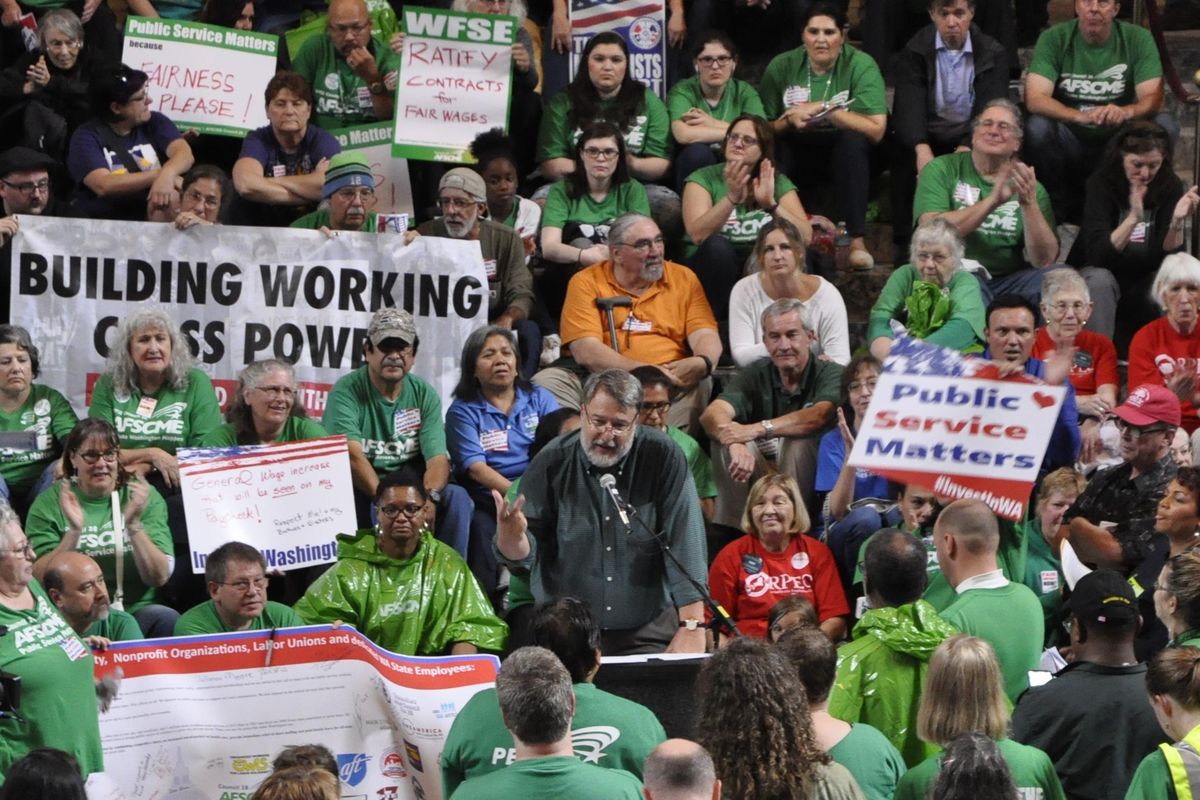 Washington State Labor Council President Jeff Johnson (center, at microphone) urges state workers to vote for candidates who value them as "social infrastructure." (Jim Camden / The Spokesman-Review)
OLYMPIA – Hundreds of state workers held a raucous rally Wednesday in the Washington Capitol Rotunda to demand higher pay and better benefits in their next contract.
The governor's office is currently negotiating with about 95,000 state or publicly funded workers represented by 40 unions. Tentative wage agreements for the 2017-19 biennium have been reached with 14 of the unions, but discussions continue with the largest groups, the Federation of State Employees and the Public Employees Association.
Some signs called on Gov. Jay Inslee – whose office is one floor down from the Rotunda – to give workers a raise, and one speaker led the crowd in a chant of "Jay Inslee get in line. Public employees are way behind."
Union leaders contend the vast majority of state workers are paid less than private employees in comparable jobs.
But Jeff Johnson, president of the Washington State Labor Council, urged the crowd to support Inslee as well as other Democrats in the November election "who believe we need to invest in physical and social infrastructure."
Inslee wasn't in his office Wednesday but his Chief of Staff David Postman did meet with a couple of dozen of the demonstrators during the rally.
Bill Bryant, Inslee's Republican opponent, was on hand – not to speak at the rally, he said, but to talk with state employees about their concerns.
In a brief interview on the edge of the rally, Bryant criticized Inslee for taking campaign contributions from groups with whom he "negotiates and concludes" a contract. As governor, Bryant said, he would look for ways to open up negotiations with state unions, which currently are negotiated in private between the governor's office and union leaders, then analyzed by the Office of Financial Management to determine if they are financially feasible based on revenue forecasts.
If they are ruled feasible, they become part of the biennial budget, and the Legislature can either approve or reject them, but can't make changes. Bryant said he believes legislators need to be a part of negotiations, although he said he needed to study the best way to do that.
Local journalism is essential.
Give directly to The Spokesman-Review's Northwest Passages community forums series -- which helps to offset the costs of several reporter and editor positions at the newspaper -- by using the easy options below. Gifts processed in this system are not tax deductible, but are predominately used to help meet the local financial requirements needed to receive national matching-grant funds.
Subscribe now to get breaking news alerts in your email inbox
Get breaking news delivered to your inbox as it happens.
---