News > Voices
When dinner bell rings at Rockin' B Ranch, get ready for fiddlin' and fun
Wed., Aug. 31, 2016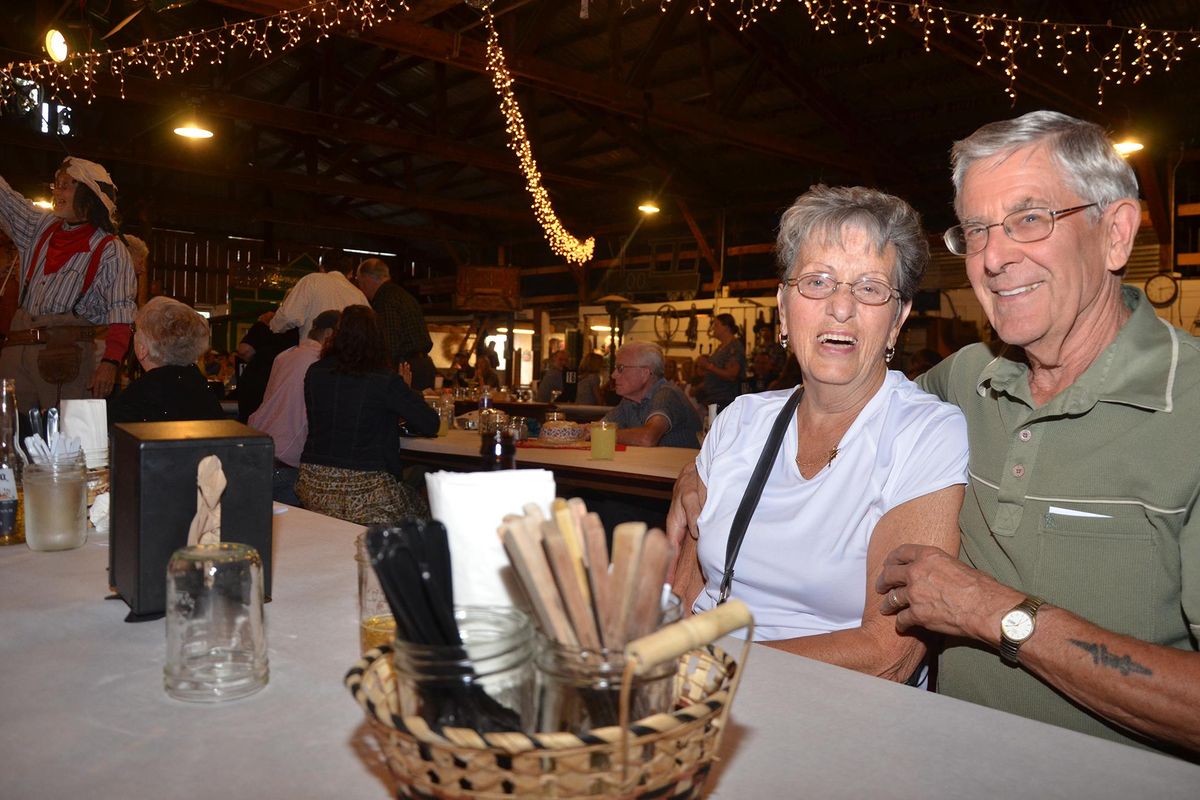 Karen and Gordon Patterson visited the Rockin' B Ranch from Vernon, British Columbia on Saturday evening. It was the couple's second time at the Cowboy Supper Show. (JUDITH SPITZER / Courtesy photo)
On a late summer evening, the Rockin' B Ranch just south of Interstate 90 on the Washington-Idaho border was living up to its raucous name. There was some yodeling, some pickin', lots of fiddling, a cowboy shootout and a good old-fashioned meat-and-potatoes supper.
"We got taters and beans, chicken, beef and ribs, and you meat eaters … we know you have specific ways you like your meat cooked, so move on in there and tell them what you like," said Dusty Bicuspid, the gnarly-looking toothless cowboy. "And they'll completely ignore you."
Joking aside, Dusty grinned and urged more than 200 dinner guests, gathered at picnic tables inside a vintage barn at the venue, to eat as much as they like and go back for more.
Dusty, aka Scott Brownlee, and his wife, Pamela, have been performing for audiences on summer weekends at the ranch for more than 17 years, with a two-year hiatus starting in October 2011. They resumed after receiving requests for the show to continue.
"I could not go to Costco without people stopping me to ask me if we could bring the dinner shows back," said Pamela Brownlee, laughing. "We had a two-year break, but we've been doing shows here since 1994. People kept asking and asking if we could at least do a show once a month. This barn loves a party."
So in 2014, the Brownlees decided to bring back the shows for one weekend a month during the summer.
Most of the slapstick performance action takes place in a 10,000-square-foot barn, with the exception of the nightly shootout that happens just outside the old barn doors. Actors Andy Birdsall as the guilty cowboy, Eric Dobrenski as the sheriff, and Brownlee as Dusty recreate a shootout, a trial by audience members and finally a hanging.
Inside the barn, guests are treated to a hearty, buffet-type, homey meal with several types of meat, baked potatoes, cornbread and all the fixings.
Decorated with saddles, vintage tack, farm implements and tools of a bygone era, the rustic barn seats more than 300 and includes a kitchen, cantina and even a waterfall.
After supper, the hour-plus musical show, featuring the Riders of the Rockin' B, keeps guests young and old entertained with music, comedy and a fractured fairytale and storytime for the kids performed by Dusty. A recent audience responded to the hilarity with lots of smiles and laughter.
Lynda and Ric Androsky, from Mead, took in the Cowboy Supper Show for the third year in a row. They were singing, clapping and stomping their boots with the best of the crowd, thoroughly enjoying themselves.
Lynda Androsky said it's the food, the show and the family atmosphere that keep the couple coming back every year for more.
"Nobody is a stranger here," Androsky said. "Everyone is here to have a good time. That's what we especially like about it."
Guests are welcome to join in special traditions during the show, including singing "The Star-Spangled Banner," recognition of U.S. military veterans, and celebrations of birthdays and anniversaries. Those from outside the area are asked to stand and say where they're from.
Theresa Casperson and her son Kyle, 15, were there from Olympia. Casperson, director of a community hospital in Aberdeen, said she has been bringing Kyle to the show since he was a baby.
"We go to Whitefish, Montana, every year and then we stop and see the show. We can't miss it," she said.
Karen and Gordon Patterson from Vernon, British Columbia, said they were staying in Blanchard, Idaho, for a week and decided to take in the show.
"We saw it once before and we loved it so much we just had to come back," Karen Patterson said. "Everyone is so friendly, and it's just good fun."
The Brownlees, who have two grown children, moved to the area in 1992, leaving successful show business careers. "Scott performed for several years as a musician and worked as a recording engineer for Disney and Marvel," Pamela said. "I was a singer, and after we moved from L.A., and the kids were little, I taught music" in Freeman and Greenacres schools.
"It was a wild culture shift, but we fell in love with the area, after we learned to slow down," she added. "People here want to get to know you. They're very purposeful in what they choose to do and how to spend their money. They're very mindful."
The Brownlees have been part of the ranch house band for the duration. The group consists of Scott Brownlee on doghouse bass, Pamela singing, JayDean Ludiker fiddling, Sam Mazzola picking guitar, Teague Starbuck on guitar and Gordon Grove "rhythmically herding everyone with his pail-poundin' percussion," their website states.
The band performs everything from intricate five-part vocal arrangements to old trail standards and cowboy music that had guests tapping toes and moving to the beat.
Since 2012, the Rockin' B Ranch also has been available as an event and wedding venue for up to 1,000 guests.
Local journalism is essential.
Give directly to The Spokesman-Review's Northwest Passages community forums series -- which helps to offset the costs of several reporter and editor positions at the newspaper -- by using the easy options below. Gifts processed in this system are not tax deductible, but are predominately used to help meet the local financial requirements needed to receive national matching-grant funds.
Subscribe now to get breaking news alerts in your email inbox
Get breaking news delivered to your inbox as it happens.
---