'Wreck the Halls': Bret Michaels gets the bands back together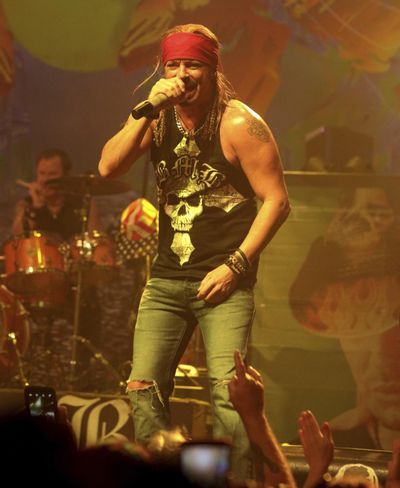 Poison was one of the defining bands of the hair metal era, racking up big hits with "Nothin' But a Good Time," "Talk Dirty to Me," "Unskinny Bop" and the No. 1 single "Every Rose Has Its Thorn." The band's frontman, Bret Michaels, has since broken away from his glam roots, releasing several country rock albums as a solo artist and starring on the VH1 reality dating series "Rock of Love."
Michaels headlines a metal-heavy lineup of bands at the Arena this weekend, and he talked to The Spokesman-Review via email in the days leading up to the show.
The Spokesman-Review: What's your typical tour schedule like these days?
Bret Michaels: I play over 200 dates a year, sometimes close to 300 with my solo band. We play all over the world. In fact, we just got back from Peru; we were headlining a festival in the big soccer stadium over there. … I'm blessed and grateful that I get to play so much. A lot of artists don't get to hit the same markets as often as I do. The road is the life I love. I have to keep moving.
SR: Do you prefer performing in arenas and large theaters as opposed to smaller, more intimate venues?
Michaels: Each has positive aspects. I love the intimate venues. Usually it feels like I know everyone in those venues. Many fans have been coming out for three decades, and the superfans are the ones that get the tickets to those smaller shows that sell out almost instantly. They feel almost like family reunions. The arenas and large theaters, though – that's rock 'n' roll. That's what you dream of as a kid. It never gets old.
SR: Are you currently working on any new music?
Michaels: I am constantly making music. I have a studio in all my homes and on my bus, because you never know when inspiration will hit. It happens anytime, anywhere, but I never think to myself, "I just finished a record, let me take a break." It just doesn't work like that for me.
SR: A lot of your recent solo work has been heavily influenced by country music. Are there any other genres you've considered exploring?
Michaels: I'm always experimenting with different genres. I grew up on country and rock, and as far back as "Every Rose," my country roots have shown through. I listen to everything, though. I have an electronica dance track on my last record called "You Know You Want It" that was a lot of fun to make. … Also, like you mentioned, the single "Girls on Bars," which was co-written with CMA-winning songwriter Luke Laird and was CMT's most viewed debut video at the time of its release, was pure modern country.
SR: What's the current status of Poison?
Michaels: Well, I can't guarantee this, but I'm doing all I can to get all four of us back out on the road for a few months next summer. No promises, but I have faith.
SR: In Spokane, you're going to be on a bill with several other acts from the same era as Poison. Have you performed with any of them before, and are you looking forward to sharing a venue with them?
Michaels: I have played with all these bands before. We are all good friends and have been for a long time. We have played a lot this year together. I look forward to every show. Spokane is gonna be amazing.
SR: The concert is being billed as "Wreck the Halls." Is it going to be holiday themed in any way?
Michaels: Every show I do has a charity element, this one included. I bring a lot of vintage and modern merchandise that I've worn on TV or onstage or even in photo sessions, and we sell and auction it off from my Life Rocks Foundation and put the money back into local charities each night. To me, that is the holiday theme of this show.
SR: For anyone who hasn't seen you in concert, can you describe what your typical live shows are like? What kind of material will your set list include?
Michaels: It's full-on energy. … We play a mix of the Poison hits, the solo hits, songs from the TV shows I've done and some covers of songs I grew up (with) that mean something special to me. It's nothing but a good time, and I can't wait to show it to the fans in Spokane.
About the show
Here's what you need to know about the other bands on the Wreck the Halls lineup:
Warrant – Best known for the double entendre-laced single "Cherry Pie," the band also had Top 10 hits with the ballads "Heaven" and "I Saw Red." Although original lead singer Jani Lane died in 2011, Warrant has continued to tour and release music with new frontman Robert Mason.
Jack Russell's Great White – There are currently two active versions of Great White featuring different members from the "Once Bitten, Twice Shy" group's original lineup. This one is fronted by founding lead singer Jack Russell, which was performing during a Rhode Island nightclub fire in 2003.
L.A. Guns – Despite its name, the band hails from the U.K., and its biggest hits were power ballads like "It's Over Now" and "The Ballad of Jayne."
Ratt – The history of Ratt is spotty and contentious, although it appears that the original lineup is back together. The band's biggest hit was "Round and Round," one of the definitive hair metal singles of the era, which boasted a music video starring the legendary Milton Berle.
Dokken – Another glam metal group with a long history of lineup changes, Dokken has more of a cult following than many of the era's heavy hitters.
---