Sports
Huskies roll Colorado for first conference championship since 2000
Fri., Dec. 2, 2016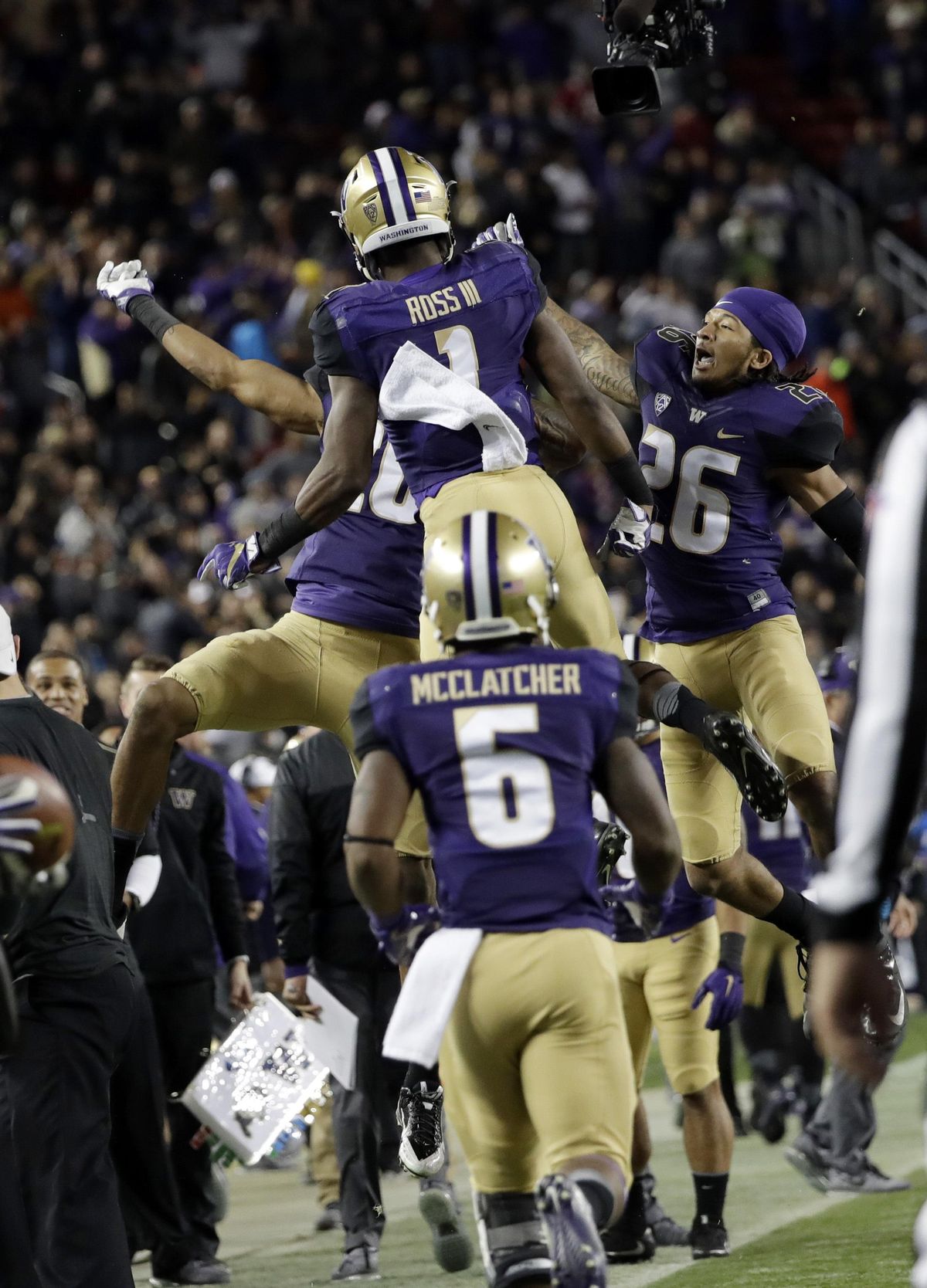 Washington wide receiver John Ross (1) celebrates his touchdown catch with teammates, including Sidney Jones (26) and Chico McClatcher (6), during the second half of the Pac-12 Conference championship NCAA college football game against Colorado Friday, Dec. 2, 2016, in Santa Clara, Calif. (Marcio Jose Sanchez / Associated Press)
SANTA CLARA, Calif. – Elijah Qualls qualifies as a large human, all 6-foot-1 and 321 pounds of him, and yet he looked so small as Lincoln Kennedy captured him in a bear hug on the Levi's Stadium grass, Washington Huskies young and old exulting in the euphoria they created here on Friday night.
This was an embrace with historical significance. Kennedy, now a Pac-12 Networks analyst, is one of the most heralded players in UW history, a College Football Hall of Fame offensive lineman and a member of Washington's unbeaten, 1991 national championship team.
That UW team, forever the school's standard for excellence, won 12 games. No Huskies team has done that since.
Until Friday, when the Huskies loudly proclaimed themselves champions of the Pac-12 with a 41-10 demolition of Colorado in the league title game that will almost assuredly force the College Football Playoff committee to place them among the nation's top four teams when the final rankings are unveiled Sunday morning.
Washington's celebration figures to rage until then.
"It shows us where we can go," Qualls said. "It showed me what we're accomplishing so far, and what we can accomplish. Honestly, we made history so far. And we can continue to do it."
History is Washingon's first Pac-12 title since 2000. It was achieved via defensive dominance, through bullying Colorado and senior quarterback Sefo Liufau, who was twice intercepted by game MVP Taylor Rapp in the early minutes of the thid quarter.
Liufau hurt his ankle on CU's first possession of the game, sat out the rest of the half, but returned to lead the Buffaloes' offense in the second half. His comeback was as inglorious as it was courageous.
On the first play of the third quarter, Liufau, a Tacoma native, looked for receiver Jay MacIntyre. But he threw high and through MacIntyre's hands. The ball was instead snagged by Rapp, who covered the remaining 35 yards for a game-changing touchdown.
"If he wasn't a freshman," UW linebacker Keishawn Bierria remarked, "somebody would try to take him on the top of their draft board. That dude is nice, man."
Rapp, a Bellingham native, intercepted Liufau again on Colorado's next possession to set up a UW field goal, one that gave the favored Huskies a 24-7 lead.
That was that.
The Huskies were not perfect on this night. Far from it. They couldn't throw the ball, thwarted by a talented group of Colorado defensive backs. Star quarterback Jake Browning did not look himself for most of the game. But they were so much better than Colorado in every other way, so much faster and more imposing defensively, that it simply did not matter.
Postseason arrangements will be sorted out on Sunday, but it is difficult to imagine that the Huskies (12-1), ranked No. 4 already, will fall from that spot after this convincing victory over the nation's No. 8 team.
If it wasn't over after Rapp's consecutive interceptions, it certainly was after John Ross turned a prayer of a pass from Browning into a touchdown in the third quarter, the Huskies already leading 24-7 and driving at CU's 19-yard line.
Browning was hurried and nearly sacked. But as a Buffaloes defender pulled him to the turf, Browning unloaded a pass to Ross at the right sideline, and the junior receiver leapt, grabbed the ball with one hand in front of a CU defensive back, then sprinted into the end zone to give UW a 31-7 lead.
"I jumped up and prayed that the ball landed in my hand, and it did. I was just so thankful that it did."
Nothing really mattered after that. Colorado returned the ensuing kickoff to UW's 2-yard line – after returner Anthony Julmisse fumbled and CU tailback Phillip Lindsay scooped it up and returned it the rest of the way – but the Huskies pushed them backward and forced a meaningless field goal.
Washington's first possession of the game offered no foreshadowing for its ensuing offensive struggles. The Huskies covered 65 yards in seven plays – six of them rushes – and capped that bruising journey with Lavon Coleman's 1-yard touchdown run.
UW continued to run the ball effectively, but Colorado's heralded pass defense prevented much offensive rhythm. Huskies quarterback Jake Browning threw his 41st touchdown pass of the season to give UW a 14-7 lead in the second quarter, but completed only 4 of his 12 first-half pass attempts for 38 yards.
It didn't get a whole lot better for Browning, who finished 9-for-24 for 118 yards. But Washington's run game – Coleman finished with 101 yards, and Myles Gaskin led with 159 – and defense rendered its passing struggles moot. In addition to Rapp's game-changing interceptions, UW safety Zeke Turner grabbed one at CU's 11-yard line on the final play of the third quarter. The Huskies followed with a field goal.
Colorado managed only 163 yards of total offense, averaging just 3.0 yards per play. Backup quarterback Steven Montez relieved Liufau in the first half and completed 5-of-12 passes for 60 yards.
It was somewhat surprising when Liufau, who completed only 3 of his 13 pass attempts, took the field with Colorado's offense when the second half began. His appearance inspired a cheer from Buffaloes fans who might not have believed CU, trailing only 14-7 at that time, could pull this off without him.
But they couldn't do it with him, either. Washington was simply better, running away with its first league championship since Rick Neuheisel was coach and Marques Tuiasosopo was quarterback.
That team finished 11-1 and won the Rose Bowl.
These Huskies will advance to a grander stage, their first national playoff appearance now almost certainly imminent.
For now, they will simply revel in Friday's dominance.
"It's something that nobody can take away from us," UW senior defensive back Kevin King said. "Washington, 2016 Pac-12 champions. Regardless of what happens, regardless of what the committee does, that's something that will go down in history forever."
Local journalism is essential.
Give directly to The Spokesman-Review's Northwest Passages community forums series -- which helps to offset the costs of several reporter and editor positions at the newspaper -- by using the easy options below. Gifts processed in this system are not tax deductible, but are predominately used to help meet the local financial requirements needed to receive national matching-grant funds.
Subscribe to the sports newsletter
Get the day's top sports headlines and breaking news delivered to your inbox by subscribing here.
---