Sports
Mistakes cost Liberty in State 2B football title loss to Napavine
Fri., Dec. 2, 2016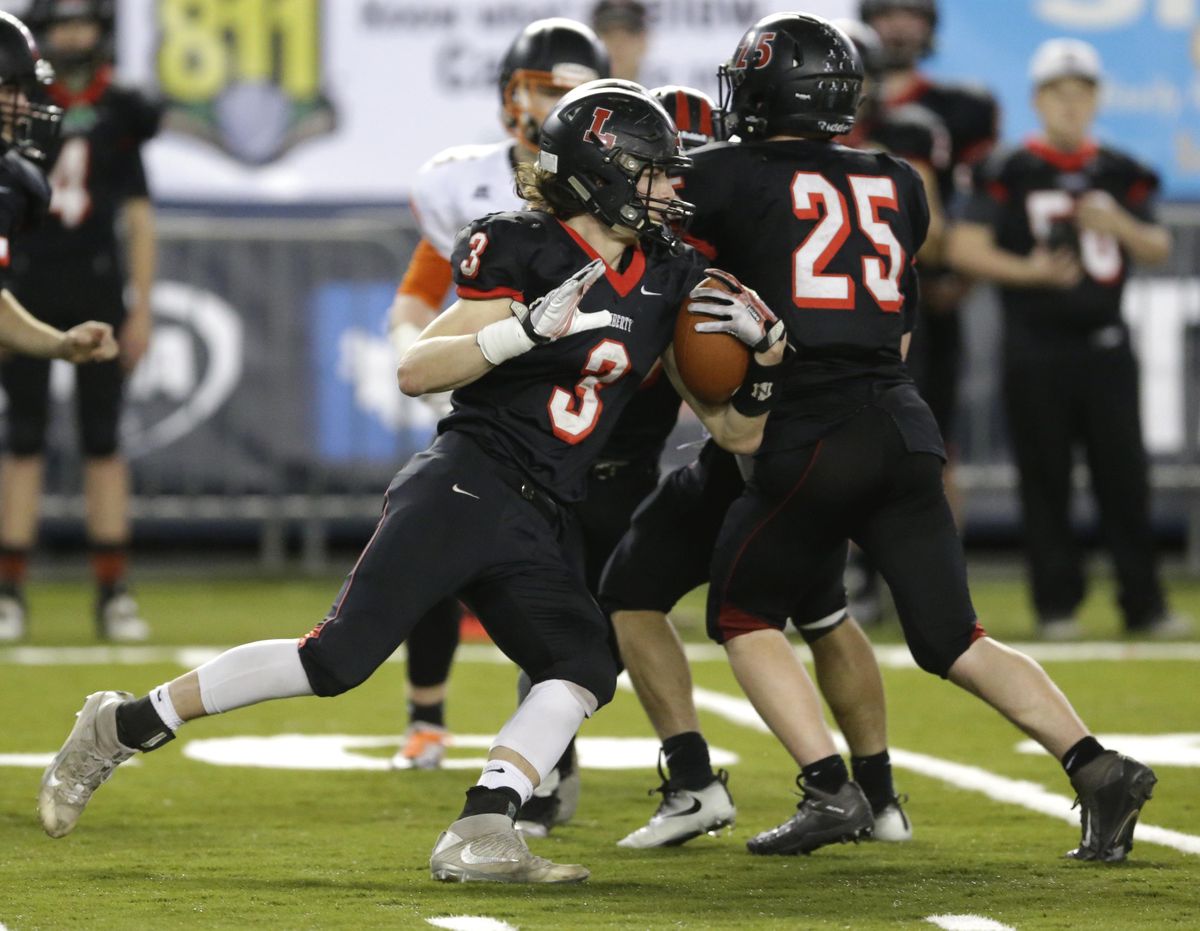 Liberty's Chase Burnham (3) returns a kickoff against Napavine in the second half. (Ted S. Warren / Associated Press)
TACOMA – Liberty High School had a special class of seniors, a group of players that had played together since second grade and led a program turnaround of epic proportions.
But against undefeated Napavine in the State 2B football title game Friday afternoon, they had a bad day.
"They played better than us," Lancers senior quarterback Garrett Rogers said. "We made mistakes, and they didn't."
Napavine (14-0) finally won in the Tacoma Dome, beating the Lancers 34-16 after consecutive losses to Okanogan in the final game in the past two years.
Miscues dogged Liberty (12-2). Rogers, who was 15 for 18 for 184 yards and two touchdowns, had interceptions on his first and last throws.
A dropped snap on a quarterback sneak thwarted a fourth-and-1 attempt. A punt only went 4 yards. Penalties extended multiple drives that should have ended in stops.
"I think if we played that game again, it would be closer," said Tyler Haas, a senior running back who finished with 103 rushing yards and 44 receiving yards on four catches. "We were better than we showed."
The Spangle school was on its deepest run in the state playoffs since its 1992 state championship, when parents of many players, including Haas, were on the team. The senior class went from 2-8 as freshmen to losing 34-7 last year in the state quarterfinals to the same Napavine team, to making the state final in 2016.
"It's been a dream come true," Haas said. "It just sucks losing. We went all the way. I couldn't be more proud of the team."
That sentiment was echoed by coach Mike Dewey. (So was the sentiment about the miscues, though.)
"I'm really, really proud of this team," Dewey said. "They played their guts out."
Early in the game, Haas ripped off a 53-yard run on a counter play that led to an opening Garrett Van Dyke 22-yard field goal for the Lancers.
The next time the Lancers ran the play, Haas was able to rip off a first down.
But after that, Napavine began blitzing middle linebacker Austin Filley, filling the hole where Haas was supposed to go and bottling up the Liberty running attack, forcing the Lancers to the air.
On defense, the Lancers couldn't contain Tigers quarterback Wyatt Stanley.
On the Tigers' second drive, Stanley spun out of a sack, then lobbed up a throw off his back foot that running back Sam Fagerness came down with in the end zone for a touchdown, giving top-ranked Napavine a lead it never relinquished.
That, somehow, wasn't Stanley's best play of the game.
In the first drive of the third quarter, leading 14-10, Stanley had a snap sail far over his head. He went back, picked it up and made a wild scramble to avoid a sack. He ran down the right sideline, then heaved a pass down the field that receiver Mac Fagerness came down with 44 yards downfield.
Five plays later, Stanley plunged into the end zone on a designed run. Stanley ended with 163 yards and two touchdowns on 15-for-27 passing. He added 39 rushing yards and two touchdowns rushing.
Local journalism is essential.
Give directly to The Spokesman-Review's Northwest Passages community forums series -- which helps to offset the costs of several reporter and editor positions at the newspaper -- by using the easy options below. Gifts processed in this system are not tax deductible, but are predominately used to help meet the local financial requirements needed to receive national matching-grant funds.
Subscribe to the sports newsletter
Get the day's top sports headlines and breaking news delivered to your inbox by subscribing here.
---