Sports > Gonzaga basketball
Blanchette: Clutch play helps Gonzaga finally defeat Arizona
Sat., Dec. 3, 2016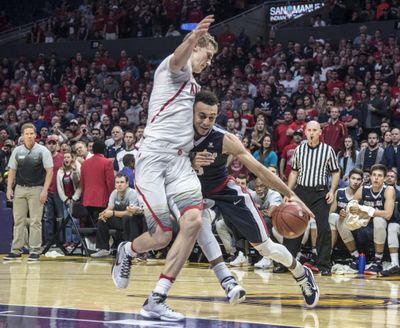 LOS ANGELES – During their tiptoe here Saturday along the high wire where college basketball games are decided, the Gonzaga Bulldogs appeared to be clutching a balance pole with a beach ball attached to one end and a bank vault dangling from the other.
And, yes, you have seen this before.
But it's supposed to be scary up there. Otherwise, where's the thrill?
OK, where it always is: in the winning.
So the ending of their Hoophall LA hookup with Arizona didn't weigh so heavily on the Zags – not compared to the relief of the actual end, when the scoreboard read 69-62, Gonzaga.
A signature win, sure. But it was lancing a boil, too.
"Just to finally step up and do it," coach Mark Few conceded, "means a lot."
Well-matched and fiercely contested, the Zags-Zona series is a West Coast jewel – except that the Wildcats had won six of the previous seven meetings. This included an NCAA Tournament game for the ages in 2003 and a second-round wipeout in 2014 – but it was the two most recent games that got under Gonzag's skin.
The overtime loss in Tucson in 2015 when the Zags had led by six points with four minutes left. And the swoon at home last season after being up by 14.
In 85 minutes of basketball in those two games, the Zags led or were tied for 62:30. Although, as Few noted, it felt more like "75 or 76."
"You know, my freshman year, I had to sit out and watch that one – that was tough," said sophomore guard Josh Perkins. "And last year at home, giving up the lead, that really hurt. I can't even put into words how I feel about (this) win."
It should feel earned – and in many different ways.
There were the efficient Zags – 17 points in their first nine possessions. There were the defensive Zags – hounding the Wildcats' splendid freshman Lauri Markkanen with a committee, forcing nine first-half turnovers. There were the bread-and-butter Zags – pouring the ball into Przemek Karnowski and watching him work over Dusan Ristic, left alone to deal with the deft-passing Gonzaga giant because "doubling, trapping Karnowski, in my opinion, is a disaster," offered Arizona coach Sean Miller.
And the clutch Zags? Well, that, too – after a fashion.
Missing eight of 14 free throws and a handful of runs to the rim in the late going is the contrary evidence. But as those empty trips mounted, the Bulldogs did knuckle down defensively. They got out of their zone ("we could not keep them off the glass," explained Few), got a big block from Karnowski and two strong plays against Markkanen by Johnathan Williams.
And two even bigger plays at the other end by Nigel Williams-Goss, who'd had a tough day with foul trouble and a finicky shot.
His nervy drive against the 7-foot Markkanen for a layup answered the Wildcats after they'd cut a 13-point deficit to six. A runner at the 1:10 mark stopped the bleeding when Arizona got within five.
"He's ready to step up at any time," Perkins said.
So if it was Karnowski's day – "my first win against Arizona in five years and I'm really happy about that" – it was also a collective catharsis.
In a funky atmosphere – a disappointing crowd of 7,952, Laker girls bopping at timeouts, Hall of Famers like Gary Payton, Spencer Haywood and Ralph Sampson courtside and even a drop-in from Zag alums Kyle Wiltjer and Robert Sacre – this seemed like one the Zags had to win. Not just because of the past, but the present.
The Wildcats are wounded and short-staffed. Standout guard Allonzo Trier sat for an eighth straight game – he was on the bench in sweats – as his eligibility mystery deepens. Ray Smith and Parker Jackson-Cartwright – two top-flight starters – have been lost to injury. Three freshmen log heavy minutes.
So green are the Wildcats that when JC transfer Keanu Pinder peeled off his sweats to check into the game, it was revealed that he hadn't put on his uniform top.
But history can be a damned heavy burden.
"I've never thought we were caving or getting out-toughed in those games," Few insisted. "Last year, we just made some bonehead errors. The year before was like Ali-Frazier. I don't want to come off as saying we were so much tougher this time –we were tough as nails down in Tucson, and should have won that thing. Both those teams that year were phenomenal."
Second seeds in the NCAAs, as Miller pointed out.
"This year's team at Gonzaga reminds me of some of those qualities," he said. "They have experience, shooting –especially at the guard spot – and their younger front-court players will do nothing but get better. I'm sure they're going to be well on their way to 30 wins."
None more redemptive than this one.
Local journalism is essential.
Give directly to The Spokesman-Review's Northwest Passages community forums series -- which helps to offset the costs of several reporter and editor positions at the newspaper -- by using the easy options below. Gifts processed in this system are not tax deductible, but are predominately used to help meet the local financial requirements needed to receive national matching-grant funds.
Follow along with the Zags
Subscribe to our Gonzaga Basketball newsletter to stay up with the latest news.
---