Sports
Neah Bay storms to State 1B football title over Odessa-Harrington, Gaven Elder
Sat., Dec. 3, 2016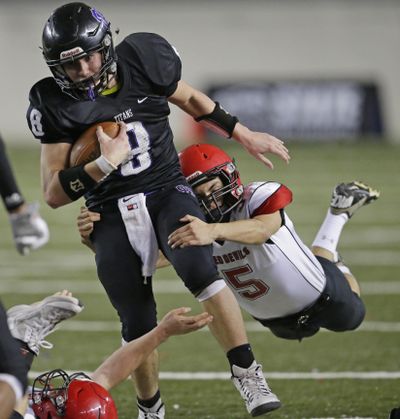 TACOMA – Coach Jeff Nelson knew his Odessa-Harrington Titans football team would have to play a near-perfect game Saturday afternoon, facing a Neah Bay Red Devils team with two State 1B titles in the past three years.
"You can't make mistakes against that team," Nelson said. "And we did."
After a sluggish start, the Titans (12-1) fell 64-34 to the Red Devils (12-1) in the state final after making their deepest run in the state playoffs in a decade.
Neah Bay got out to a 12-0 lead on a 5-yard rushing touchdown and a 17-yard receiving touchdown from senior Cole Svec.
Senior tight end Brad Johnston caught the first Titans touchdown, scoring on a 37-yard pass down the seam from junior Colton Hunt, followed by a Hunt conversion run.
"We started out pretty slow," said Hunt, who called Neah Bay the best team he faced this season. "We did not quite expect them to come out like this."
Red Devils senior all-purpose player Cameron Buzzell then scored a 59-yard touchdown reception, but Neah Bay missed its third conversion of the first half.
Odessa-Harrington junior running back Gaven Elder went down with an apparent shoulder injury on the next drive, before his older brother and fellow 1,000-yard rusher Sage Elder caught a 35-yard score from Hunt. Hunt's conversion pass was intercepted, keeping the score at 18-14.
Buzzell followed with rushing touchdowns of 53 and 30 yards, getting around the corner where Gaven Elder was supposed to be playing on defense before his injury, and both tries were successful.
Buzzell intercepted the last pass of the first half and returned it more than 90 yards before being tripped up at the goal line, keeping the score 34-14.
In the second half, the Titans tried to trade touchdowns with the Red Devils, but they were unable to get stops.
"Even in the second half this game, we still competed," Nelson said. "There's no quit."
That self-belief was the biggest difference in this year's team, Nelson said. Last year, in similar situations, he said his players would let up when adversity arrived.
"I think our team showed a lot of heart," said senior John DeWulf, who had a team-high-tying eight tackles from the defensive end position. "We played to the best of our ability. They were just the better football team."
Hunt had 154 passing yards and two touchdowns, adding 110 yards and a touchdown on 16 rushing attempts to lead Odessa-Harrington.
Neah Bay's Buzzell led all players with 168 rushing yards and three touchdowns, and added a 59-yard reception.
This was the furthest run any Odessa-Harrington team has made since Odessa and Harrington high schools combined sports in 2010, Nelson said. Odessa has finished second five times in state football, most recently in 2007, and has state championships in 1989 and 1993.
Local journalism is essential.
Give directly to The Spokesman-Review's Northwest Passages community forums series -- which helps to offset the costs of several reporter and editor positions at the newspaper -- by using the easy options below. Gifts processed in this system are not tax deductible, but are predominately used to help meet the local financial requirements needed to receive national matching-grant funds.
Subscribe to the sports newsletter
Get the day's top sports headlines and breaking news delivered to your inbox by subscribing here.
---