Sports
No. 1 Alabama romps past Florida 54-16 in SEC title game
Sat., Dec. 3, 2016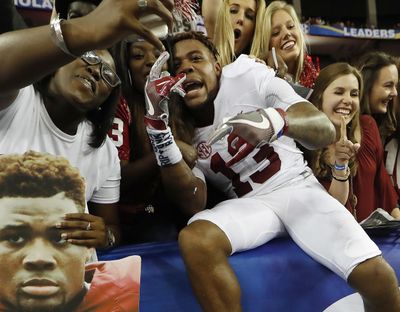 ATLANTA – This was merely an annoyance for Alabama, a chance to add another trophy to its overflowing cases. Still, the Crimson Tide did just enough things wrong to give Nick Saban something to complain about over the next month, but in the end it was another dominating victory for the nation's top-ranked team.
Florida coach Jim McElwain was certainly impressed after his No. 15 Gators took a 54-16 whipping in the Southeastern Conference championship game Saturday. He called it Saban's best team yet in a dynasty that shows no signs of stumbling.
"I don't see a lot of weaknesses," marveled McElwain, Saban's offensive coordinator from 2008-11. "They've really accumulated a lot of speed at some spots where they were always big."
Alabama (13-0, No. 1 CFP) unleashed all its weapons against the overmatched Gators, scoring off an interception and a blocked punt in the first half, snuffing out their last gasp with a goal-line stand, and wearing down Florida at the end with a dominant running game.
The Tide now heads to the College Football Playoff for the third year in a row, most likely returning to Atlanta for a semifinal game on Dec. 31. Alabama will be seeking its second straight national title and its fifth crown in the last nine years. Saban already has five national titles, counting his first at LSU, and is one shy of Bear Bryant's record for the most by any coach.
Challenging his players, Saban said "they have a chance to do something to create a legacy for this team. That's something they should think about, how important that is, what they are willing to do to do it. Because all the teams you play from here on out are really, really good."
The Crimson Tide bolted to a 16-9 lead in the first quarter, despite being held to minus-7 yards and no first downs. Minkah Fitzpatrick returned an interception 44 yards for a touchdown, and Josh Jacobs went 27 yards for a score with a blocked punt. A field goal was set up by another pick – one of three thrown by Florida quarterback Austin Appleby in the first half.
The Tide led 33-16 at halftime and iced the victory with scoring drives of 98 and 91 yards, sparked by a goal-line stand that finished off the last gasp by the Gators (8-4, No. 15 CFP). It was most points surrendered by Florida since a 62-24 loss to Nebraska in the 1996 Fiesta Bowl.
A 24-point underdog, the Gators marched the length of the field on their opening possession, the first touchdown given up by the Tide in more than 17 quarters. They had another long TD drive near the end of the first half to give themselves a glimmer of hope.
"It wasn't perfect," said Alabama linebacker Reuben Foster, who was named the game's MVP. "We had to persevere, overcome some hard times."
The last of those hard times came when Florida drove to the Crimson Tide 1 in the third quarter. Jordan Scarlett attempted to leap over the line on third-and-goal, but he never got off the ground. Rashaan Evans, who took over after Shaun Dion Hamilton went out with a likely season-ending knee injury, blew by his blocker and slammed the running back for a 1-yard loss.
Appleby then threw incomplete in the back of the end zone on fourth down, giving the Tide all the momentum.
Alabama finished with 174 yards rushing in the second half. The bulk of the carries went to bruising sophomore Bo Scarbrough, who had two short touchdown runs and finished with 91 yards on 11 carries.
"We just wanted to do what we do best, and that's run the ball," Scarbrough said.
Local journalism is essential.
Give directly to The Spokesman-Review's Northwest Passages community forums series -- which helps to offset the costs of several reporter and editor positions at the newspaper -- by using the easy options below. Gifts processed in this system are not tax deductible, but are predominately used to help meet the local financial requirements needed to receive national matching-grant funds.
Subscribe to the sports newsletter
Get the day's top sports headlines and breaking news delivered to your inbox by subscribing here.
---