Sports > Seattle Seahawks
Russell Wilson won't lose sleep over Seattle's problems at offensive line
Sat., Dec. 3, 2016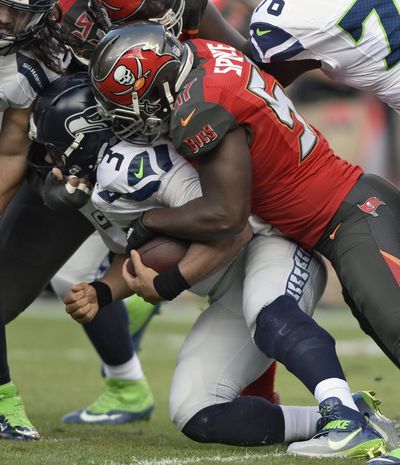 SEATTLE – Yes, Russell Wilson got sacked a half-dozen times.
But this past week he also got something he hadn't been getting in more than two months.
Uninterrupted sleep.
Wilson said these past two weeks have been the first ones since before he sustained a high-ankle sprain in the Seahawks' opening game Sept. 11 that he hasn't had a trainer getting him up in the middle of the night for treatments.
Those stretches, icings and flexings at 3 a.m. continued through his sprained medial collateral ligament he got Sept. 25 against San Francisco, which doctors told him should sideline him for four weeks.
Now, after last week's season-high 80 yards rushing on eight carries – most of those sprints away from troubling Buccaneers that besieged him and the Seahawks' offensive line at Tampa Bay – Wilson enters Sunday night's game between Seattle (7-3-1) and Carolina (4-7) at CenturyLink Field healthy again.
And much more rested.
"Pretty much," Wilson said Thursday. "Not as much crazy hours. Not every hour and a half waking up. Pretty much constantly through the night, all the way up until I go to bed, just icing and rehabbing and all that stuff.
"I'm feeling really good right now. I'm feeling strong."
Now about his offensive line.
The Seahawks had been rolling on a three-game winning streak. They had apparently "turned a corner," in the words of coach Pete Carroll, as they almost always do in November through December. Then they lost an inexplicable dud at Tampa Bay.
They also lost the continuity it had on its offensive line, one of the positives that iffy unit had in November. Center Justin Britt, the line's most consistent blocker this season, missed his first game with a sprained ankle. The Seahawks allowed the Buccaneers, the league's 26th-ranked defense, to sack Wilson six times. Then Wednesday Carroll announced the Seahawks were benching Garry Gilliam, the right tackle for the first 11 games, and replacing him with Bradley Sowell for Sunday night's game against the Panthers.
What does the man being protected – or not – by that line think of it lacking continuity entering December?
"I think there's pros and cons to it," Wilson said. "Obviously, you want to have the five guys that are always playing, I think that's always critical and crucial.
"At the same time, it's also positive because we've had a bunch of guys play a lot of football within this past year. Guys have played right tackle, left tackle. Guys have been inside. Joey Hunt stepped up last week (for Britt) and did a great job. You have so many different guys that can step in the game, that gives you comfort in that for sure. I have all the confidence in the world.
"We got beat last week, that was last week. That's old news. We're focusing on this week and coming back and getting ready to play a very good football team in the Panthers."
Carolina's continuity? That's long gone.
The team that stormed through the NFC 15-1 last season, then swamped Seattle 31-0 in the first half of the divisional-playoff game en route to Super Bowl 50 is closer to high draft-pick status next spring than next month's playoffs. The Panthers are three games out of the NFC South lead with five games remaining.
Quarterback Cam Newton has in 11 months gone from the NFL's most valuable player to a 55.8-percent passer. Cleveland's Josh McCown and San Francisco's Colin Kaepernick are the only starters with a lower completion rate. Brock Osweiler, Ryan Fitzpatrick, Josh McCown, Joe Flacco and Blake Bortles are the only starting quarterbacks with a lower rating than Newton's 81.4. Newton is on pace for career lows for a season in percentage and rating.
He's been sacked 27 times in 10 games. He was sacked 33 times all last season.
But you think the Seahawks' O-line has problems? Seattle's are first-world issues compared to Carolina's.
The Panthers have put both starting center Ryan Kahil and his backup, Gino Gradkowski, on injured reserve. They are likely to start a practice-squad guy at center against Seattle, Tyler Larsen.
Left tackle Michael Oher is out for the year because of a concussion. Right tackle Mike Remmers, who got steamrolled by Denver's Von Miller in the Super Bowl in February, is now playing left tackle for Oher. Remmers' replacement at right tackle, Daryl Williams, walked out of the loss at the Raiders in a walking boot and missed practices this past week.
Carolina ended last weekend's loss at Oakland with only one starting blocker from the beginning of this season still healthy enough to be playing in the spot he's supposed to be: left guard Andrew Norwell.
Coach Ron Rivera told Carolina reporters this past week his offensive-line situation was not just bad but a "catastrophe."
So, yes Seattle, it could be worse up front.
And in the back. The Panthers are 29th in the NFL in pass defense. They haven't been the same there since rescinding their franchise-tag contract on All-Pro cornerback Josh Norman in April. That freed Norman to strike a free-agent deal with Washington. Now Carolina is starting two rookies as cornerbacks. The Panthers will be missing All-Pro middle linebacker Luke Kuechly and starting safety Kurt Coleman from their middle of their defense Sunday night. Both are out with concussions.
"Disappointing," is how Rivera characterized the Panthers' season during a conference call Wednesday from San Jose, California. That's where he had his team practice and stay between their games at Oakland and Seattle.
"You look at some of the things that have happened, some of the injuries we've had to deal with, those types of circumstances, things you can't control. There's some other things that we could have done better, obviously. We've lost five games by three points or less. We had opportunities to win football games down the stretch and didn't do it. Those are things that unfortunately we just didn't do. We did it last year. And that's probably the hard pill to swallow."
It started from the first night of the NFL season, in early September. Graham Gano missed a field goal with 5 seconds left that would have won the Super Bowl 50 rematch at Denver, but the Broncos won 21-20 instead.
The Panthers' season has gone downhill from there.
"There's a couple others where we pretty much have lost it at the last play of the game," Rivera said. "We've been in games – the thing you try to get the guys to understand is that you're a good football team. You've been in games, put yourself in that position, unfortunately you just haven't won them.
"If it goes the other way, it's one of those things, you're looking at being a 9-2 team. You can't change it, so you are what you record says.
"You're 4-7."
More bad news for Carolina: The Seahawks are getting back five starters from injuries Sunday night: three-time All-Pro safety Earl Thomas from a strained hamstring; Pro Bowl defensive end Michael Bennett from arthroscopic knee surgery; center and best offensive lineman Justin Britt from a sprained ankle; starting cornerback DeShawn Shead from a hamstring injury; and Mike Morgan as Seattle's designated player to return from injured reserve this season.
All missed Seattle's loss to the Bucs. It cut the Seahawks' edge for the No. 2 seed in the NFC playoffs to a half game over NFC South leader Atlanta and North-leading Detroit.
But it didn't cut at all into the Seahawks' lead atop the NFC West. They lead by three games with five remaining.
"We had a terrific week. We had a championship week of preparation," Carroll said Friday. "We know what that feels like, and every day guys came out to make the statement that they're focused and tuned into it…
"They answered the call and we put together a week that gives us a chance to play very well."
Local journalism is essential.
Give directly to The Spokesman-Review's Northwest Passages community forums series -- which helps to offset the costs of several reporter and editor positions at the newspaper -- by using the easy options below. Gifts processed in this system are not tax deductible, but are predominately used to help meet the local financial requirements needed to receive national matching-grant funds.
Subscribe to the sports newsletter
Get the day's top sports headlines and breaking news delivered to your inbox by subscribing here.
---