Przemek Karnowski, Gonzaga hold off Arizona for 69-62 nonconference victory in Los Angeles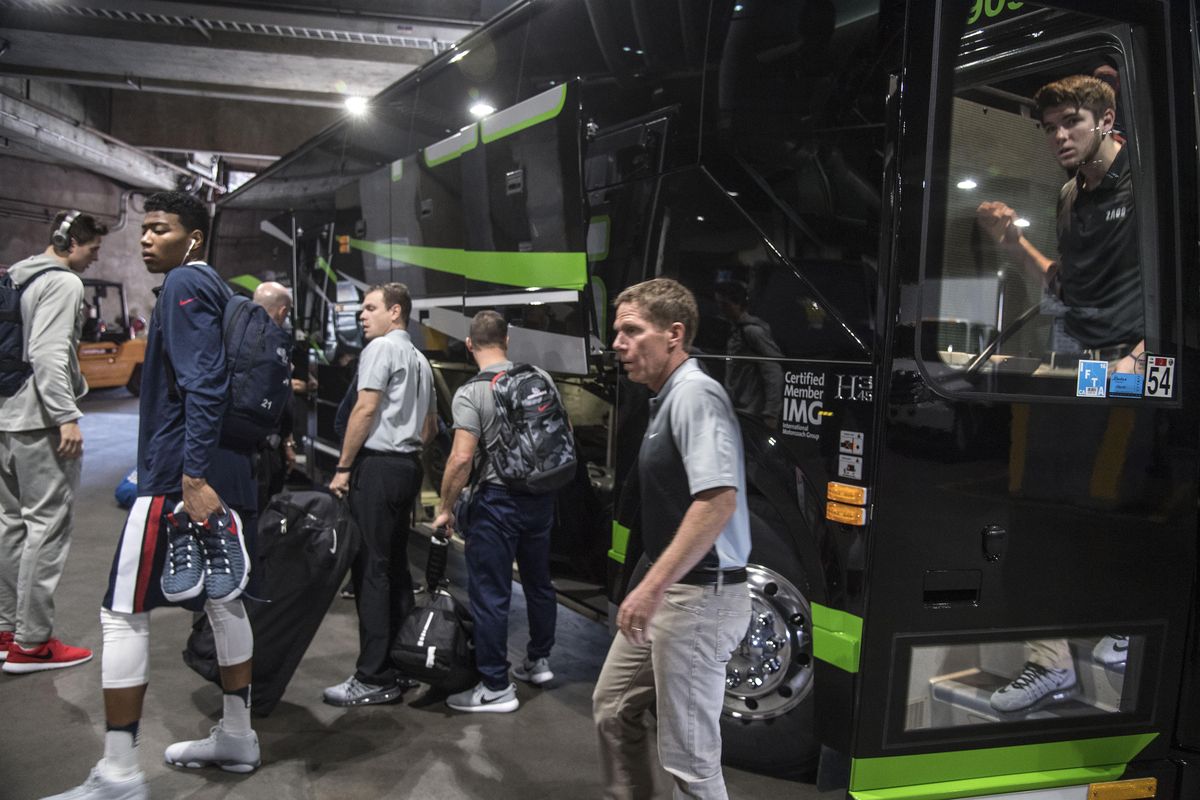 LOS ANGELES – Przemek Karnowski missed the Arizona game last year. The big man was sidelined for all but five games with a back injury that derailed his season and threatened his playing career.
Roughly one year later, Karnowski worked over Arizona's interior defenders, scoring 18 points to lead the eighth-ranked Zags to a 69-62 victory Saturday over No. 16 Arizona at the Staples Center.
The 7-foot-1 center was summoned courtside for a post-game interview on ESPN. When that was done he flashed a wide smile and stood with fans who requested a picture.
Quite a contrast. Quite a story, according to coach Mark Few.
"It didn't look like he was ever going to play basketball again," Few said. "He's flat on his back, having disc surgery and can't even move. The prognosis wasn't good.
"A year later to see him wheeling and dealing, throwing in shots with the left and right (hand) and jumping up and rim protecting, it's pretty cool."
Not so cool for the Wildcats, who chose not to double-team Karnowski.
"In my opinion when they're really clicking is when you double him because he's such a great passer," said Arizona coach Sean Miller, who instead asked his players to crowd the low post.
"We did a very poor job of that. Doubling him, trapping him, in my opinion, is a disaster. Today he beat us with his own scoring. He had timely baskets."
Karnowski wasn't alone in that regard. The tone was set early with 3-pointers by Gonzaga's Jordan Mathews and Nigel Williams-Goss.
Timeout Arizona, 51 seconds into the game.
Gonzaga's first five shots dropped and the Wildcats were stuck playing catch-up. Arizona trailed by 12 points at the first media timeout and never got closer than five.
Josh Perkins, who continued his hot shooting with three 3-pointers, connected on one near the Wildcats' bench with Miller just a few paces away. As Perkins started to jog back down court, Miller offered congratulations by way of swatting him on the fanny.
"I think I might have done that," a smiling Miller said. "Those guys can all shoot it."
The Zags (8-0) and Wildcats (6-2) essentially traded baskets, leaving GU up 38-26 at the break.
Karnowski, mixing in some right-hand finishes to go along with his customary left-handed jump hooks, and Perkins combined to score Gonzaga's first 17 points of the second half.
"That's something I've been working on," Karnowski said. "We had a shoot-around this morning and the rims felt pretty soft so I tried to go to my moves. I'm glad my teammates trusted me."
The Zags led by 16 early in the second half but Arizona clawed back, partly because GU missed 8 of 14 free throws down the stretch.
The Wildcats pulled within 60-54 with 3:42 left. Williams-Goss drove inside on 7-footer Lauri Markkanen and scored from close range.
Williams-Goss had another clutch basket with 1:08 remaining to put GU up 65-58.
Gonzaga's defense was stout throughout, despite being whistled for 23 fouls. The Wildcats shot 38.6 percent from the field and made only 1 of 8 3-pointers.
The talented Markkanen finished with 14 points, six coming from the free-throw line. He was just 4 of 14 from the field, 0 of 3 on 3s.
"Obviously they defended a little bit differently than previous teams," said Markkanen, who averages 18.3 points per game. "Just shots didn't go in."
Markkanen had almost as many of his shots blocked (three) as made field goals (four).
"He's a lights' out 3-point shooter so wanted to give him no 3s," said GU freshman post Zach Collins, who swatted two of Markkanen's shots. "Just get up on his hip, try not to let him shoot and force him the other way."
Perkins scored 16 points, his sixth straight game in double figures. Mathews and Williams-Goss each had 10.
---