Hugh Evans, longtime Spokane attorney and Vietnam vet, to be interred at Arlington National Cemetery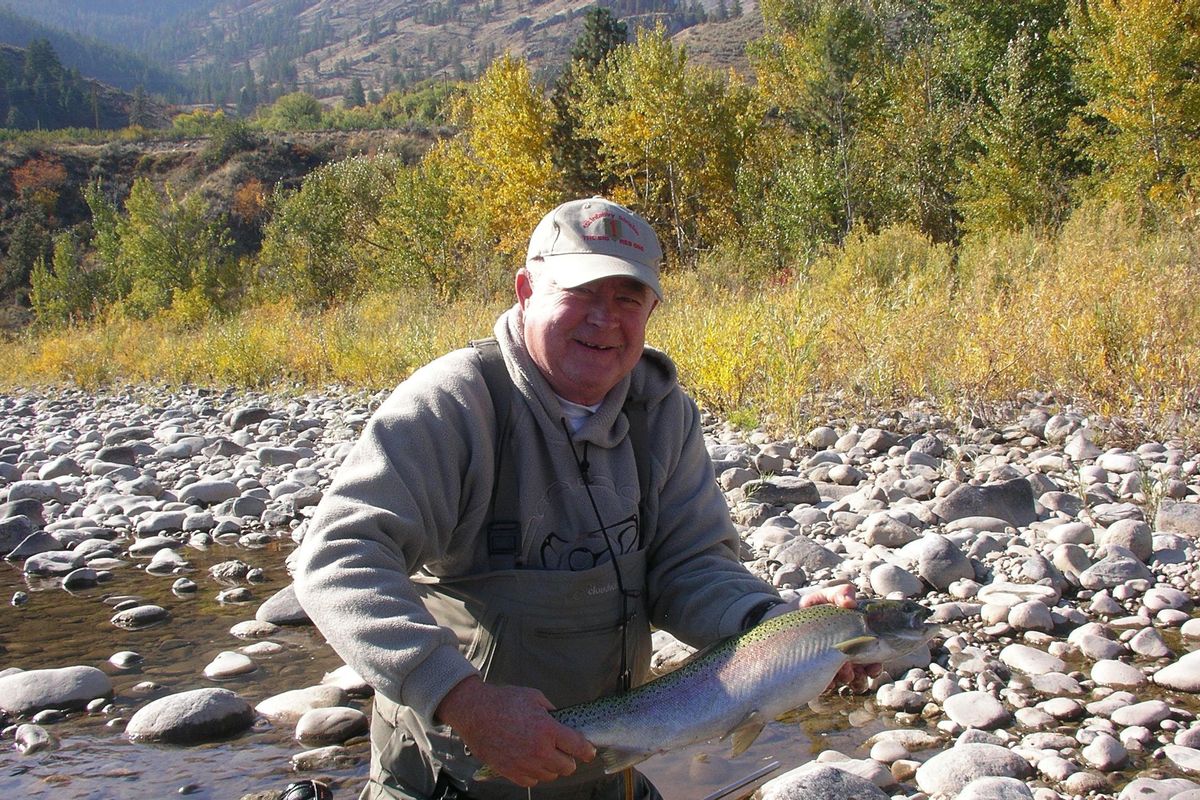 Before shipping out to Vietnam in 1968, the deadliest year of a conflict that was dividing the nation, Hugh Evans took a few hours to toss the pigskin with his kid brother.
"He didn't throw you a football," said John Evans, who was 9 years old that night at then-Fort Lewis near Seattle. "He threw you the go-ahead touchdown in the fourth quarter of the Super Bowl. He would make up the stories and everything."
Hugh Evans, a founding partner of the law firm Evans, Craven & Lackie and a Silver Star-decorated Army veteran, will be laid to rest Friday among more than 400,000 service members, political figures and others on the hallowed grounds of Arlington National Cemetery in Washington, D.C. He died in March at age 71 after a heart attack.
Friends and family said Evans didn't speak much of his time in Vietnam, a period late in 1968 when the response to the North Vietnam army's Tet Offensive gave rise to outright criticism of the conflict and the toppling of Lyndon B. Johnson's presidency. Fellow Spokane attorney William Maxey, writing in the Washington Bar Association's monthly publication in February 2014, felt the need to point out Evans' bravery to those who may not have heard it.
"I knew Hugh was in the military, but I didn't know much beyond that," Maxey wrote.
On Oct. 30, 1968, Evans led his platoon through a hail of Viet Cong gunfire down a heavily mined road to reinforce pinned-down American troops. A month later, on Nov. 29, Evans was shot in each arm while directing artillery fire at a hidden enemy base camp amid gunfire and grenades, according to citations accompanying his military awards. He received three Purple Hearts, a Bronze Star and a Silver Star – the third-highest honor for a member of the Army – for his actions in those battles.
Lt. Col. James "Jacques" Michienzi, now 93, was Evans' superior officer in Vietnam. Michienzi had seen combat during the Battle of the Bulge in World War II and in the Korean War before tours in Vietnam. Now making his home in retirement in North Carolina, Michienzi said Evans showed an unflappable demeanor in combat.
"Hugh served in the ranks, he was down in the lower level," he said. "I recall he was a gentle, persuasive person. It was very unique. We had company commanders who would shout and scream. Not Hugh. He was gently pushing."
Later, a member of Evans' company, Sgt. James Leroy Bondsteel, would earn a Medal of Honor for combat in May 1969. Michienzi said that was a testament to the example Evans set.
At the same time Evans was leading his troops in Vietnam, his wife gave birth to their first child, a daughter, Christine. The most she learned about her father's time in Vietnam has come from speaking with fellow soldiers in the months since his death.
"He was very humble," Christine Evans said, "I'm realizing especially – even though I knew this before – how much poise and grace and strength he had."
A diehard Gonzaga Bulldogs fan who attended law school with Maxey, law partner Jim Craven and other longtime lawyers in Spokane, Evans quickly found friends enjoying the outdoors. He once shot 18 holes with longtime Seattle Times sports columnist Steve Kelley, who penned an essay in August 2005 about the experience of Evans trying to break the elusive 80 strokes barrier at Indian Canyon.
"As he said at the time, 'Guess it was a slow news day if they were calling me,' " Christine Evans said of the column.
U.S. District Court Judge Robert Whaley and his wife, Cindy, watched Evans help their daughter, Elaine, develop her skills, eventually leading to a spot on the Whitman College golf team.
"She was struggling, she was floating around, trying to learn golf on her own," Cindy Whaley said of her daughter. "He really took her under his wing."
Robert Whaley said Evans' compassion continues to affect the couple's lives. A few days after Evans' death in March, the judge received a message at his office. It was from a mutual acquaintance, promising to make good on a favor for Evans and help Whaley's daughter land a job. Whaley had told Evans just a few days before he died that his daughter was looking for work.
"It was just a special voice from the past, to see that note from my law clerk," Whaley said. "It was like he'd reached out one last time."
Whaley shared Evans' passion for fly fishing. Christine Evans described her father's house in Spokane as a warehouse for flies, where a visitor would be lucky to walk through without catching a hook in the toe. Whaley, chuckling, called it a "man cave" that would likely send any woman running.
Richard Ripley, a retired editor of the Spokane Journal of Business, took many trips to the Methow Valley and other fishing holes with Evans as colleagues in the Inland Empire Fly Fishing Club. Ripley remembered Evans as one of the finest "poachers" the club has ever had – the member responsible for ribbing a fellow angler during their monthly meetings for transgressions such as backing over a colleague's garden during early-morning fishing trips.
At one meeting, the club was receiving instruction from April Vokey, an accomplished fly fisher from British Columbia many years Evans' junior. Ripley remembered Evans' adoration of Vokey's technical skill, and also the display of the veteran's signature charm.
"He got up to the lectern and said, 'May I call you April?' And she said, 'Sure,' " Ripley said. "Then he said, 'When may I call you, April?' And I mean the place just exploded."
Vokey gave Evans a peck on the cheek, Ripley said.
Evans, who was known to eat a sandwich while standing in the current and casting flies, slowed his fishing in recent years, Whaley said. But the judge recalled a crisp day, just after a snowfall, in the Methow Valley a few years ago. The two men watched as falling leaves drifted by on the river's current, the salmon that had spawned bobbing to the river's surface every so often and carcasses lying along the banks. An overcast, white sky melded with the hills on the edge of the valley, creating a kind of ceiling, Whaley said.
"He turned to me, and he said, 'You know, this is my cathedral,' " Whaley said. "And it was. It was one of those special experiences, just standing there watching nature be as it is."
John Evans plans to take the train to Virginia with his wife from their home on Camano Island in Western Washington, part of a contingency that the family estimates will be 60-people strong. Hugh Evans will receive a full military burial at the ceremony Friday morning, including a band, a bugler, a caisson bearing the casket and a firing party. The ceremony will be one of between 20 and 30 that occur daily in the nation's cemetery for war veterans.
John Evans said the honor befit a big brother who acted like a father after theirs died early in his life, and his best friend.
"His car was the only one you wanted to see in your driveway when you got home, because you knew you were going to have a good time," John Evans said.
---