News > Spokane
Spokane's legendary doughnut shop, Donut Parade, announces it's 'officially closed for good'
Mon., Dec. 5, 2016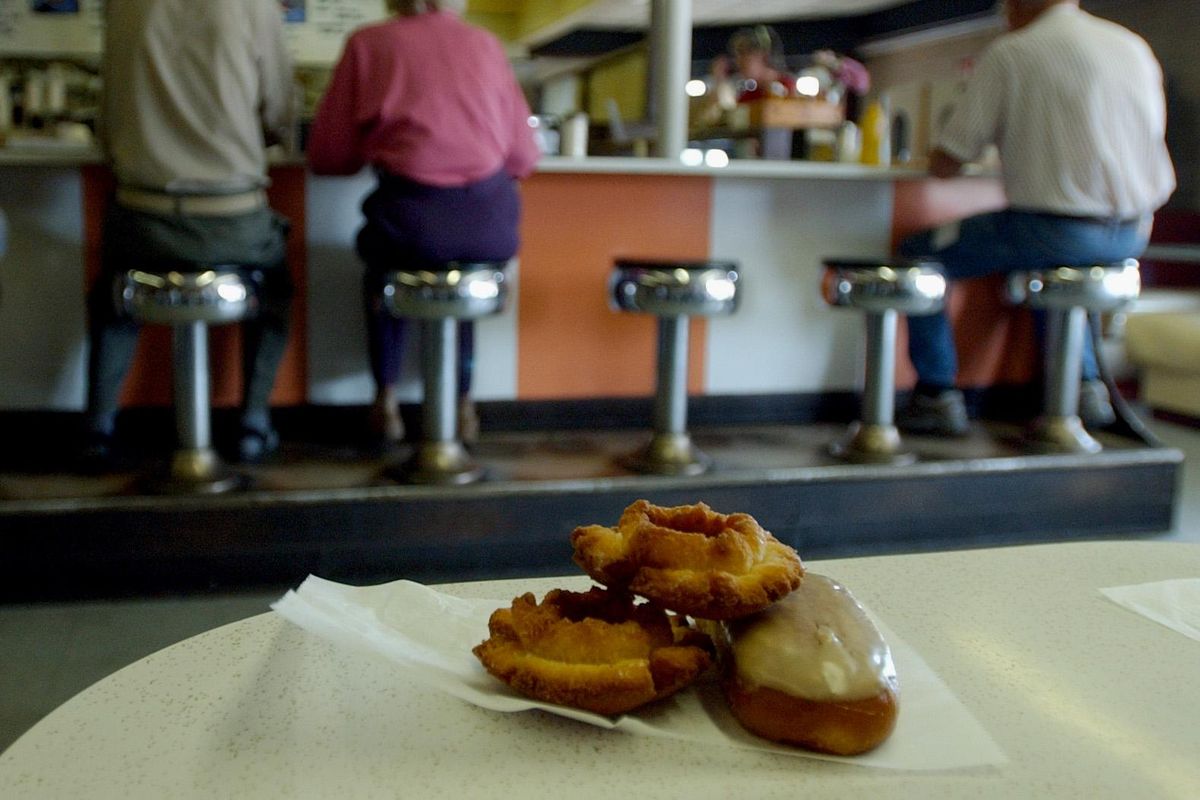 Customers fill the seats at the Donut Parade in June 2007. (KATE CLARK / SR)
Owners of the popular Donut Parade announced Sunday that the business was closing for good.
"It is with deep sadness, we here at the Donut Parade are forced to say good bye Spokane, and thank you from the bottom of our hearts," the shop posted on its Facebook page. "We are officially CLOSED for good."
Whether the shop will actually remain closed "for good" depends on how much money they can raise, and how quickly.
A day after they made their announcement on Facebook, owners Roy and Christian Reno posted a link to a GoFundMe page to "help save the Donut Parade," with a goal of $80,000.
As of 10 p.m. Monday, 59 people had donated $1,540 within a 10-hour span.
"The Donut Parade is a part of who we are," the page reads. "With that being said, we are reaching out to our community asking for help so we can continue to serve the great people of Spokane."
While they made the official announcement Sunday evening, the shop had already been closed since Monday, Nov. 28, as a result of the power being shut off due to lack of payment.
"If we still had power, I'd still be making donuts," Christian Reno said while standing next to a case still full of last Monday's donuts.
The Renos say they are thousands of dollars and months behind on bills, which includes taxes, rent and electricity. The $80,000 they seek would go toward these debts and future investments in the business, they said.
One thing they proposed is renovating the building on the corner of Hamilton Street and Illinois Avenue, where the Donut Parade has operated since it opened in 1968.
Asked whether the business had considered moving locations rather than pouring money into costly renovations and repairs, Roy Reno indicated they wouldn't leave the area the business started in.
The building is owned by Vince Dressel, who declined to address the Renos' complaints that the building is in disrepair, including the months it took to fix a front door smashed in when a car drove into it.
"I can't imagine moving the Donut Parade from here," Reno said. "The Donut Parade belongs on this corner. It really does."
The Renos acknowledged that the doughnut shop was in financial trouble during the past couple of years. And the closing message was posted only a few days after the store was forced to close as a result of equipment failure.
"Good morning everyone….sorry for the short notice but, as we walked into the donut shop early this morning we discovered that our trusty donut dryer has decided to stop working so until we can gather the correct pieces fix it, we are unfortunately closed….. we will keep everyone posted," the shop posted on Facebook. "Thank you for understanding."
The Renos say the shop has had difficulty turning a profit for a while, despite staying busy. Unforeseen accidents and piling debts have finally caught up to them.
"At some point in the last two years, it just really slowed down," Roy Reno said.
Staff editor Jonathan Brunt contributed to this report.
Local journalism is essential.
Give directly to The Spokesman-Review's Northwest Passages community forums series -- which helps to offset the costs of several reporter and editor positions at the newspaper -- by using the easy options below. Gifts processed in this system are not tax deductible, but are predominately used to help meet the local financial requirements needed to receive national matching-grant funds.
Subscribe now to get breaking news alerts in your email inbox
Get breaking news delivered to your inbox as it happens.
---