Quintessentially quince: Knobby fruit needs a lot of love, but pays off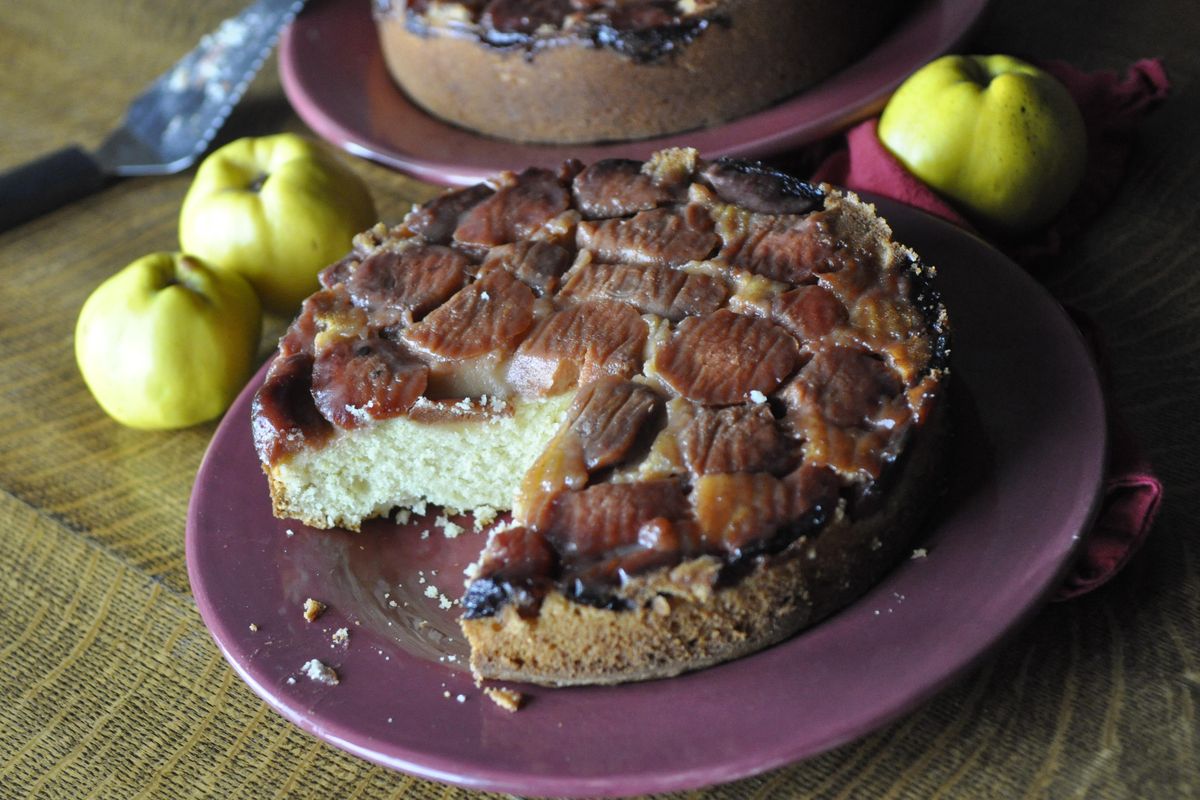 You'll have to lean in. It takes a good knife and the crush of your body weight to cut into quince, that tough and hard-to-handle fruit that some food writers have described as knobby, gnarly, even ugly.
Quince are often overlooked, but it's difficult to see why. Their cheerful yellow skin is eye-catching and inviting, and their exotic, floral fragrance is quite strong and intoxicating.
These two traits work together, enticing cooks to come to their senses and do something – anything – with the bright, squat bulbs. It almost as if quince long to be cooked, and don't mind telling you so.
Leave a bowl of quince on your table in lieu of potpourri or an aromatherapy candle until you can no longer stand the beckoning scent.
Then, work fast.
Their cream-colored flesh begins to brown as soon as it's exposed to air. Keep a bowl of cold lemon water on hand to try to slow the discoloration. Or toss slices directly into a simmering pot of poaching liquid.
Quince are a test of a cook's patience. It takes time to peel, core, quarter and cook the fruit. If you want to enjoy their delicate flavor, you must work for it.
Quince, especially in colder climates, are nearly inedible when raw – astringent, fibrous, dry, hard, almost woody. They require heat and sugar to work their magic, coaxing out a texture that's akin to poached pears or apples but with a flavor that's a little more tart and zippy. That's how they reward you for your effort.
Backyard crop
But you nearly never see them in stores.
Some specialty grocers carry quince. And Chile sends a small crop in spring. But California is the only U.S. state to commercially grow quince, and the crop accounts for only about 300 acres.
To get your hands on quince, you almost have to know someone. It's largely a backyard crop, harvested late summer through autumn.
That's when and where I found my yield, courtesy of my new friend Lars Neises, a retired community college math instructor, beekeeper and avid gardener in the South Perry District. He had two quince trees, one of them laden with extra fruit – and his pitch was too hard to resist.
"I hate the thought of composting this abundance," he wrote in an email, which also praised the fruit's versatility. He noted its uses: "jelly, dulce de membrillo (quince paste – great with a good cheese), chutney, poached and a wide range of Persian/Armenian/Turkish stews."
Raw wouldn't be my preference. But, "A friend of mine, from Chile, makes dulce de membrillo with the quince each year and also likes to eat it raw, thinly sliced, with a nice cheese," Lars said.
I found him in his garden in late afternoon in early and again in late November, before his quince could go to waste. Despite his list of the merits of the fruit, he said, it's still "hard to find fans of quince, even for free."
His quince looked like Golden Delicious apples that had spent a lot of time at the gym. They were boxy, brawny, rippled and ready to come down off their branches.
They were also covered with patches of soft gray fuzz, like that of peach.
Gift from Aphrodite
Quince come from the Fertile Crescent, an area of the Middle East which curves from the Persian Gulf to northern Egypt along the Mediterranean Sea and through Israel, Jordan, Lebanon, Syria and southern Iraq.
Once poached, quince transform into a rosy amber. They also become succulent and sweet – with a hint of zest, spice and guava. Consider enhancing their flavor with cinnamon sticks, cardamom pods, peppercorns, allspice berries, vanilla beans, cloves, star anise, ginger and lemon.
But, cookbook author David Lebovitz admonishes: "Resist the temptation to add too many kinds of spices to the poaching liquid." He likes to keep it simple with quince since you want "to augment the flavor … not obliterate it."
Once poached, put quince in breads, breakfast muffins and cakes. Use it to top yogurt, oatmeal, cheesecake, pavlova, ice cream or galettes.
Serve the fruit alongside whipped mascarpone or goat cheese. Or, tuck it into applesauce to lend a different flavor and a bit of zip. Further cook down the fruit to make preserves.
Quince also adds depth to savory meat dishes and vinaigrettes. Try a lamb or chicken tagine with coriander, cumin, saffron, cilantro and sliced almonds. Add pureed poached quince to vinaigrette to dress bitter greens or blend into winter soups such as roasted butternut, pumpkin, celery root, sweet potato or leek-and-potato.
Or, braise a pork chop in the poaching liquid and serve it with warmed quince instead of apples, like I did.
And be sure to save the sweet, honey-like, aromatic nectar, boiling it down to use later as a glaze for fruit tarts and other pastries or as syrup for adding to tea, hot toddies or other cocktails.
Poached Quince
15 cups water
4 cups sugar
1 cup honey
Pinch sea salt
1 lemon, quartered
1 vanilla bean, split lengthwise
2 cinnamon sticks
8 to 10 cloves
16 to 18 quince, washed and fuzz removed
A few quince peels
Mix water, sugar, honey and salt in a large nonreactive pot over medium-to-high heat. Add lemon, vanilla bean, cinnamon sticks, cloves and quince peels. While poaching liquid heats up and begins to simmer, peel core and quarter the quince, tossing the fruit into the pot as you go.
Once finished with the fruit, place a round of parchment paper – with a small hole cut into the center – over the mouth of the pot, and simmer 1 to 2 hours.
Remove fruit with a slotted spoon and serve warm or at room temperature. Store quince in their poaching liquid in an air-tight container in the refrigerator.
Note: Make quince syrup by further reducing the poaching liquid, then straining the mixture through a fine-mesh sieve and storing in an air-tight container in the refrigerator.
Rye and Quince
Created by Eben Freeman and first published in New York Magazine
2 1/2 ounces Rittenhouse Rye whiskey
3/4 ounce quince syrup (Make your own or Freeman recommends such Sadaf quince lemon syrup from Indian specialty food stores)
Dash of Angostura bitters
Combine all ingredients in a cocktail mixer with ice and stir (don't shake). Strain into a rocks glass (with no ice) and serve with a lemon twist.
Yield: 1 cocktail
Quince Whiskey Sour
Adapted from www.telegraph.co.uk
Lemon peel, for rubbing glasses
3.5 ounces whiskey
2 ounces quince syrup
1 ounce lemon juice
Soda water, to top
Lemon twist, to garnish
Prepare 2 old-fashioned glasses by rubbing the rim with lemon peel. Fill a cocktail mixer with ice cubes. Add the whiskey, quince syrup and lemon juice. Shake until cold. Strain into the glasses and top with soda water and a lemon twist.
Yield: 2 cocktails
Quince Upside-Down Cake
Adapted from Kevin Dundon's Apple Upside-Down Cake in "Back to Basics"
"Although delicious made with apples, this cake can be made with any of your favorite fruits, such as apricots, plums, peaches or pineapple," Dundon wrote of this recipe.
2 sticks plus 3 tablespoons butter, plus more for greasing
1/4 cup muscovado sugar or brown sugar
1/4 cup poaching liquid
About 2 cups poached and sliced quince
1 1/2 cups caster (superfine) sugar
3 eggs
2 3/4 cups all-purpose flour
2 teaspoons baking powder
2/3 cup milk
1 teaspoon vanilla extract
Zest of 1/2 orange
Grease a 9-inch cake tin and line the bottom with parchment paper.
Melt 3 tablespoons of the butter in a small saucepan. Add the muscovado or brown sugar and poaching liquid, and leave for 3 to 4 minutes, until dissolved and starting to combine and reduce. Pour the mixture into the prepared tin. Arrange quince slices on top of the mixture, then set aside.
Preheat oven to 325 degrees. Put caster sugar and eggs in a large bowl and whisk until pale and thick enough for the beaters to make a figure 8 on the surface.
Sift the flour and baking powder over the egg mixture and gently fold together. Melt the remaining butter and add to the bowl, then pour in the milk and vanilla extract and add orange zest. Mix thoroughly.
Pour batter over quince and bake for about 1 1/4 hours, until the cake is firm to the touch and springs back when lightly pressed.
Leave the cake to cool in the tin for 20 minutes, then carefully turn it out, peel off the lining paper and serve warm or cold with creme anglaise, Cointreau whipped cream, or whipped and sweetened mascarpone.
Cointreau Whipped Cream
1 cup whipping cream
2 tablespoons Cointreau
1/4 teaspoon vanilla
2 tablespoons maple syrup
Whip cream with Cointreau, vanilla and maple syrup until soft peaks form. Transfer to a serving dish.
---