Sports
WSU's Ernie Kent will begin game on the Idaho bench
Tue., Dec. 6, 2016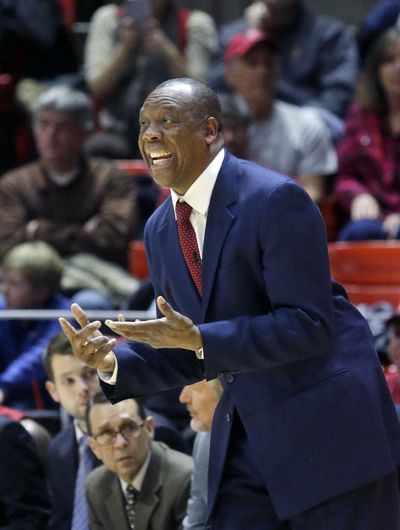 PULLMAN – Beasley Coliseum is likely to hold what can reasonably be called a "crowd" for the first time this season on Wednesday, since Idaho is so excited about the prospect of three consecutive victories over Washington State in men's basketball that the athletic department has arranged for three buses to ferry students to and from the game.
Before the oldest rivalry west of the Mississippi River even begins, the fans that show up will see something unusual, if not downright historic.
Vandals coach Don Verlin will have an unusual guest seated beside him on the UI bench before tipoff: WSU coach Ernie Kent. The gesture is a reduced version of Kent's winnings at a preseason auction during the Coaches vs. Cancer Gala in Spokane.
Both coaches lost their fathers to cancer and are embracing the extra opportunity to show support for others who have been affected by the disease.
"It's an important game to bring awareness to cancer and the fight against cancer. This disease is a hideous disease that still needs to be fought," Kent said. "There is a battle that's being won, and there's great stories out there, but the fight is not over. It sends a message that even in the competitive nature of a college basketball season, as coaches we're brothers. We're there for each other. We do a lot away from the game of basketball that people aren't aware of that benefit a lot in our society and this is one opportunity to do that."
Verlin, who was the gala's honorary chairmen, donated the chance to be the honorary coach for one Vandals game. This included joining the team for a pregame meal and walkthrough, and calling the game's first play. The package was about to sell for $600 when Kent offered a $2,000 bid.
"I turn around and he's got this big old smile on his face," Verlin said during his weekly radio show. "What a great idea. The most important thing, and very dear to coach Kent and my heart is raising money to fight cancer."
The game should be a challenging test for both rivals, whose campuses are separated by just 8 miles. UI (4-3) has struggled without Perrion Callendret, who leads the team in assists per game (3.5). Callendret had 25 points in UI's 78-74 win over WSU in Moscow last season.
WSU (4-4) will be without guard Viont'e Daniels, who has a concussion, and possibly forward Jeff Pollard, who is battling the flu.
Local journalism is essential.
Give directly to The Spokesman-Review's Northwest Passages community forums series -- which helps to offset the costs of several reporter and editor positions at the newspaper -- by using the easy options below. Gifts processed in this system are not tax deductible, but are predominately used to help meet the local financial requirements needed to receive national matching-grant funds.
Subscribe to the sports newsletter
Get the day's top sports headlines and breaking news delivered to your inbox by subscribing here.
---