Sports
EWU notes: Beau Baldwin doesn't get Nevada's head coaching job
Wed., Dec. 7, 2016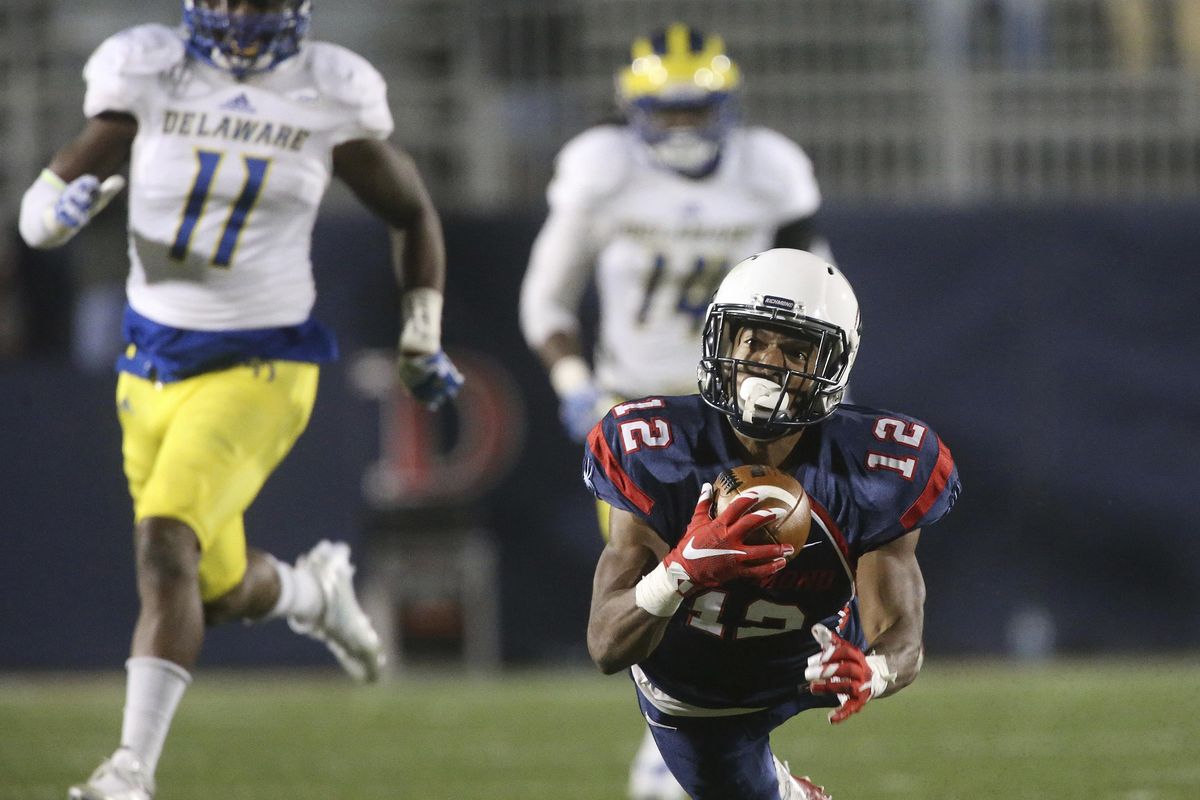 Richmond WR Brian Brown, who has 1,441 yards on just 77 catches this season, is the Spiders biggest deep threat. (Daniel Sangjib Min / Associated Press)
Eastern Washington football fans can exhale: Beau Baldwin is staying in Cheney.
The University of Nevada has chosen Arizona State assistant Jay Norvel to take over the Wolf Pack program, according to reports late Wednesday night by ESPN, footballscoop.com and the Nevada Gazette-Journal.
Baldwin, one of three finalists for the job along with Vanderbilt offensive coordinator Andy Ludwig, was unavailable for comment Wednesday night. On Saturday, he will lead Eastern into an FCS quarterfinal playoff game against Richmond.
The 53-year-old Norvell, ASU's wide receivers coach and passing game coordinator, was offered the job Wednesday and accepted, according to FootballScoop.com.
The deal was confirmed by ESPN.
Norvell has NFL experience, has run offenses at Nebraska, UCLA and Oklahoma and has strong ties to Nevada's main recruiting areas in California and Texas.
Norvell was the last of the three to interview, on Wednesday. An agreement was struck late Wednesday, the Gazette-Journal reported Wednesday night.
Norvell helped turn around Nebraska's offense during his three years as the Huskers' offensive coordinator (2004-06). As Oklahoma's co-offensive coordinator, the Sooners finished 14th, 10th, 15th, 40th and 20th in the nation in scoring.
Norvell replaces Brian Polian, who went 23-27 over four seasons with the Wolf Pack. He inherits a Wolf Pack team that went 5-7 last season and 3-5 in the Mountain West.
Johnson inspires Spiders
Three weeks ago, Richmond quarterback Kevin Johnson was in the home stretch of his redshirt sophomore year.
Now he's the biggest obstacle to Eastern Washington reaching the semifinals of the FCS playoffs.
When starter Kyle Lauletta went down with an ACL injury in the final game of the regular season and the backups proved ineffective, Johnson offered to take one for the team.
This was no small sacrifice. Johnson is giving up an entire year of eligibility to play a handful of games.
His motivation was simple, he told the Richmond Times-Dispatch: "Playing for the seniors, getting an opportunity to play in the playoffs and win and advance."
Their next chance to advance will be in Saturday's quarterfinal game at Roos Field.
"I just thought that was the best thing for me to do for the team," said Johnson, whose mobility and strong arm made an immediate impact in the playoffs.
In a first-round win over North Carolina A&T, the former scout QB completed 15 of 23 passes, throwing for 315 yards and a touchdown. He ran for 22 more yards as the Spiders won 39-10.
"Our players rallied around Kevin Johnson," coach Danny Rocco said. "And Kevin just stepped up in a big way."
Johnson passed a bigger test last weekend, helping rally Richmond to a 27-24 win at Big Sky Conference co-champion North Dakota. In that game, he completed 15 of 22 passes for 289 yards and two scores.
"He has a really strong arm and he's able to run around – obviously that's going to cause some problems," Eastern roverback J.J. Njoku said.
Another wrinkle is the fact that Richmond likes to go deep. "They're not afraid to take shots, and they do it more than anyone we've faced this year," EWU coach Beau Baldwin said.
"They'll throw it 50, 60 yards downfield, and those guys make those plays … Now we've got to be great and eliminate those plays."
The biggest deep threat is Brian Brown, who has 1,441 yards on just 77 catches – an average of 18.7 yards.
Eagles adjust on the fly
Eastern Washington's offensive staff has learned to expect the unexpected.
Last week, the Eagles expected some tight coverage from Central Arkansas; instead they faced three down linemen and eight players dropping into coverage.
"They sure didn't drop eight on film, but they did against us," said Baldwin, whose team got off to a slow start before rallying for a 31-14 win.
Central Arkansas isn't the first team to change its defensive looks against Eastern's passing game.
"People look at us and they feel like they don't want to put their kids in those kinds of situations," Baldwin said. "Most teams are trying to make us earn it."
The key is quick recognition. "We've gotten pretty good to adjusting pretty quickly," Baldwin said.
A key to successful adjustments has been the maturation of EWU's young offensive line, Baldwin added.
"They've continued to grow as a group," Baldwin said.
Eagles get stronger as games wear on
Despite trailing at halftime in six of their 12 games, the Eagles are 11-1 thanks to their dominance of the third quarter.
Eastern is outscoring opponents 174-62 in the third quarter, a trend that began in the season opener at Washington State and continued in last week's 31-14 win over Central Arkansas.
The Eagles are almost as good in the fourth quarter, holding a 134-50 advantage.
Coming from behind is working out so far, but roverback J.J. Njoku doesn't want to push it.
"The biggest thing is for is to attack and start fast," Njoku said. "The margin of error is we can't start slow and magically pick it up."
Richmond coach in running at Delaware
The Spiders can relate to Eastern's coaching distractions. While Baldwin is in the mix at Nevada, Rocco is rumored to be the front-runner for the head job at Delaware.
In fact, some believe that Rocco has already accepted the job.
"You can't prevent speculation," Rocco told the Wilmington (Delaware) News Journal earlier this week. "So all I can really focus on is going through the routine and focusing on the process, the process of winning.
"I think that I try really hard to be the same guy every day. I try really hard to offer the same things to my student-athletes every week," Rocco said.
Spiders have been resilient
Richmond is 10-3 this year despite losing 18 players to injury this season – Lauletta was merely the most prominent.
"That's a resilient outfit," Baldwin said. "When you read between the lines about what they've gone through, including redshirting a quarterback this late. It says a lot about their character."
Other key injuries include tailback Gordon Collins, who had been expected to take over for 2015 All-American Jacobi Green but tore his ACL in the first game of the season; and All-American safety David Jones, who is currently ranked the No. 4 free safety in all of college football by NFL Draft Tracker. Jones shattered his forearm midway through the season.
"I feel like we've overcome a lot of adversity and with that, we've become very united," Rocco said. "When you survive together, you can't help but continue to unite."
Local journalism is essential.
Give directly to The Spokesman-Review's Northwest Passages community forums series -- which helps to offset the costs of several reporter and editor positions at the newspaper -- by using the easy options below. Gifts processed in this system are not tax deductible, but are predominately used to help meet the local financial requirements needed to receive national matching-grant funds.
Subscribe to the sports newsletter
Get the day's top sports headlines and breaking news delivered to your inbox by subscribing here.
---